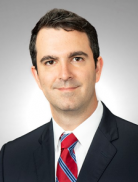 Stephen A. Johnson, MD
Medical Director Gamma Knife,
Director Trigeminal Nerve Disorders Program,
Director Trigeminal Nerve Disorders Program, Director Neurotrauma,
Assistant Professor, Department of Neurosurgery, Rutgers Robert Wood Johnson Medical School
Dr. Johnson earned his undergraduate and medical degrees from the University of Pennsylvania with a concentration in Neuroscience, graduating Summa Cum Laude with Phi Beta Kappa Honors. He completed a residency in neurosurgery at the University of Pittsburgh Medical Center. During his time in Pittsburgh, Dr. Johnson also completed a fellowship in stereotactic neurosurgery under the mentorship of Dade Lunsford, MD, a world-renowned pioneer in Gamma Knife Radiosurgery.
Dr. Johnson specializes in all brain tumors, both degenerative and malignant spine pathology, and Gamma Knife Radiosurgery; he has published peer reviewed articles and textbook chapters in these areas. Dr. Johnson utilizes both incisionless Gamma Knife Radiosurgery and traditional open approaches in the management of brain tumors. This multi-modal approach enables Dr. Johnson to provide highly customized and effective treatment for each individual patient. Dr. Johnson has a research focus on clinical outcomes after radiosurgery. He sees patients with all brain tumors, spinal conditions, and cranial nerve disorders. A New Jersey native, Dr. Johnson enjoys surf fishing, Italian dining, and traveling with his family.

Dr. Johnson sees patients at Rutgers Cancer Institute and Robert Wood Johnson University Hospital in New Brunswick, as well as Community Medical Center in Toms River. 
Clinical Expertise
Brain tumors, both degenerative and malignant spine pathology; Gamma Knife Radiosurgery; cranial nerve disorders