---
We are pleased to announce that we will be moving forward with a virtual BOLD opportunity in July 2021. BOLD 2021 will be offered for students who qualify, apply and are accepted.
The BOLD 2021 virtual Program Outline is as follows:
Monday, July 19, 10am-12:30pm
Tuesday, July 20, 10am-12:00pm (for small group activities)
Wednesday, July 21, 10am-12:30pm
Monday, July 26, 10am-12:30pm
Tuesday, July 27, 10am-12:00pm (for small group activities)
Wednesday, July 28, 10am-12:30pm
Students will be expected to participate remotely via Zoom for all of the days and times noted above.
In addition, students will be expected to complete a few independent asynchronous activities (approx. 90 min each day) to complete between the remote sessions.
 
Recordings of the remote sessions via Zoom will not be available so students must be able to commit to attend all six sessions. Students interested in applying must have access to a computer with video capabilities.
 
Applications to apply will be available February 21 with a deadline to apply by March 31. Due to limited capacity, we are only opening this virtual program to 25 students.
 
All students who applied in the past must reapply to confirm interest in the virtual model. (You may reuse your essays.) There is no application fee but there will be an enrollment fee of $150 for those accepted. If you have questions, please feel to reach us via email BOLD@cinj.rutgers.edu
APPLICATION Deadline ended March 31. Those who applied will be notified of their acceptance by April 25. Applications for the 2022 Summer will be available in January 2022.
To join our mailing list please email BOLD@cinj.rutgers.edu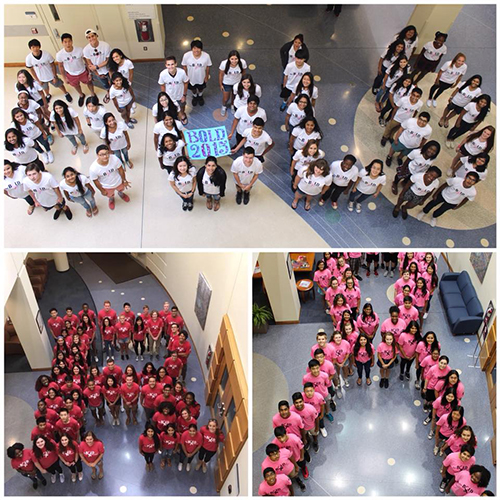 High school aged students are invited to apply for the BOLD Camp (BioCONECT Oncology Leadership Development) - a unique summer learning opportunity for students who have an interest in learning about cellular biology and genetics of cancer, as well as the diverse careers connected to the field. 
During this week-long interactive experience, students will increase their understanding of cancer-related causes, diagnostic tools, treatment options and current research through the context of breast cancer. More importantly, they will identify risk reduction strategies and learn first-hand about diverse careers related to the field as they live the experience among the professionals at Rutgers Cancer Institute of New Jersey!

Open to high school students entering the 10th, 11th or 12th grade in Fall.
 
For more information:
Email BOLD@cinj.rutgers.edu or call 732-235-4160.
The BOLD initiative is offered by the LIFE Center (Ladies Professional Golf Association In the FIGHT to Eradicate breast cancer) at Rutgers Cancer Institute of New Jersey and the Center for School and Community-Based Research and Education, Rutgers School of Public Health. Funding provided by the Val Skinner Foundation.

BOLD Actions Reunion Camp
All students who have attended the BOLD Initiative Camp are welcome to attend the reunion camp. For more details contact BOLD@cinj.rutgers.edu