---
BOLD - July 2023: We are pleased to announce that we will be moving forward with an IN person BOLD opportunity in July 2023. BOLD will be offered for students who qualify, apply and are accepted.
The BOLD 2023 Program dates:  
Monday, July 24 - Friday, July 28, 10am-3:30pm
Program Location: Rutgers Cancer Institute of New Jersey  New Brunswick, NJ (masks required)
*** Applications for Summer 2023 are now CLOSED. Those accepted will be notified via email by May 15. 
Application Details: 
Participants must be fully vaccinated against COVID-19; by May 15, 2023. Please keep this in mind while applying for the program. 
Deadline to apply by March 31.
Due to limited capacity, we are only opening to 30 students.
There is no application fee but there will be a non-refundable enrollment fee of $400 for those accepted due by June 1.
Application Link and Essay Requirement:
Please answer the following questions in essay form. Your submission must typed, double-spaced, and no more than two pages in length. (Be sure to put your name on each page of your response to the essay questions.) 
Essays should be saved as PDF BOLD2023_FIRSTNAME_LASTNAME_GraduationYEAR (example BOLD2023_SarahSmith_2024.pdf
Describe why you would like to participate in the 2023 BOLD Initiative summer camp and what you hope to gain from the experience. 
Discuss your long-term career and/or educational goals. 
Describe your favorite learning experience. (This does not have to be limited to a school experience)
If you have any further questions please feel free to contact the BOLD Team BOLD@cinj.rutgers.edu.
For information about additional programs and camps offered at Rutgers, we encourage you to visit the Rutgers K-12 pre-college directory at precollege.rutgers.edu. 
Thank you for your interest in the BOLD summer camp,
BOLD Team
To join our mailing list please email BOLD@cinj.rutgers.edu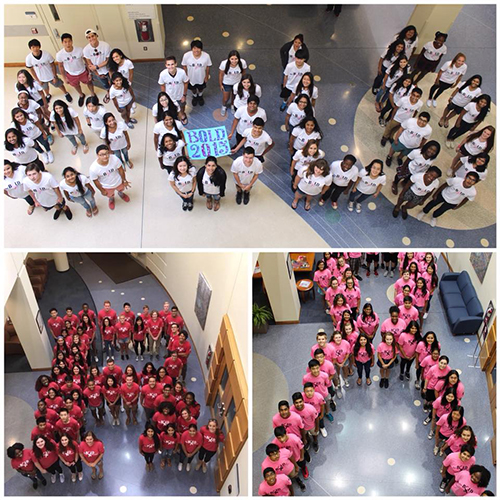 High school aged students are invited to apply for the BOLD Camp (BioCONECT Oncology Leadership Development) - a unique summer learning opportunity for students who have an interest in learning about cellular biology and genetics of cancer, as well as the diverse careers connected to the field. 
During this week-long interactive experience, students will increase their understanding of cancer-related causes, diagnostic tools, treatment options and current research through the context of breast cancer. More importantly, they will identify risk reduction strategies and learn first-hand about diverse careers related to the field as they live the experience among the professionals at Rutgers Cancer Institute of New Jersey!

Open to high school students entering the 10th, 11th or 12th grade in Fall.
 
For more information:
Email BOLD@cinj.rutgers.edu or call 732-235-4160.
The BOLD initiative is offered by the LIFE Center (Ladies Professional Golf Association In the FIGHT to Eradicate breast cancer) at Rutgers Cancer Institute of New Jersey and the Center for School and Community-Based Research and Education, Rutgers School of Public Health. Funding provided by the Val Skinner Foundation.

BOLD Actions Reunion Camp
All students who have attended the BOLD Initiative Camp are welcome to attend the reunion camp. For more details contact BOLD@cinj.rutgers.edu