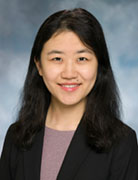 Bo (Bonnie) Qin, PhD, earned her doctoral degree in nutrition epidemiology from the University of North Carolina at Chapel Hill Gillings School of Global Public Health. She joined Rutgers Cancer Institute of New Jersey as a postdoctoral appointee and was then appointed Instructor of Medicine. She is currently a tenure-track assistant professor at Rutgers Robert Wood Johnson Medical School within the Division of Medical Oncology and the Section of Cancer Epidemiology and Health Outcomes at the Rutgers Cancer Institute of New Jersey.  
The goal of Dr. Qin's research program is to integrate multidisciplinary components into cancer epidemiology research to advance our understanding of cancer etiology and prevention, survivorship and survival, and cancer health disparities. 
View and Download Dr. Qin's CV here.
Areas of Expertise:
Cancer Epidemiology, Breast Cancer, Ovarian Cancer, Cancer Health Disparities, Cardiovascular Epidemiology, Cognitive Impairment, Obesity, Neighborhoods and Health, Nutrition, Dietary Pattern, and Metabolomics.

Education and Training:
PhD – Nutrition (minor: Epidemiology), University of North Carolina at Chapel Hill Gillings School of Global Public Health 
BSc (Hons) – Applied Biology with Biotechnology, Hong Kong Polytechnic University 
Exchange – Biological Sciences, Cornell University 

Early-Career Awards:
American Society of Preventive Oncology (ASPO) Cancer Disparities Special Interest Group Poster Award
NIH K99/R00 Pathway to Independence Award 
Cancer Disparities Research Network (CDRN) Early Career Cancer Health Disparities Travel Award 
American Institute for Cancer Research (AICR) John A. Milner Poster Prize
New Jersey Commission on Cancer Research (NJCCR) Postdoctoral Fellowship 
American Association for Cancer Research (AACR) Scholar-in-Training Award 
American Heart Association (AHA) the Jeremiah and Rose Stamler Research Award for New Investigators-Finalist