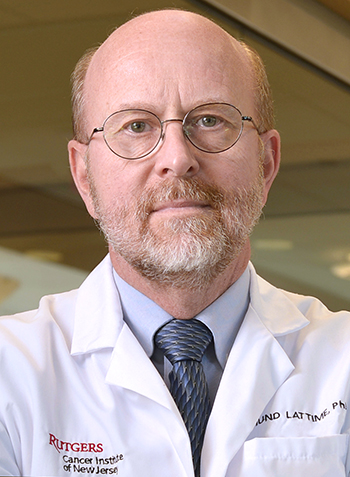 Dr. Edmund Lattime received a BA from Gettysburg College and a PhD from Rutgers University. He was recruited to Rutgers Cancer Institute of New Jersey in 1998 and is currently Professor of Surgery,  Associate Director for Research and Education Affairs at Rutgers Cancer Institute and Professor of Surgery, Biochemistry & Molecular Biology, Rutgers Robert Wood Johnson Medical School. 
Dr. Lattime completed a postdoctoral fellowship and spent ten years as a faculty member at Memorial Sloan-Kettering Cancer Center where he was a Scholar of the Leukemia Society of America. At MSKCC, his group began the study of the interaction between tumor and the immune response in preclinical models and in patients with bladder cancer. In 1989 when recruited to Thomas Jefferson University, Dr. Lattime used data from these clinical and pre-clinical studies to further explore the modulation of antitumor immunity via gene delivery to the tumor microenvironment. His group ultimately developed a genetically engineered vaccinia virus containing the gene for GMCSF. They took the virus from preclinical validation to the generation and regulatory approval of a human grade virus used in their first-in-man study in melanoma. The virus (Pexa-Vec) is now in Phase III trial in Hepatocellular Carcinoma. When recruited to the Cancer Institute of New Jersey, Dr. Lattime and colleagues continued building on these findings and have completed NCI / CTEP sponsored first-in-man Phase I clinical trials in advanced bladder and pancreatic cancers using local delivery of poxvirus recombinants.
Dr. Lattime was a member of the NIH Experimental Therapeutics and the ACS Immunology and Immunotherapy grant review panels. He chaired the NIH SBIR Oncology Study Section from 1999 to 2002 and the NCI Cancer Immunopathology and Immunotherapy (CII) Study Section from 2006-2008.  He has held numerous editorial positions and is currently an Advisory Editor of the Nature Journal Cancer Gene Therapy and a member of the editorial board of The Journal of Cancer Immunology and Immunotherapy. His Academic Press book entitled Gene Therapy of Cancer is in its 3rd edition. 

U.S. Congressman Frank Pallone, Jr. and Dr. Edmund Lattime of Rutgers Cancer Institute of New Jersey talk with Middlesex County Freeholder Director Ronald G. Rios about research taking place at the Institute to explore new treatments for pancreatic cancer in the April 2015 installment of "Spotlight on Middlesex County."