How does cancer "work?"
And why do some cancers respond to immunotherapies, while others do not? Rutgers Cancer Institute has performed groundbreaking research into answering these questions by studying the tumor microenvironment. Under the tutelage of Dr. Eileen White and with the collaboration of Dr. Shridar Ganesan and Dr. Edmund Lattime, research at the Rutgers Cancer Institute has focused on identification of mechanisms of response to immune checkpoint blockade (ICB), a type of immunotherapy where treatments are used to "block" the immune defenses of certain tumor cells, allowing the body's T cells to in turn, kill the tumor cells. By examining patients that have an exceptional response to ICB, Rutgers Cancer Institute researchers have identified several novel mechanisms underlying that response.
These mechanisms include mutations in an gene called DNA polymerase epsilon (POLE) that introduce mistakes during DNA replication. These mistakes elevate tumor mutational burden (TMB), which is the number of mutations, or changes, that the DNA of a tumor cell has. The number and locations of mutations in the DNA of the tumor cell help identify which therapies are more likely to produces changes in the tumor, thereby increasing the ability of the immune system to identify and eliminate the tumor cells. The higher the number of mutations, the higher the TMB, which makes tumor cells more visible to the immune system and more likely that ICB treatment will work.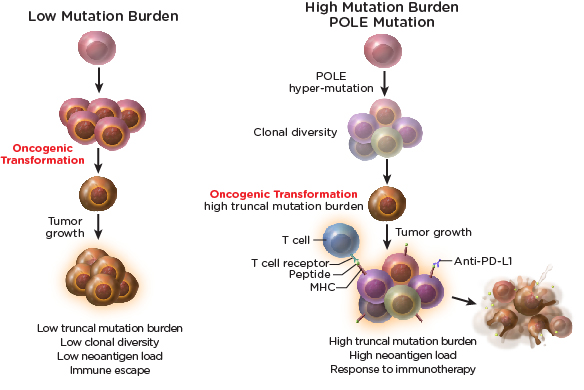 These pivotal findings have led to new clinical trials in several types of cancer assessing elevated TMB due to mutation in POLE, the related DNA polymerase POLD1 or BRCA1/2 (which elevate TMB by blocking repair of DNA mutations), as an indicator of response to ICB therapy.
There have already been success stories from these clinical trials, including that of Marcia Bird. Ms. Bird had endometrial cancer, which was treated with surgery, chemotherapy, and radiation. After several clear scans, she got the devastating news that the cancer metastasized to her neck and pelvic lymph nodes. Following analysis of her specific endometrial cancer, her physicians found a high-level expression of PD-L1 that deemed her eligible for a clinical trial of pembrolizumab, a new immune checkpoint inhibitor. The treatment was an impressive success, and within months her tumors shrank. Leveraging the Precision Medicine Program at Rutgers Cancer Institute led by Dr. Ganesan, Marcia's tumor samples were analyzed for potential mutations. They found mutation in POLE that occurs in approximately 10 percent of endometrial cancers along with a high TMB, potentially explaining vulnerability to ICB. This unique finding was studied further in the laboratory, which revealed that mutations in POLE render tumors particularly responsive to immunotherapy. The groundbreaking discovery of POLE mutations led to a new immunotherapy treatment paradigm.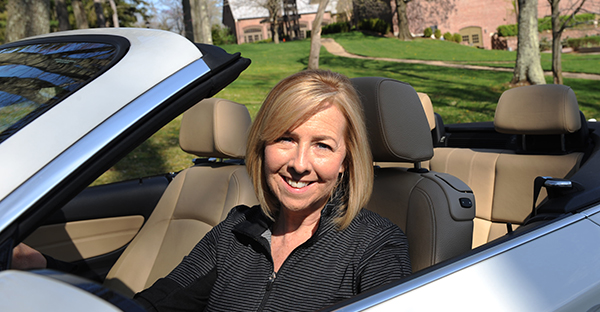 To read more about Marcia Bird and the groundbreaking research involved in her story, click here.
Innovation Inspiring Hope.
This research at Rutgers Cancer Institute has already paved the way for FDA approval of a tumor vaccine for treatment of Merkel cell carcinoma (a type of skin cancer), representing a victory of research in action. Key questions remain, however, including: What is the mechanism of response to ICB? Why do some tumors with high TMB fail to respond to ICB? Why do some tumors with low TMB respond to ICB? Can combining ICB with other agents improve anti-tumor immune responses?
It is the passion and goal of the Rutgers Cancer Institute Duncan and Nancy MacMillan Cancer Immunology and Metabolism Center of Excellence to answer these questions. We continue to probe into the microenvironment of tumor cells, to unlock the secrets to how tumor cells work and how to manipulate these processes to discover new, effective treatments for all types of cancers. Our innovation is laying the groundwork for providing new hope to cancer patients across the globe.
Find Out More.
To learn more about our programs and research, please see the following:
For more information about our clinical trials call 732-235-7356 or search for a clinical trial.
For inquiries about employment opportunities, please click here.
If you are interested in supporting the Duncan and Nancy MacMillan Cancer Immunology and Metabolism Center of Excellence at Rutgers Cancer Institute, please contact the Rutgers Cancer Institute Development Office at cinjdevelopment@ruf.rutgers.edu.