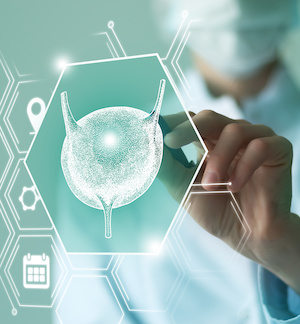 The experts who make up the Urologic Oncology Program at Rutgers Cancer Institute of New Jersey are keenly focused on providing care that meets the unique needs of each individual. We provide highly specialized and compassionate care for patients with tumors of genitourinary tract. To request an appointment, call 844-CANCERNJ. 
Our team offers an unparalleled level of expertise and comprehensive services committed to improving patient outcomes in a comfortable and enriching environment. Our physicians specialize in the diagnosis and treatment of tumors of the prostate, testis, kidney, and bladder.  
Rutgers Cancer Institute is a leader in laparoscopic renal procedures and robotic surgery and has extensive experience performing robotic prostatectomies – our urologic oncologists have performed more than 1,500 robotic radical prostatectomies and more than 600 partial and/or radical nephrectomies in the past 5 years. Nearly 150 radical cystectomies are performed annually at our center.
Our Prostate Cancer Program provides a hub for basic and clinical research in prostate cancer as well as a forum for prostate cancer outreach. 
 
Blue Light Cystoscopy
The Urologic Oncology Program at Rutgers Cancer Institute of New Jersey and Robert Wood Johnson University Hospital offers blue light cystoscopy with Cysview® to help improve detection of certain bladder cancers. Cysview is an optical imaging agent that makes non-muscle invasive bladder cancer glow bright pink in blue light, enabling urologists to better see and remove tumors with greater accuracy. Learn more 
Your Urologic Oncology Team
---