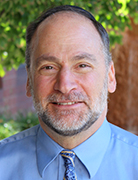 Ronald D. Ennis, MD
Medical Director, Clinical Network for Radiation Oncology
Radiation Oncologist
I am a radiation oncologist with expertise in prostate cancer, genitourinary malignancies and gynecologic malignancies. I have extensive experience with high dose-rate and low dose-rate brachytherapy, stereotactic body radiosurgery (a.k.a. "Cyberknife"), intensity modulated radiotherapy, three-dimensional conformal radiotherapy, image-guided radiotherapy, hormone therapy, surveillance and survivorship.  I believe strongly in a compassionate patient-centered approach, finding the optimal care for each patient taking into account his/her individual needs, preferences and medical conditions.
As the Medical Director of the Clinical Network for Radiation Oncology for Rutgers Cancer Institute of New Jeresy, I work to unify the highest quality radiation oncology practice across our facilities.
On a national level, I am a member of the Board of Directors of the American Society for Radiation Oncology (ASTRO), the largest society representing the radiation oncology specialty, serving as the Vice Chair of the Government Relations Council.  I have been involved in government relations for ASTRO for over a decade, helping the society advocate on behalf of cancer patients and the field on a myriad of issues.
Additionally, since 2015, I have served as a member of the Advisory Committee for the Use of Medical Isotopes (ACMUI) of the U.S. Nuclear Regulatory Commission (NRC).  This thirteen-member committee advises the NRC on regulatory issues regarding the safe use of radioactive materials in medical practice.
Prior to joining Rutgers Cancer Institute of New Jersey, I served as Chairman of the Genitourinary Oncology Disease Management Team within the Mount Sinai Health System, unifying practices across the health system and leading the process of adopting practices aligned with the value-based approach of the Oncology Care Model of the Center for Medicare and Medicaid Innovation. In addition, I served as Director of Radiation Oncology at St. Luke's-Roosevelt Hospital as part of the Continuum Health Partners (CHP) and continued in that capacity at what became known as Mount Sinai West Hosptial when CHP merged with Mount Sinai.
Before taking the Directorship at St. Luke's-Roosevelt Medical Center in 2005, I was a faculty member in Radiation Oncology at Columbia University College of Physicians and Surgeons and the Medical Director of the Department of Radiation Oncology at New York Presbyterian Hospital-Columbia.
I received my B.A. from Columbia University, graduating Phi Beta Kappa and Cum Laude with a major in computer science. I received my medical degree from Yale University School of Medicine and completed my residency training in Radiation Oncology at Yale-New Haven Hospital.
I conduct clinical research and have published dozens of articles, book chapters and editorials focusing on prostate cancer, gynecologic cancer and health policy. I also lecture throughout the country on issues related to prostate cancer and health care policy. 
Clinical Expertise
Prostate cancer, gynecologic cancers, gastrointestinal cancers, brachytherapy, stereotactic body radiosurgery (a.k.a. "Cyberknife"), intensity modulated radiotherapy, three-dimensional conformal radiotherapy, and image-guided radiotherapy. 
Honors
Since 2001, I have been listed in Castle Connolly's List of Best Doctors every year.