Research Overview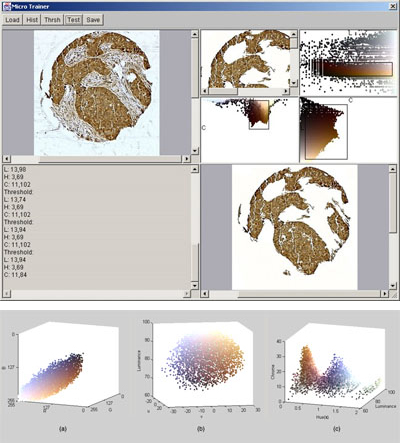 Future progress in several key areas of cancer research and drug discovery will rely upon the capacity of investigators to consistently detect, track and characterize subtle changes that occur throughout the course of disease progression. Tissue microarray technology holds great promise to distinguish among subclasses of disease and advancing investigative research as it allows to explore clinicopathologic correlations postulated upon the evaluation of whole histology sections. In this regard, advanced imaging and computational tools, as compared to traditional methods of assessment, enable detection of sensible changes in tumor tissues and surrounding microenvironment in a more reliable and consistent manner.
One of the goals of Dr. Foran's laboratory research is to develop a set of algorithms and software tools which facilitate automated imaging, analysis, and archiving of tumor tissue microarrays. In doing so, Dr. Foran's laboratory is currently working to determine the relationship between tumor image analysis-derived information and molecular status/clinical outcome in a way that will permit researchers to systematically carry out large-scale comparative analyses of human cancers.
Computational Imaging
Clinical and Research Information Technology (IT)
Chemical Informatics and Drug Discovery
Bioinformatics and Systems Biology
Another focus of the lab is the creation of a clinical data warehouse where data arising from Electronic Medical Records (EMR), Clinical Trial Management Systems (CTMS), Tumor Registries, Biospecimen Repositories, Radiology and Pathology archives and next-generation sequencing devices integrate to support advancement in precision medicine, data-mining, clinical outcome assessment and drug discovery. 
Also, a parallel research effort in Dr. Foran's laboratory is to study an emerging field of research known as "radiomics." The discipline is aiming at extracting large amount of quantitative features from medical images (computed tomography [CT], magnetic resonance [MR], positron emission tomography [PET], or ultrasound images) using data-characterization algorithms that would determine the likelihood of an individual to benefit from a particular therapy. 
Detailed description of individual projects can be found at: http://gemini.cinj.rutgers.edu/projects