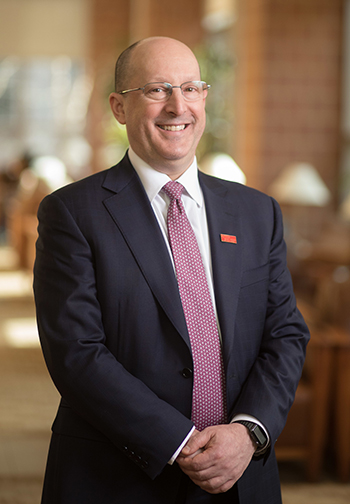 Welcome to Rutgers Cancer Institute of New Jersey. As one of the nation's NCI-designated Comprehensive Cancer Centers and the state's only such center, patients can be confident that they are receiving world-class cancer care delivered by a compassionate team of internationally recognized experts close to home. Rutgers Cancer Institute provides its patients with access to the latest medicines and technology, as well as the most advanced clinical trials including novel personalized targeted therapies including precision medicine and immunotherapy - some that are only offered at NCI-designated Comprehensive Cancer Centers like ours.  Thanks to our partnership with RWJBarnabas Health, there is a collaborative emphasis on oncology research and cutting-edge treatment enabling those who need cancer care to stay close to home, whether by visiting the New Brunswick or Newark campuses of Rutgers Cancer Institute or any of the RWJBarnabas Health hospitals.
With state-of-the-art science thriving side by side with clinical research and patient care, our physicians and scientists are leaders in their field. They work diligently to develop new approaches to the detection, treatment and prevention of cancer through groundbreaking clinical, basic, population, and translational research.
As the cancer research hub for New Jersey, Rutgers Cancer Institute fosters collaborations with the State's universities, as well as pharmaceutical and biotechnology companies bringing breakthrough discoveries to patients at a rapid pace. Rutgers Cancer Institute also serves as a valuable resource for New Jersey's pharmaceutical and biotechnology industries for the development of new cancer treatments.
I welcome you to explore our website and learn more about the incredible work being done at Rutgers Cancer Institute of New Jersey and how we are bringing the future of cancer treatment today to our patients.
Sincerely,
Steven K. Libutti, MD, FACS
Director, Rutgers Cancer Institute of New Jersey
Vice Chancellor for Cancer Programs, Rutgers Biomedical and Health Sciences
Senior Vice President, Oncology Services, RWJBarnabas Health
---
In this video, Steven Libutti, MD, Senior Vice President of Oncology Services, RWJBarnabas Health and Director, Rutgers Cancer Institute of New Jersey, discusses what patients can expect from this new partnership. For more information about cancer services at RWJBarnabas Health, please visit rwjbh.org/beatcancer.