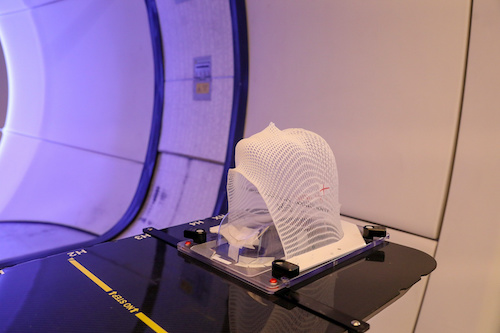 As leaders in cancer care, Rutgers Cancer Institute of New Jersey in partnership with RWJBarnabas Health, is at the forefront of medical technology and innovation. 
Over the years, Gamma Knife has been refined and improved with advances in engineering radiation physics, robotic controls and computerized treatment planning. At Robert Wood Johnson University Hospital and Rutgers Cancer Institute, we offer treatment with Gamma Knife Icon, which provides increased accuracy and patient comfort, as well as reduced treatment times. This state-of-the-art, noninvasive tool was specifically designed to treat many brain conditions, including cancer, vascular anomalies, and functional and brain disorders.
Gamma Knife: A Gentle, Noninvasive Approach
The Gamma Knife is not a regular knife. In fact, it is not an actual knife at all. There are no blades and the physician does not make any incisions, but rather uses numerous painless beams of radiation which are delivered with extreme accuracy. This approach, known as radiosurgery, focuses radiation directly and very precisely, on the targeted area without affecting surrounding healthy tissue. Successful results are typically achieved in one outpatient visit, allowing patients to return to their daily lives quickly.
To receive more information
about Gamma Knife
call 732-418-8002
Since no incision is made, the patient's head does not need to be shaved, and the risk of surgical complications is low. Patients may experience side effects, but they are often very mild. Headache, dizziness, seizures or nausea may be experienced immediately after the treatment, but the effects will disappear soon after the procedure.
Patient Benefits:
Minimal or no damage to surrounding healthy tissue
Reduction of excess radiation exposure
Typically just one outpatient visit for treatment
No incision, meaning no need to shave the head
Low risk of complications
What is Gamma Knife Technology?
Gamma Knife technology is the most accepted and widely used radiosurgery treatment in the world. The radiation source used is called cobalt-60. There are approximately 192 sources of cobalt-60 loaded within the Gamma Knife unit. Thousands of radiation beams can be generated with a level of accuracy of more than 0.5mm, about the thickness of a strand of hair. Individually, each radiation beam is too weak to damage the normal tissues it crosses on the way to the target. But when focused precisely on that target, the beams intersect and the combined radiation is sufficient to treat the targeted area. 
Because Gamma Knife radiosurgery is so accurate, the full course of radiation can be delivered during one to five treatment sessions, compared with ten, twenty, or even thirty visits for classic linear accelerator (linac) treatments. 
Gamma Knife offers a reduction in the unwanted excess radiation to healthy brain, as well as a decreased overall duration for a course of radiation. 
Conditions Treated with Gamma Knife
The following is a partial list of conditions treated using the Gamma Knife at Rutgers Cancer Institute and Robert Wood Johnson University Hospital:
• Primary brain tumors
• Brain metastasis
• Acoustic neuromas (vestibular
  schwannoma)
• Meningiomas
• Pituitary adenomas
• Arteriovenous malformations (AVM)
• Glioma
• Vascular Anomalies
• Benign Tumors
• Cavernous malformations
• Functional and Pain Disorders
• Trigeminal neuralgia
• Parkinson's disease
• Essential tremor
Meet the Gamma Knife Team
Stephen Johnson, MD, Medical Director, Gamma Knife Program
Salma Jabbour, MD, Radiation Oncologist
Rahul R. Parikh, MD, Radiation Oncologist
Nisha Ohri, MD, Radiation Oncologist
For more information or to find out if Gamma Knife might be a good treatment option for you, please call 732-418-8002.