Radiation oncologists at Rutgers Cancer Institute of New Jersey are international experts in the field providing patients with the most advanced radiation therapy treatments available, including brachytherapy. These services are available in New Brunswick in cooperation with Robert Wood Johnson University Hospital, as well as in Newark at University Hospital Newark. 
Brachytherapy, also called internal radiation therapy, allows your Radiation Oncologist to use a highly conformal radiation dose to precisely target tumors in a shorter time, with less toxicity to the surrounding healthy tissue, than is possible with external beam radiation treatment.
 
What is Brachytherapy?

Brachytherapy Overview
Brachytherapy is a type of cancer treatment that uses radiation to eradicate cancer cells and shrink tumor mass. In this type of radiation therapy, the radioactive source delivered through seeds, ribbons, catheters or wires is placed within or just next to a tumor and may be left in place permanently or temporarily, depending on the cancer type and location. That allows eliminations of cancer cells from inside the tumor mass as opposed to a radiation beam going through healthy tissue to reach tumor cells (in case of external beam radiotherapy).
 
Procedures performed by Radiation Oncologists at Rutgers Cancer Institute include:
Intracavitary brachytherapy for gynecologic, lung and esophageal tumors
Interstitial brachytherapy for head and neck, extremity soft tissue sarcoma, breast, prostate and gynecologic tumors
Yttrium 90 radioembolization for select liver tumors
For added precision, dose planning and optimization of the radioactive source position and processing through the implanted tumor volumes is performed through incorporation of sophisticated planning algorithm and relying on multimodality imaging including MRI guidance.
 
Benefits of Brachytherapy
Since brachytherapy is localized, the radiation is delivered specifically to the  tumor mass, protecting the surrounding healthy tissue and limiting exposure.  Brachytherapy may cause fewer side effects than does external beam radiation, and the overall treatment time is usually shorter. Most patients feel little pain during brachytherapy other than slight discomfort from the applicator that contains the radiation, if used.  
 
Conditions Treated with Brachytherapy
Here is a partial list of diseases that can be treated using brachytherapy
at Rutgers Cancer Institute: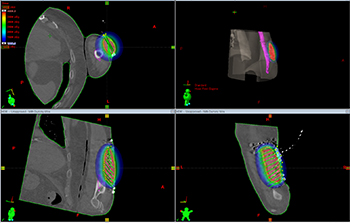 Breast Cancer
Cervical Cancer
Head and Neck Cancer
Liver Cancer
Lung Cancer
Prostate Cancer
Sarcomas
Uterine Cancer
Vulvar Cancer 

Meet our Team
Our physicians are leaders in the field of radiation oncology with a specialty in brachytherapy.  They present at international meetings and share their expertise with colleagues around the country.
 
Lara Hathout, MD, FRCPC
Director of Brachytherapy, Department of Radiation Oncology
Radiation Oncologist, Rutgers Cancer Institute of New Jersey
Assistant Professor, Department of Radiation Oncology at Rutgers Robert Wood Johnson Medical School
Attending Physician, RWJUH-New Brunswick


Practice Locations offering Brachytherapy

Rutgers Cancer Institute at RWJUH – New Brunswick
Department of Radiation Oncology
One Robert Wood Johnson Place, G2 Level
New Brunswick, NJ 08901
For more information on brachytherapy or to request a consultation on a patient, please contact our Radiation Oncology team at 732-253-3939.
University Hospital Newark
Department of Radiation Oncology
Rutgers Cancer Institute of New Jersey at University Hospital 
205 South Orange Avenue
Newark, NJ 07103
---
For more information on brachytherapy or to request a consultation on a patient, please contact our Radiation Oncology team at 973-972-5053.