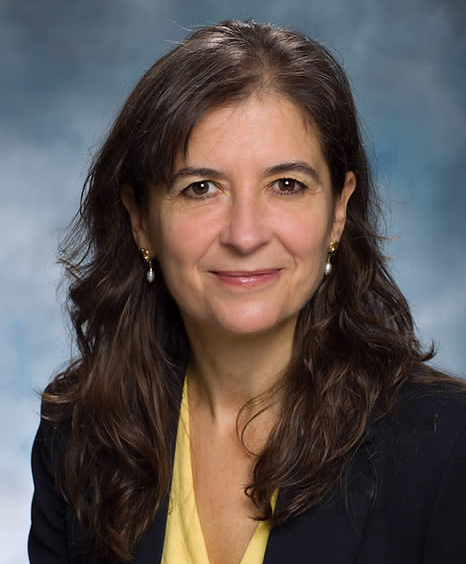 Dr. Bandera is Professor and Chief, Cancer Epidemiology and Health Outcomes, Unilever Endowed Chair in Nutrition and Cancer Prevention and Co-Leader, Cancer Prevention and Control Program at the Rutgers Cancer Institute of New Jersey and Professor of Medicine at Robert Wood Johnson Medical School, Department of Medicine.
Major research interests include the impact of obesity and body composition and related comorbidities on breast and ovarian cancer risk, treatment and survival outcomes and survivorship, with a focus on minorities and underserved populations.  She has served as Principal Investigator in several epidemiologic studies, including the New Jersey Ovarian Cancer Study, which is a member of the Ovarian Cancer Association International Consortium, the Jersey Girl Study (a study evaluating factors affecting puberty in girls), the Women's Circle of Health Study (a study of breast cancer in African American women, which is a member of the AMBER Consortium), the Women's Circle of Health Follow-up Study (a cohort study of African American/Black breast cancer survivors) and KP-ROCS (a cohort study evaluating racial/ethnic disparities in treatment outcomes and survival).  Her research has been funded by several grants from the National Cancer Institute.
Dr. Bandera is very involved in the development of nutrition and physical activity guidelines for cancer prevention at a national and global scales. For more than a decade, Dr. Bandera served as a member of the International Expert Panel for the World Cancer Research Fund International (WCRF)/American Institute for Cancer Research (AICR) Continuous Update Project and the WCRF/AICR Third Expert Report on Diet, Nutrition, Physical Activity and Cancer: A Global Perspective, released in May 2018 which provided the most comprehensive review of the epidemiologic literature relating dietary factors and cancer published to date. She was recently appointed by WCRF/AICR as chair of the expert committee on cancer incidence and member of the expert panel to continue this work.  She has also been involved in the American Cancer Society's Guidelines on Nutrition and Physical Activity for Cancer Prevention and Survival Advisory Committees since 2006 and has served as chair of the Lifestyle Behaviors, Energy Balance and Chemoprevention Special Interest Group of the American Society of Preventive Oncology.  At the state level, Dr. Bandera led the Nutrition and Physical Activity Workgroup of the New Jersey Task Force on Cancer Prevention, Early Detection, and Treatment for more than ten years and served as Vice Chair of the Advisory Group for Cancer Prevention and Control of the New Jersey Commission on Cancer Research.
Other Service: Dr. Bandera has served in many grant review panels as standing member or ad hoc reviewer including NIH Cancer, Heart and Sleep Epidemiology Study Section Panel B (CHSB), NCI Initial Review Group Subcommittee J for Population and Patient-Oriented Training, NCI Review Group Subcommittee G for Education, NCI Special Emphasis Panel Loan Repayment Program for Clinical Research, Ovarian Cancer Research Program of the Department of Defense's Congressionally Directed Medical Research Programs, American Institute for Cancer Research Grant Review Panel, World Cancer Research Fund International Grant Review Program. 
Mentoring: Dr. Bandera has also continuously devoted considerable efforts to mentoring the next generation of cancer researchers, including graduate students, postdoctoral fellows, and junior faculty, serving as mentor in many NIH K grants (career development grants) over the years.  She is particularly committed to mentoring underrepresented minorities and has served as mentor in three NIH Supplements to Promote Diversity in Health-Related Research.