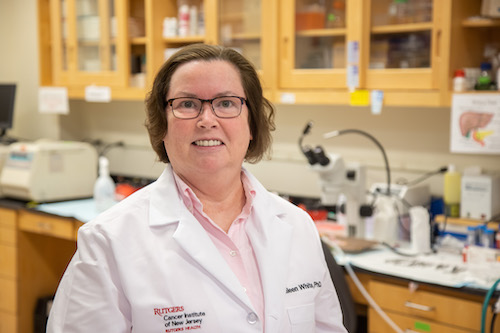 Dr. Eileen White received a BS from Rensselaer Polytechnic Institute and a PhD in Biology from SUNY Stony Brook in the Department of Dr. Arnold J. Levine. She was a Damon Runyon Postdoctoral fellow in the laboratory of Dr. Bruce Stillman at Cold Spring Harbor Laboratory. There she discovered that one of the oncogenes of the DNA tumor virus adenovirus encoded an inhibitor of programmed cell death or apoptosis (E1B 19K) that was a viral homologue of the human bcl-2 oncogene. She went on to establish that oncogene activation that deregulates cell growth also activates apoptosis, and that inhibition of apoptosis promotes cancer and treatment resistance. These findings revealed roles for the p53 tumor suppressor in activating apoptosis and suppressing cancer and for the Bcl-2-related anti-apoptotic proteins blocking apoptosis and promoting cancer.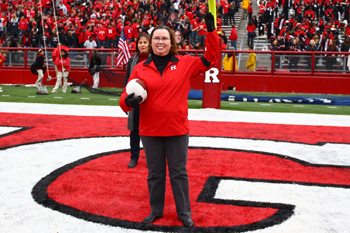 She is currently Deputy Director, Chief Scientific Officer, Associate Director for Basic Science at the Rutgers Cancer Institute of New Jersey and Distinguished Professor of Molecular Biology and Biochemistry at Rutgers University. Dr. White has served on the Board of Scientific Counselors of the National Cancer Institute and the Board of Directors of the American Association for Cancer Research. She has received a MERIT Award from the NCI, an Investigatorship from the Howard Hughes Medical Institute, and the Red Smith Award from the Damon Runyon Cancer Research Foundation. Dr. White is an elected Fellow of the American Society of Microbiology (ASM) and of the American Association for the Advancement of Science. Dr. White has been or is a member of the Scientific Review Boards for the Starr Cancer Consortium and the Cancer Prevention Research Institute of Texas.

Editorial Board memberships include of Genes & Development, Cancer & Metabolism, Oncogene, Cancer Prevention Research, Molecular Cancer Research, Autophagy, Cell Death and Disease and Cancer Discovery. She is also a co-investigator on cancer clinical trials, and is a consultant to the pharmaceutical industry for anti-cancer drug discovery. At the request of Dr. Harold Varmus, Dr. White is a member of the "Provocative Questions Project" to guide future of the NCI. 
In 2021 Dr. White was named a founding member of the Ludwig Cancer Research branch dedicated to Cancer Metabolism that opened at Princeton University. Dr. White was also elected to the AACR Academy, Class of 2021 Fellows.