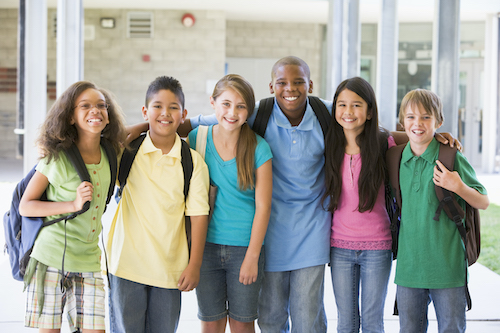 Science on the Move—Focus on Cancer
Teachers and students participating in RUYES will develop cancer relevant modules for outreach to middle and high schools across New Jersey.
Outreach events will be presented together with the Rutgers Science Explorer program at the Office of STEM Education.
Topic:

Preventing Lung Cancer

Summary:

To engage and educate middle school students in their communities, high school science teachers, students and undergraduate participants of the Rutgers Youth Explore Science Program at the Cancer Institute of New Jersey created interactive 90 minute session focusing on prevention of lung cancer. During the session middle school students have the opportunity to explore the anatomy of health lungs, understand health risks of smoking and vaping, address risk reduction, and increase cancer screening in their communities. 

These activities are fully funded and are available at no cost to your school.

Scheduling Options:

Option 1: Virtually during your regularly scheduled classes to conduct the lessons (hands on materials will be sent to your school for distribution)

If your school permits we can send 1-2 program moderators to work with the students

Option 2: during an afterschool "science" night or science club we can present the sessions virtually and send packets home for the students to work on for the hands-on activities

Option 3: If you school permits we can do both of these options in person
Middle and high schools interested in visiting Rutgers for a campus visit, booking a mobile Rutgers Science Explorer bus to visit the school, and/or scheduling a Back to School Night Outreach Event should send an email to RUYES@cinj.rutgers.edu.
To get information about scheduling a visit to your district; visit the Rutgers Science Explorer Bus.

Back to School Night
This outreach event will also be hosted by middle and high schools across New Jersey.
Back to School Night will incorporate research talks by RUYES participants and activities pertaining to cancer screening and prevention strategies.
RUYES Program Outreach Highlights and Upcoming Events
Past Events

Date

Topic

Hosted by:

May 22, 2023

RUYES & Linden Cancer Health Fair
Learn More Here

C. Ramdat, N. Czepielewski & P. Natarajan & T. Mondesir
Linden High School

May 22, 2023

Vaping and Tobacco Cessation, Speaker Monica Gillies (COE), Linden Cancer Health Fair

C. Ramdat, Nat Czepielewski & Linden High School

April 4, 2023

Vaping and Tobacco Cessation Woodbridge - YES (Youth Enjoy Science) Club

M. Tolentino
Woodbridge High School

March 30, 2023

Woodbridge High School Field Trip to Rutgers Cancer Institute of New Jersey

M. Tolentino
Woodbridge High School

March 17, 2023

Linden High School Field Trip to Rutgers Cancer Institute of New Jersey

P. Natarajan & T. Mondesir
Linden High School

October 2022 - May 2023

Linden - YES (Youth Enjoy Science) Club
Meets weekly
Learn More Here

P. Natarajan & T. Mondesir
Linden High School

October 2022 - May 2023

Woodbridge - YES (Youth Enjoy Science) Club
Meets weekly
Learn More Here

M. Tolentino
Woodbridge High School

October 26, 2022 and Earlier

October 26, 2022

Update in Breast Cancer: From 0 to 60 Presented by
Dr. Toppmeyer
View Flyer

LIFE Center and
Linden High School - YES

November 10, 2022

RUYES - a look into research
Register Here | View Flyer

Education and Training Department,
Rutgers Cancer Institute

December 20, 2022

Rutgers Science Explore Bus Cancer Detectives
Learn More Here

Jersey Explore Middle School

October 18 - 20, 2022

Rutgers Science Explore Bus Cancer Detectives
Learn More Here

Linden Middle School

September - November 2022

Problem Based Learning Curriculum Pilot
Topic: The Chemistry of Cancer Treatment

M. Tolentino
Woodbridge High School

September - November 2022

Problem Based Learning Curriculum Pilot
Topic: Access to Genetic Testing (gel electrophoresis)

P. Natarajan
Linden High School

September - November 2022

Problem Based Learning Curriculum Pilot
Topic: Environmental Impact on Cancer (creating a filter)

T. Hester
Camden Technical High School

October - November 2022

Problem Based Learning Curriculum Pilot
Topic: Access to Genetic Testing (gel electrophoresis)

T. Mondesir
Linden High School

August 29, 2022

RUYES Research Symposium Day 2

RUYES

August 19, 2022

RUYES Research Symposium Day 1

RUYES

July 20, 2022

Problem Based Learning Oncology Curriculum Samples

Texas A&M Summer Institute

March 7, 2022

Genetic Counseling and Testing

Infinity High School
Ms. Stacey McKoy

Spring 2022

Problem Based Learning Curriculum Pilot
Topic: Preventing Vaping in Teen

Linden High School
Ms. Pramila Natarajan

March 2022

Problem Based Learning Curriculum Pilot
Topic: Access to Genetic Testing (gel electrophoresis)

Infinity High School
Ms. Stacey McKoy

April 30, 2022

RUYES Participants Highlight their outreach activities

Rutgers Day
RUYES Participants

February 3, 2022

Genetic Counseling and Testing

Linden High School
Ms. Pramila Natarajan

February 2022

Problem Based Learning Curriculum Pilot
Topic: Understanding Cellular Replication

Bergen County Charter School
Ms. Jessica Van Horn

February 2022

Problem Based Learning Curriculum Pilot
Topic: Cancer Prevention Screening

BARD Academy
Dr. Maria Agapito

October 2021

Breast Cancer Awareness Activities

BARD Academy
Dr. Maria Agapito

November 2021

Dr. Hu's Lab Researcher Presents Career Paths for Researchers

Linden High School
Ms. Pramila Natarajan

January 2021

Understanding Clinical Trials

Infinity High School
Ms. Stacey McKoy