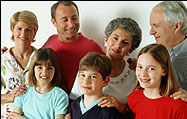 The Rutgers Cancer Institute of New Jersey invites you to participate in our support groups and educational programs for patients, families and friends. These free groups and programs provide a forum to discuss cancer-related issues, while providing a supportive atmosphere where participants may share feelings, questions and concerns with others. Participants can get useful information about community services, share tips on coping skills and find new ways to deal with stress.
Due to COVID-19, all support groups are currently virtual or over the phone. 
 
Breast Cancer Support Groups
The Rutgers Cancer Institute of New Jersey sponsors Breast Cancer Support Groups to help improve the education of patients with this disease, provide the opportunity to receive information and to facilitate sharing among breast cancer survivors.
The Time to Talk is held twice per month on 2nd Monday at 2 PM and fourth Monday at 7 PM
The Newly Diagnosed: What to Expect is typically held on a Monday, but dates will vary. Please check the monthly calendar for specifics. 
Patients and support persons may attend these sessions. For more information please contact Deborah Leif, MSW, LCSW at 732-235-7011.

Living with Cancer-Patient and Family Support Group
Living with Cancer is a support group for cancer patients and their caregivers. The goal is to improve education, promote mutual problem solving and facilitate sharing. This support group takes place on the second and fourth Wednesdays of each month from 7:00pm - 8:30pm. For more information please contact Rose Slirzewski at 732-235-6781.
Mindfulness Meditation
Please join us for a virtual Mindfulness Meditation. View flyer
First Friday of every month at 8:00 am for morning meditation
Third Thursday of every month at 5:00 pm for evening meditation
Click on the Zoom:  Morning Meditation  |  Evening Meditation
If you have any questions, please contact the Social Work Department at 732-235-6792. 
BMT Post-Transplant Support Group
This group will address specific issues related to life post bone marrow/stem cell transplant. The meetings are designed to promote mutual support and education to members by meeting with others whose situations are similar to their own.
Held on the third Friday of every month at 1 PM
Connect, Share & Empower…
Support for Radiation Therapy patients and their family members
When: Last Wednesday of each month at 10:30 AM via Zoom
How to Register: Email Social Worker Erin Murphy-Wilczek to receive the Zoom link or call 732-429-9994.