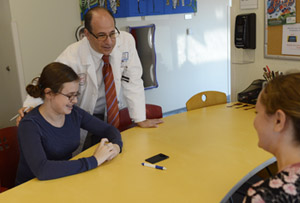 Rutgers Cancer Institute offers children and adolescents with cancer and blood disorders the most advanced pediatric hematology/oncology care in New Jersey. The program offers patients with pediatric cancer, hemoglobinopathies, coagulopathies and other hematologic disorders, the most advanced treatment options and access to clinical trials that may be unavailable at other programs.
Patients receive personalized care and attention in an atmosphere that is child-friendly and family-focused. The Pediatric Hematology/Oncology Unit at the Bristol Myers Squibb Children's Hospital at Robert Wood Johnson University Hospital is designed with completely private rooms, each featuring a separate bed for parents wishing to stay overnight. Our pediatric hematologists/ oncologists also provide care at Monmouth Medical Center, an RWJBarnabas Health facility, in Long Branch, New Jersey. As the referring physician, you are an important part of the health care team, and will be updated regularly on your patient's treatment and progress.
Why Refer to Our Pediatric Hematology/Oncology Program?
We are the only Pediatric Hematology/Oncology Program at a National Cancer Institute-designated Comprehensive Cancer Center in New Jersey.
We have nationally renowned physicians with specialty areas in leukemia, sickle cell anemia, coagulation, pediatric hematology, brain tumors and pediatric oncology.We provide a comprehensive treatment program for children with cancer and their families through a health team of physicians, nurses, psychologists, social workers and teachers.
We house a nationally recognized thrombosis and hemophilia center.
We are the only formal members of the Children's Oncology Group in Middlesex County, New Jersey.
We manage more than 6,000 pediatric patient visits a year, including hundreds of new cancer cases,  patients with sickle cell anemia and other blood disorders.
We follow nearly 500 cancer survivors in our long-term and late-affects clinic.
We use state-of-the-art technology for research.
We provide our patients access to the latest clinical trials, some of which are only available through NCI-designated Comprehensive Cancer Centers and in collaboration with industry and cooperative groups such as Children's Oncology Group.
To refer a patient to our Pediatric Hematology/Oncology Program, please call 732-235-7552.