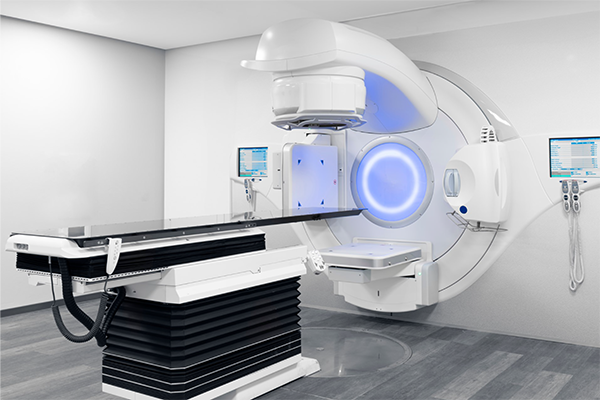 For patients receiving radiation therapy as part of their treatment plan, "tattoo-less" radiotherapy using Surface Guided Radiation Therapy (SGRT) is currently an option at Rutgers Cancer Institute of New Jersey/ Robert Wood Johnson University Hospital New Brunswick and Cooperman Barnabas Medical Center, an RWJBarnabas Health facility.  
How does it work?  
SGRT is an external beam radiation therapy technique which uses three-dimensional camera technology to accurately align patients to the correct treatment position. During treatment, the surface of your body is tracked in real time and monitors the correct position of your tumor to ensure that the area is precisely targeted.   
Traditionally, in preparation for radiation therapy, several small but permanent skin tattoo marks are often placed on the skin. The tattoo marks are used to position the patient correctly for daily radiation treatment. Instead of relying on permanent tattoo marks for treatment setup, "tattoo-less" radiation technology uses non-invasive light emitted from specialized camera units that tracks the patient's skin surface anatomy in real time, before and during treatment, to ensure the correct treatment position in every treatment. 
What are the benefits?  
Research has shown that, though only the size of a small pen mark, these permanent tattoos can cause long-term anxiety and body confidence issues for breast cancer survivors. The "tattoo-less" approach:  
Enhances radiation quality and precision 

Shortens treatment time 
Increases patient comfort  

Eliminates the need to mark the body, alleviating the stress and psychological impacts that could result from receiving permanent marks on the skin  
Conditions treated with tattoo-less radiotherapy