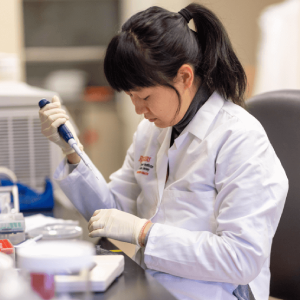 The physicians and scientists at Rutgers Cancer Institute of New Jersey are nationally and internationally recognized cancer specialists engaged in translational research, which means they are committed to moving scientific discovery into clinical practice rapidly and efficiently.
Rutgers Cancer Institute conducts matrix-style investigations in basic, clinical, preventive, behavioral, and population-based research. In collaboration with Rutgers University and Princeton University as a consortium cancer center, we are leveraging the scientific discoveries of the state's leading cancer researchers. We are keenly focused on fulfilling the cancer research needs of the most densely populated and industry-rich state in the nation.
Rutgers Cancer Institute research programs and core facilities enhance and support the cancer research of more than 230 members at Rutgers University and Princeton University, including the Princeton branch of Ludwig Cancer Research. Based at Princeton University, the Ludwig Princeton Branch is dedicated to the study of cancer metabolism. Combined with Ludwig's leadership in cancer epigenetics and immunotherapy, advances in cancer metabolism generated at the Ludwig Princeton Branch will inform new strategies for cancer prevention and treatment. The clinical translation of Branch discoveries will be conducted in the tri-state area, including in partnership with RWJBarnabas Health and Rutgers Cancer Institute.
Our research programs include: behavioral science, precision medicine, systems biology, oncogenesis, tumor virology and immunology, autophagy, and drug development and resistance. This is in addition to exploring cancer control and prevention, bioinformatics, cancer genomics, and the relationship between cellular and genetic alterations and tumor development.
Through seminal scientific discoveries that have key translational implications, Rutgers Cancer Institute continues to expand its foundation of knowledge and understanding of the fundamental mechanisms of cancer – how it forms, why it persists, and what causes it to spread through the body. Our state-of-the-art clinical care is fueled by our clinical research studies, enabling us to make some of the most important advances in the prevention and treatment of multiple cancer types.
Related News
Research with Dr. Matthew Matasar
Hematology/Oncology Research at Rutgers Cancer Institute