May 25, 2022
The 2022 Annual Retreat on Cancer Research in New Jersey
Keynote Speaker
Elaine Fuchs, PhD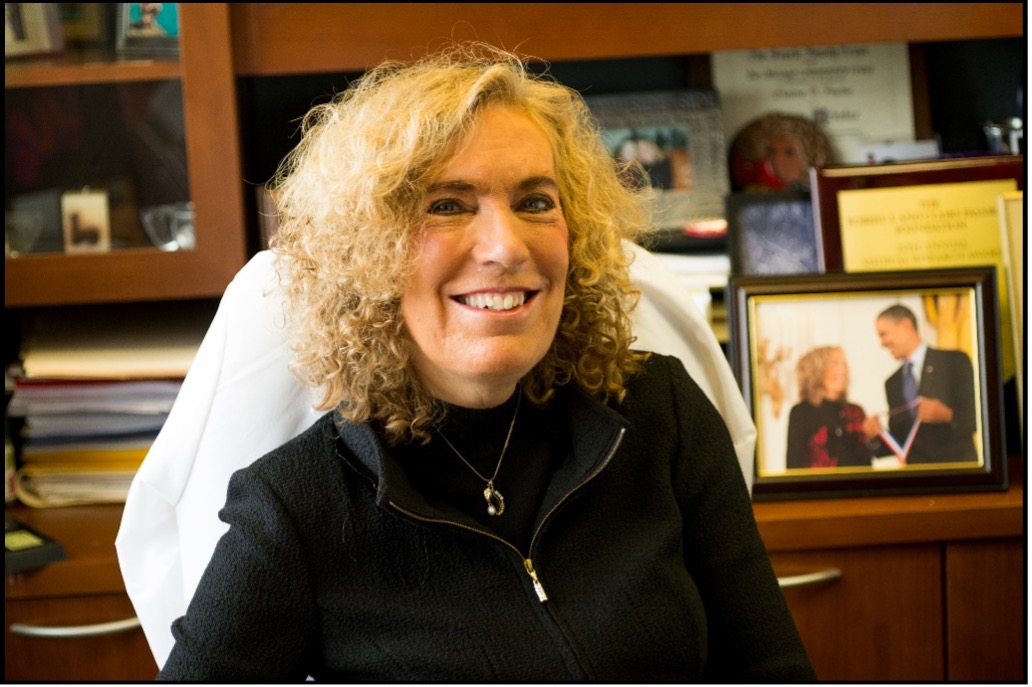 Elaine Fuchs is renowned for her research in skin biology, its stem cells and associated genetic disorders, particularly cancers. Dr. Fuchs received her Ph.D. in Biochemistry from Princeton. After postdoctoral research at MIT, she joined the faculty at University of Chicago. In 2002, she relocated to Rockefeller University, where she is currently the Rebecca C. Lancefield professor of Mammalian Cell Biology and Development. Fuchs has been an Investigator of the Howard Hughes Medical Institute since 1988. Her awards and honors include the Richard Lounsbery Award from the National Academy of Sciences, the National Medal of Science from the President of the United States, the L'Oreal-UNESCO Award for women in science, the Albany Prize in Medicine, the March of Dimes Prize in Developmental Biology, the Pezcoller Award in International Cancer Research, the EB Wilson Award in Cell Biology, the Vanderbilt Prize for science and for mentoring women scientists, the McEwen Award for Innovation in Stem Cell Research and in 2019, the Clowes Award and the Bloch Award for outstanding basic research in cancer. Fuchs is an elected member of the National Academy of Sciences, National Academy of Medicine, Royal Society (foreign member), American Philosophical Society, Pontifical Academy of Sciences and European Molecular Biology Organization (foreign member). She is also a fellow of the AACR Academy. Fuchs holds honorary doctorates from NYU School of Medicine, University of Illinois, Albany Medical College and Harvard University. She is past-President of American Society for Cell Biology, The International Society for Stem Cell Research and the Harvey Society. She serves on the New York Academy of Sciences Board of Governors and the Board of Trustees of Cold Spring Harbor Laboratories.  She's trained over 30 graduate students and 100 postdocs, most now at academic universities and medical schools.  Her latest work focuses on how tissue stem cells cope with stress, including wounds, inflammation and cancer-causing genetic mutations.  She's uncovered a dazzling array of communication networks between stem cells and other tissue cells, including immune cells, and illuminated how these communications break down in aging and go awry in human disease. Her science has particular relevance for chronic inflammatory syndromes as well as squamous cell carcinomas, one of the most common and life-threatening cancers for which therapeutics are limited.
REGISTER
Closes: May 18, 2022

VIEW THE RETREAT AGENDA


ORGANIZED BY:
Rutgers Cancer Institute of New Jersey
and
The New Jersey Commission on Cancer Research
LOCATION:
Rutgers University
College Avenue Student Center
126 College Avenue
New Brunswick, NJ 08901
Background
Each year, the Cancer Institute of New Jersey and the New Jersey Commission on Cancer Research (NJCCR) host the Annual Retreat on Cancer Research in New Jersey, a gathering of world-renowned scientists from the cancer field. The event includes a series of simultaneous mini-symposia as well as several poster sessions highlighting the latest cancer research being conducted at the Cancer Institute and other leading institutions throughout New Jersey. The event also includes a public forum focused on advances in cancer research and treatment in the past year.  A panel of expert researchers from New Jersey present perspectives on the following subjects: nutrition and cancer prevention, angiogenesis, emerging new drugs for therapy, genetics of cancer, and complementary medicine. There is no cost to attend the Annual Retreat on Cancer Research in New Jersey but registration is a must. For additional information contact education@cinj.rutgers.edu.