At Rutgers Cancer Institute of New Jersey, our experts are among the nation's most experienced in treating blood cancers with immunotherapy and other cellular therapies, particularly the breakthrough cancer treatment CAR T-Cell therapy.   
What is CAR T-Cell therapy and how does it work?
CAR T-Cell therapy is a type of immunotherapy that uses a patient's own immune cells to fight cancer. Doctors collect T-cells from a patient's blood through an infusion-like process called apheresis, and the cells are sent to a laboratory. In the lab, scientists modify the T-cells by adding a special receptor called chimeric antigen receptor (CAR) which enables the modified T-cells to seek out and kill cancer cells. The patient's reengineered CAR T-Cells are returned to them through an infusion, and the cells begin to multiply and attach to cancer cells to destroy them.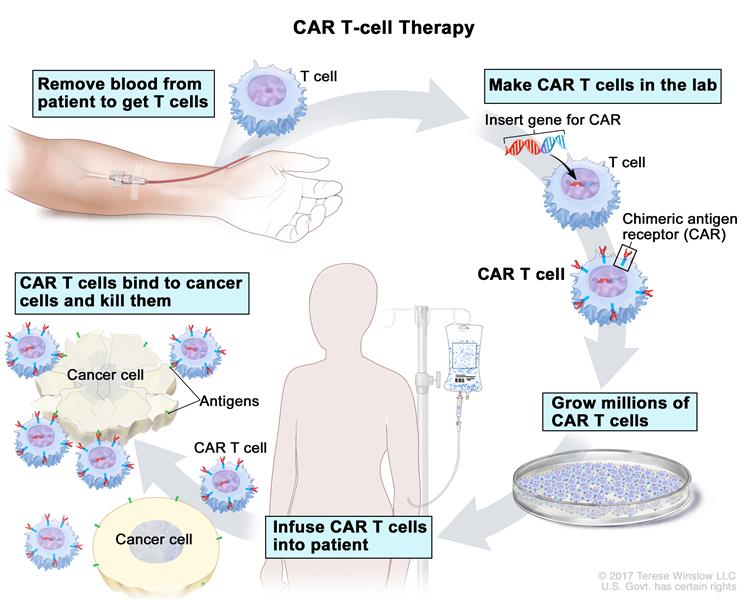 What types of cancer are treated with CAR T-Cell therapy?
Currently, CAR T-Cell therapy is approved by the FDA for: 
Adults with relapsed or refractory multiple myeloma (and have completed at least four previous treatments). 
Adults with relapsed or refractory B-cell lymphomas, including diffuse large B-cell lymphoma, mantle cell lymphoma, and follicular lymphoma. 
Adults and children with relapsed or refractory acute lymphoblastic leukemia. 
Why choose Rutgers Cancer Institute of New Jersey for CAR T-Cell therapy?
Rutgers Cancer Institute of New Jersey is one of the few institutions in the United States, and the only NCI-designated Comprehensive Cancer Center in New Jersey, to offer CAR T-Cell therapy.  
CAR T-Cell therapy is offered only at centers that perform stem cell transplants, are certified by the Foundation for the Accreditation of Cellular Therapy (FACT), and have specially trained clinicians and healthcare professionals to administer the treatment. Offered in collaboration with Robert Wood Johnson University Hospital, the Blood and Marrow Transplant and Cellular Therapies Program at Rutgers Cancer Institute is one of the first programs in the state to meet these requirements. Our clinicians lead the way in knowledge, expertise, and experience in administering highly specialized and advanced therapies to treat benign and malignant blood disorders. 
What are some advantages of CAR T-Cell therapy?
One of the major advantages of CAR T-Cell therapy is the short treatment time needed – administered with a single infusion that may require at the most, two weeks of inpatient care, and then it's done. Because aggressive chemotherapy is not used, most patients have a much more rapid recovery than after stem cell transplants in which aggressive chemotherapy is used. At some point in the future, CAR T-Cell therapy may even replace most types of transplants but at the current time, CAR T-Cell therapy is approved for the treatment of patients in whom transplant is not likely to be curative or in patients who relapse after transplant.
Clinical trials in blood cancers have shown that even in patients whose cancer came back after multiple treatments, CAR T-Cell therapy helped them achieve remissions that lasted for years. Others can live longer without their cancer getting worse, and in some cases can then benefit from curative cancer treatment such as stem cell transplantation.
CAR T-Cell therapy is also a "living drug", and its benefits can last for many years. Since the cells can persist in the body long-term, they may recognize and attack cancer cells if and when there's a relapse. The data is still evolving, but after 15 months, 42% of adult lymphoma patients who received CD19 CAR T-Cell therapy were still in remission. And two-thirds of childhood acute lymphoblastic leukemia patients were still in remission after six months. These are patients whose cancers were deemed very aggressive and for whom other standards of care had failed.
What are the side effects of CAR T-Cell therapy?
The most common side effect of CAR T-Cell therapy is called cytokine release syndrome, or CRS. It's also known as a "cytokine storm." About 70-90% of patients experience it, but it generally only lasts about five to seven days. Most patients describe it as having a severe case of the flu, with high fever, fatigue and body aches. It usually starts around the second or third day after the infusion. It happens because the T cells have been multiplying and attacking the cancer, causing an immune response in the body. There's a very effective remedy for CRS called tocilizumab, which reverses this side effect in most patients fairly quickly. The medicine was originally used to treat rheumatoid arthritis, but has since been approved by the U.S. Food and Drug Administration (FDA) to treat CRS.
The other side effect is known as "CRES," which stands for "CAR T-Cell-related encephalopathy syndrome." It typically starts around day five after the infusion. Patients can become confused and disoriented, and sometimes may not be able to speak at all for a few days. CRES can be upsetting for patients and their families, but it typically is completely reversible.
Related News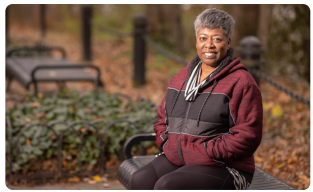 Tennica Johnson Campbell found hope in a CAR T-cell therapy clinical trial