More Information on
CAR T-Cell Therapy
CAR T-cell therapy is a significant breakthrough in cancer treatment. It is having a highly favorable impact on patients with blood cancers who had previously poor outcomes – giving them hope when other treatments stopped working. Approximately 50 percent of patients with aggressive non-Hodgkin lymphoma are cured with initial chemotherapy. In patients whose disease becomes resistant to chemotherapy, the average survival is less than seven months.
Our highly specialized cancer experts are among the nation's most experienced clinicians in treating advanced blood cancers with immunotherapy and other cellular therapies. Our multidisciplinary program is one of the state's leading blood and marrow stem cell transplantation programs and the only one in the state at an NCI-designated Comprehensive Cancer Center.
What is CAR T-cell therapy and how does it work?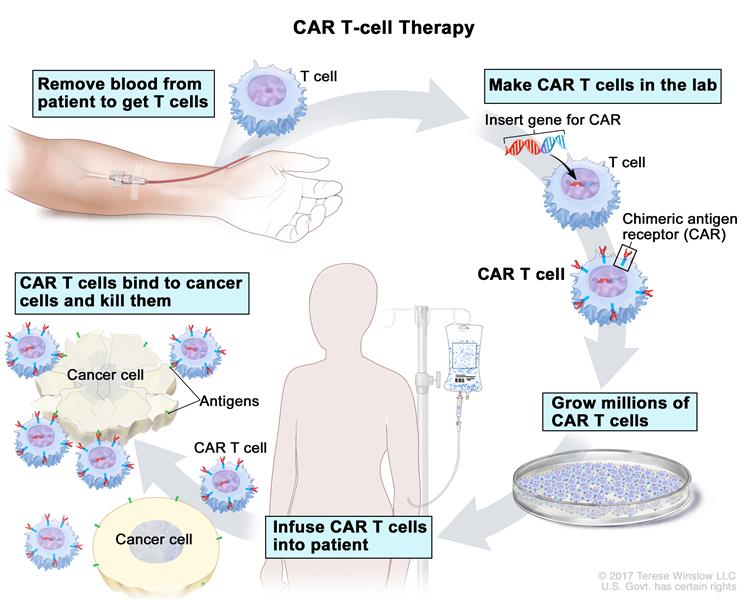 CAR T-cell therapy is a type of personalized immunotherapy that utilizes the power of the body's immune system to fight cancer. Doctors extract T cells (a type of white blood cell) from the patient's blood and add a special receptor called a "chimeric antigen receptor" (CAR) in the laboratory. The receptor functions as a type of "heat-seeking missile," enabling the modified cells to produce chemicals that kill cancer. These reengineered CAR T-cells are then reinjected into the patient through infusion and the cells begin multiplying and attacking the cancer cells throughout the body.
What types of cancer can CAR T-cell therapy treat?
Currently, the FDA-approved CAR T-cell therapy products are used for patients with adult aggressive B-cell non-Hodgkin's lymphoma or acute lymphoblastic leukemia in children or young adults who have already been through two standard treatments. CAR T-cell treatment also shows promise in patients with multiple myeloma.
The importance of being treated at an NCI-designated Cancer Center with CAR T-Cell Therapy
The Hematologic Malignancies Program at Rutgers Cancer Institute of New Jersey and Robert Wood Johnson University Hospital is one of the first programs and the only one at an NCI-designated Comprehensive Cancer Center in the State of New Jersey to offer CAR T-cell therapy treatment. Having one of the most comprehensive hematologic malignancies programs in the state, which includes stem cell transplantation, Rutgers Cancer Institute is most appropriate to offer this highly specialized treatment.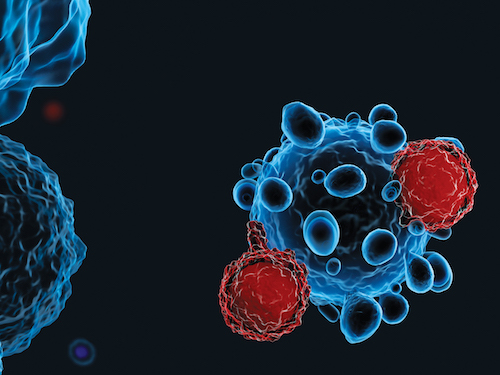 Given the unusual, sometimes severe side effects that require prompt recognition and treatment, CAR T-cell treatment is currently only offered at centers that perform stem cell transplants and have specially trained clinicians and nurses and other healthcare personnel including those in the outpatient hematology unit, inpatient bone marrow transplant unit and medical intensive care unit, such as our program.