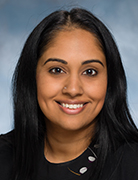 Nisha Ohri, MD
I am a Radiation Oncologist who specializes in the treatment of patients with breast cancer. Before joining the Stacy Goldstein Breast Cancer Center at Rutgers Cancer Institute of New Jersey, I completed residency training in New York City at the Icahn School of Medicine at Mount Sinai. Prior to this, I graduated Summa Cum Laude from the School of Engineering and Applied Sciences at Columbia University, followed by medical school at the Columbia University College of Physicians and Surgeons.
As part of a multidisciplinary team that provides comprehensive treatment to patients with breast cancer, it is my goal to provide individualized and compassionate care to all my patients. Working at a National Cancer Institute-designated Comprehensive Cancer Center, I have access to the latest technology that can effectively deliver radiation treatment while minimizing long-term side effects. In addition to treating patients with breast cancer, I am certified in Gamma Knife Radiosurgery for the treatment of malignant and non-malignant cancers of the brain.
I remain actively involved in clinical breast cancer research and have published multiple peer-reviewed articles and text book chapters focused on various aspects of breast cancer management. I also present my research at the national meeting of the American Society for Radiation Oncology (ASTRO) and am involved in education for residents training in the field of radiation oncology.
Dr. Ohri sees patients at both Rutgers Cancer Institute and Robert Wood Johnson University Hospital Somerset.
Clinical Expertise
Treatment of cancerous and pre-cancerous conditions of the breast, External Beam Radiation Therapy (EBRT), Proton Beam Therapy (PBT), Gamma Knife Radiosurgery (GKRS), Intensity-modulated Radiation Therapy (IMRT), Volumetric Arc Therapy (VMAT), Image-guided Radiation Therapy (IGRT)