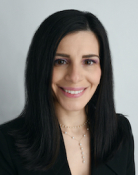 Lara Hathout, MD, FRCPC
Radiation Oncologist
Associate Professor of Radiation Oncology and Division of Clinical Radiation Oncology,
Rutgers Robert Wood Johnson Medical School
Director of Brachytherapy, Department of Radiation Oncology
Radiation Oncology has been a passion of mine from my first year in medical school. My first clinical rotation was an elective in radiation oncology that changed my perspective on cancer care. I witnessed firsthand the importance of patient-focused care, with empathy and bedside manner that guided and fueled my continued interest in this field of medicine. My primary goal as a radiation oncologist is to deliver treatment with cutting-edge technology while minimizing side effects and tailoring the treatment to the patients' needs.
I am a Board Certified radiation oncologist in the Department of Radiation Oncology at the Rutgers Cancer Institute of New Jersey and Rutgers Robert Wood Johnson Medical School. I completed my Brachytherapy Fellowship at the Memorial Sloan-Kettering Cancer Center in June 2014 after completing my medical training and a residency in Radiation Oncology at University of Montreal in Montreal, Canada.
Prior to joining Rutgers Cancer Institute, I served as a Clinical Instructor of Radiation Oncology at the Université de Laval at Centre Hospitalier Universitaire de Québec in Quebec City, Canada. My specialization is in Gynecologic, gastro-intestinal and genitourinary cancers.
I offer patients state-of-the-art treatment with leading edge technologies through my expertise in Brachytherapy, Intensity Modulated radiation therapy (IMRT), Stereotactic Body radiotherapy (SBRT) and Proton Beam Therapy.  In addition to English I speak several languages fluently including French.
In addition to my clinical practice I continue to be active in grant submissions with a focus on the integration of modern imaging and treatment techniques in the management of genitourinary and gynecologic cancers. As a peer reviewer for the Brachytherapy Journal, Journal of Contemporary Brachytherapy, American Brachytherapy Society and American Society of Therapeutic Radiation Oncology I am committed to publishing and educating both my peers and patients in treatment options while guiding them to make informed decisions on continuing care. 
Clinical Expertise
Gynecologic, genitourinary, gastro-intestinal cancer, endocavitary and interstitial GYN brachytherapy, low-dose rate and high-dose rate prostate brachytherapy, intensity-modulated radiation therapy (IMRT), tomotherapy, image-guided radiation therapy (IGRT), proton beam therapy (PBT), stereotactic body radiotherapy (SBRT).