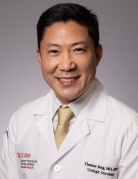 Thomas Jang, MD, MPH, FACS
Chief of Urologic Oncology, Rutgers Cancer Institute of New Jersey
Program Director, Urology Residency Program, Rutgers Robert Wood Johnson Medical School
Associate Professor, Rutgers Robert Wood Johnson Medical School
As Chief of Urologic Oncology at Rutgers Cancer Institute of New Jersey, I am fortunate to lead and oversee a high-performing division and team recognized for its expert clinical care, innovative research, and education. Our division is recognized for offering innovative clinical trials and the most advanced and skilled surgical treatments for our patients.  
I have spent most of my career at Rutgers Cancer Institute.  Over the past decade, I have become one of the highest-volume and most experienced urologic cancer surgeons in the state of New Jersey. My main clinical interests include kidney cancer, bladder cancer, and testicular cancer, and my practice is focused particularly on those with high-risk cancers requiring complex treatments. I have extensive experience in robotic surgery and in conventional open surgery and in performing surgery for patients with advanced kidney cancer and vena caval tumor thrombus involvement, complex partial kidney surgeries that would otherwise result in complete removal of an entire kidney elsewhere, and nerve-sparing retroperitoneal lymph node dissection (RPLND) aimed to preserve fertility in men with testicular cancer. I also have extensive experience performing nerve-sparing robotic radical prostatectomy for men with prostate cancer and surgery for men with penile cancer.  
I am recognized in the field of testicular germ cell tumors, having published on surgical outcomes after retroperitoneal lymph node dissection (RPLND), on the prognostic significance of lymph node counts after surgery, and on pathways to improve outcomes after RPLND. I peer-reviewed the American Urological Association's inaugural Testicular Cancer Practice Guidelines and I am one of the highest volume surgeons in the country performing surgery for this disease. This has led to my designation by the Testicular Cancer Resource Center and the Testicular Cancer Awareness Foundation as a nationally recognized expert in testicular cancer.  At Rutgers Cancer Institute, I serve and/or have served as the Principal Investigator on several key testicular cancer clinical trials: Surgery in Early Metastatic Seminoma (SEMS) Trial, SWOG S1823 Trial- a prospective observational cohort study to assess miRNA371 for outcome prediction in patients with early-stage germ cell tumors, and I am a co-investigator for the Children's Oncology Group study AGCT1531, which is a phase 3 study of active surveillance for low risk and randomized trial of carboplatin vs cisplatin for standard risk pediatric and adult patients with germ cell tumors.
In addition to clinical trials, I maintain interest in comparative effectiveness research in areas where clinical trial data is yet unavailable. My work has been funded by the New Jersey Health Foundation, and I have published extensively on the long-term survival and outcomes of patients following various treatments for kidney and prostate cancers of all stages. I have authored or co-authored more than 70 peer-reviewed publications or book chapters and together, along with my multi-disciplinary colleagues from medical and radiation oncology, have served as the Principal Investigator and/or Co-Investigator on over 20 urologic cancer trials.  For this work, I have received local, regional, and national awards. I have also received numerous awards for outstanding teaching (American Urological Association Residents & Fellows Committee Teaching Award Nominee) and patient care delivery (NJ Monthly Top Doctor in Urology & Urologic Oncology) and serve as a reviewer for several major urologic and cancer journals.
I received my Medical Degree (MD) from Northwestern University's Feinberg School of Medicine as a scholar in the Honors Program in Medical Education, my Master's in Public Health Degree (MPH) from Northwestern University's Graduate School and completed general surgery and urologic surgery residencies at Northwestern University. This was followed by a clinical fellowship in urologic cancer surgery and a research fellowship in health services and outcomes research, both at Memorial Sloan-Kettering Cancer Center.
I strive to deliver the highest quality care to my patients and to ensure that they receive an individualized, multi-disciplinary, and evidence-based approach for their particular cancer.  For some patients, this approach may be surgery, but for others, it may be active monitoring of their cancer or consideration of a clinical trial. I am privileged to be in a position where I can make a difference in the lives of my patients and educate the next generation of physicians and urologic surgeons.
 
Clinical Expertise
Testicular Cancer: radical orchiectomy; primary and post-chemotherapy nerve-sparing retroperitoneal lymph node dissection (RPLND)
Kidney Cancer: complex kidney surgery; conventional, laparoscopic and robotic radical nephrectomy and partial nephrectomy; cytoreductive nephrectomy for advanced kidney cancer; surgery for venal caval tumor thrombus involvement; surgery for locally recurrent kidney cancer
Upper Tract Urothelial Cancer: conventional and robotic radical nephroureterectomy
Bladder Cancer: partial and radical cystectomy, all forms of urinary tract reconstruction (orthotopic ileal neobladder, catheterizable continent pouch (Indiana pouch), ileal conduit urinary diversion)
Prostate Cancer: conventional and robotic nerve-sparing radical prostatectomy; salvage prostatectomy for locally recurrent prostate cancer
Penile Cancer: partial and total penectomy; inguinal lymphadenectomy 
Sarcomas (retroperitoneal or pelvic): surgery for removal
Honors
NJ Monthly Top Doctor in Urology & Urologic Oncology
Designation as Nationally Recognized Expert in Testicular Cancer by the Testicular Cancer Resource Center and Testicular Cancer Awareness Foundation
Rutgers University Leadership Academy (2022)
American Urological Association Residents & Fellows Committee Teaching Award Nominee
American Urological Association Testicular Cancer Clinical Practice Guidelines, Peer Reviewer
American Foundation for Urologic Disease (AFUD) and American Urological Association (AUA) Research Scholar
Arnold P. Gold Foundation Award on Humanism in Health Care Delivery 
Leander Riba Award for Excellence and Compassion in Patient Care
Faculty Teaching Award, Urology Residency Program at Robert Wood Johnson Medical School (2011, 2016-2020)
Excellence in Medical Student Teaching Award by Northwestern University's Graduate Medical Education Department
First Place, Clinical Research, Chicago Urological Society
First Place, Clinical Research, Northwestern University Department of Urology Research Contest
Third Place, Clinical Research, American Urological Association (ACMI-Circon) Research Contest