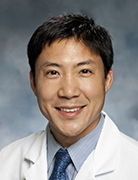 Thomas Jang, MD, MPH, FACS
Director of the Testicular Cancer Program
Director, Safety and Outcomes for the Division of Urology
Director of Clinical Operations, Urologic Oncology
Associate Chief of Urologic Oncology
Urologic Oncologist
Rutgers Cancer Institute of New Jersey
Associate Professor, Rutgers Robert Wood Johnson Medical School
Since completing my urologic oncology fellowship at Memorial Sloan-Kettering Cancer Center in 2008, I have spent most of my career at the Rutgers Cancer Institute of New Jersey. 
I have extensive experience in the care and treatment of patients diagnosed with any cancer involving the urinary or genital tract, particularly those with high-risk cancers requiring complex treatments. Over the past 7 years, I have become one of the highest volume kidney cancer and testicular cancer surgeons in New Jersey and have developed expertise in surgery for patients with advanced stage kidney cancer, complex partial kidney surgeries that would otherwise result in complete removal of an entire kidney elsewhere, and nerve-sparing retroperitoneal lymph node dissection (RPLND) aimed to preserve fertility in men with testicular cancer. I also have extensive experience managing patients with prostate and bladder cancers.
To date, I have completed more than 300 surgeries for kidney cancers of all stages, 300 radical prostatectomies for prostate cancer, 100 retroperitoneal lymph node dissections for testicular cancer, and nearly 100 radical cystectomies with urinary tract reconstruction for bladder cancer.
My research, which has been funded by the New Jersey Health Foundation, is focused on using large national population-based data to assess the long-term survival and functional outcomes of patients following various treatments for kidney and prostate cancers of all stages. I have authored or co-authored more than 60 peer-reviewed publications or book chapters. For this work, I have received local, regional and national awards. I have also received numerous awards for outstanding teaching and patient care delivery and serve as a reviewer for several major journals.
I received my Medical Degree (MD) from Northwestern University's Feinberg School of Medicine as a scholar in the Honors Program in Medical Education, my Masters in Public Health Degree (MPH) from Northwestern University's Graduate School, and completed general surgery and urologic surgery residencies at Northwestern University. This was followed by a clinical fellowship in urologic cancer surgery and a research fellowship in health services and outcomes research, both at Memorial Sloan-Kettering Cancer Center.
From 2008 to 2014, I directed the Programs in Kidney and Testicular Cancers at the Rutgers Cancer Institute of New Jersey and currently oversee the Division of Urology's Program in Surgical Outcomes, Quality Care, and Patient Safety.
I strive to deliver the highest quality care to my patients and to ensure that they receive an individualized, multi-disciplinary, and evidence-based approach for their particular cancer.  For some patients, this approach may be surgery, but for others, it may be active monitoring of their cancer. 
I feel privileged to be in a position and in an environment where I can make a difference in the lives of my patients and educate the next generation of physicians. Understanding what a new cancer diagnosis means and how it is best managed can be confusing and overwhelming to patients and their families. I will do my best to help you navigate this process.
Clinical Expertise
Testicular Cancer: radical orchiectomy; primary and post-chemotherapy nerve-sparing retroperitoneal lymph node dissection (RPLND), kidney Cancer: complex kidney surgery; conventional, laparoscopic and robotic radical nephrectomy and partial nephrectomy; cytoreductive nephrectomy for advanced kidney cancer; surgery for locally recurrent kidney cancer, Upper Tract Urothelial Cancer: conventional and robotic radical nephroureterectomy, Bladder Cancer: partial and radical cystectomy, all forms of urinary tract reconstruction (orthotopic ileal neobladder, catheterizable continent pouch, ileal conduit urinary diversion), Prostate Cancer: conventional and robotic radical prostatectomy; salvage prostatectomy for locally recurrent prostate cancer, Penile Cancer: partial and total penectomy; inguinal lymphadenectomy, Sarcomas (retroperitoneal or pelvic): surgery for removal
Honors
American Foundation for Urologic Disease (AFUD) and American Urological Association (AUA) Research Scholar
Arnold P. Gold Foundation Award on Humanism in Health Care Delivery (Gold Doc Recognition)
Leander Riba Award for Excellence and Compassion in Patient Care
Faculty Teaching Award, Urology Residency Program at Robert Wood Johnson Medical School
Excellence in Medical Student Teaching Award by Northwestern University's Graduate Medical Education Department
Designated a "Top Oncologist" by International Association of Oncologists
First Place, Clinical Research, Chicago Urological Society
First Place, Clinical Research, Northwestern University Department of Urology Research Contest
Third Place, Clinical Research, American Urological Association (ACMI-Circon) Research Contest