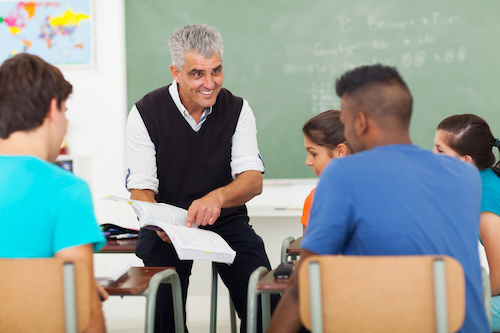 Science teachers from high schools with significant proportions of students from underrepresented backgrounds will have the opportunity to engage in mentored cancer research and curriculum development through RUYES.
Participating teachers will:
Engage in basic, clinical, or population-based mentored cancer research for eight weeks each summer (35 hours/week) during two consecutive years.
Complete approximately 10-14 hours/month of post-summer professional development and community engagement activities (flexible schedule, 140 hours total each year) for two years.
Receive curriculum development support to design innovative curricula they can take back to their classrooms.
Create a cancer science module and Back to School Night Outreach event for middle school students
Present their research findings at an Annual Symposium.
Receive compensation for their time and other possible expenses.
Who Is Eligible?
To be eligible for the RUYES program a teacher must be:
Currently teaching high school science.
Dedicated to encouraging students to pursue STEM fields, particularly biomedical, cancer research.
Interested in developing and implementing curricular activities to engage students in science research.
Willing to commit to two years of participation in the program for a period equivalent to three months of full time effort per year.
A citizen or permanent resident (green-card holder) of the United States.
Be fully vaccinated and boosted for COVID-19; by March 2023. All applicants accepted in the RUYES Program for summer 2023, must be fully vaccinated  and boosted against COVID-19. Please keep this in mind while applying for the program. Further information can be found here
How to Apply 
Application Portal for Summer 2024 opens November 4. Applications are open until positions are filled. 
Early Decision February 23 
Regular Deadline May 1 
To complete your application, you will be asked to include:
Your full contact information (name, email, phone number), the name of your school district, and your school's general demographics. 
You should also be prepared to upload the following documents:
Entrance Essay

Please answer the following questions in essay form. Your submission must be typed, double-spaced, and no more than two pages in length. (Be sure to put your name on each page of your response to the essay questions.)

Discuss your long-term career and/or educational goals.

Describe your favorite learning experience. (This does not have to be limited to a school experience.)

Why do you believe this research opportunity is a good fit for you?

How do you plan on incorporating this research experience into your classroom?

Reference 

One reference needed. Your Principal or Science Supervisor must complete the form in support of your participation and agree to the use of the developed curriculum to be implemented in the classroom. The form can be emailed to RUYES@cinj.rutgers.edu.

Updated Resume. 

Teachers can apply directly using this link:
Teacher Application Survey

For assistance or additional information, contact RUYES@cinj.rutgers.edu.