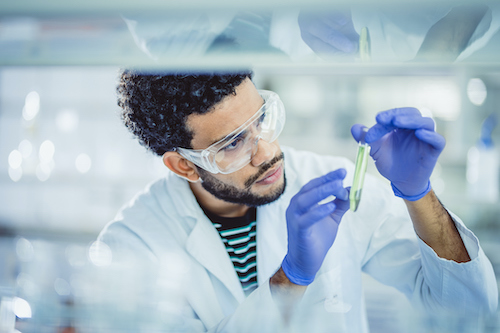 Students in the RUYES program will:
Receive hands-on training in cutting-edge cancer research.
Conduct research in mentor-supervised laboratories for 10 weeks per summer for two consecutive years; Approximately 35 hours/week for 10 weeks of research during EACH summer.
Prepare a poster and a 10-minute talk based on their research experience for presentation at the Annual Research Day.
Complete approximately 7 hours/month of post-summer professional development and community engagement activities (flexible schedule, 70 hours total each year) for two years.
Participate in educational seminars addressing key concepts in cancer and exploring the research literature.
Receive compensation for their time and other possible expenses.
 
Who Is Eligible?
To be eligible for the RUYES program a student must be:
A rising high school junior/senior or rising freshman/sophomore undergraduate
From one of the following underrepresented backgrounds:

African American
Hispanic/Latino
Native American
Alaska Native
Pacific Islander
A first generation college student
From a lower socioeconomic background

A citizen or permanent resident (green-card holder) of the United States
Willing to commit to two full years of participation in the program
Highly motivated and academically able to pursue a career in biomedical/cancer science
Must attend a school or university in New Jersey
Must turn 16 by June 15th
Be fully vaccinated and boosted for COVID-19; by March 2023. All applicants accepted in the RUYES Program for summer 2023, must be fully vaccinated and boosted against COVID-19. Please keep this in mind while applying for the program. Further information can be found here.

How to Apply 
Application Portal for Summer 2024 opens November 4. Applications are open until positions are filled. 
Early Decision February 23 
Regular Deadline May 1 
To complete your application, you will also need: 
Full student contact information (name, email, phone number, name of school district) and personal demographics. High school students will need consent of a parent/guardian.
You should also be prepared to upload the following documents:
A copy of your transcripts. An unofficial transcript will be accepted for the application process; upon acceptance please prepare to have your school send your official transcripts.

A two-page essay. Please answer the following questions in essay form. Your submission must be typed, double-spaced, and no more than two pages in length. Be sure to put your name on each page of your response to the essay questions.

Discuss your long-term career and/or educational goals.

Describe your favorite learning experience. (This does not have to be limited to a school experience.)

Why do you believe this research opportunity is a good fit for you?

What do you plan on gaining from this research experience?

Two FORMS OF RECOMMENDATION, one of which must be from a teacher or college faculty member. (Referees should submit their completed forms directly to RUYES team via email RUYES@cinj.rutgers.edu).

Updated resume.
For assistance or additional information, contact RUYES@cinj.rutgers.edu.