Co-Directors: Shridar Ganesan, MD, PhD and Andrew Brooks, PhD
Manager: Curtis Krier
The Comprehensive Genomics shared resource (Genomics) of Rutgers Cancer Institute of New Jersey is an institutionally managed shared resource whose purpose is to provide centralized, high quality, cost-effective cutting-edge genomic analyses of cells and tissues.
This shared resource has been greatly expanded over the last grant period and now resides within the Rutgers University Cell and DNA Repository (RUCDR Infinite Biologics) and includes a large suite of next-generation sequencing technologies.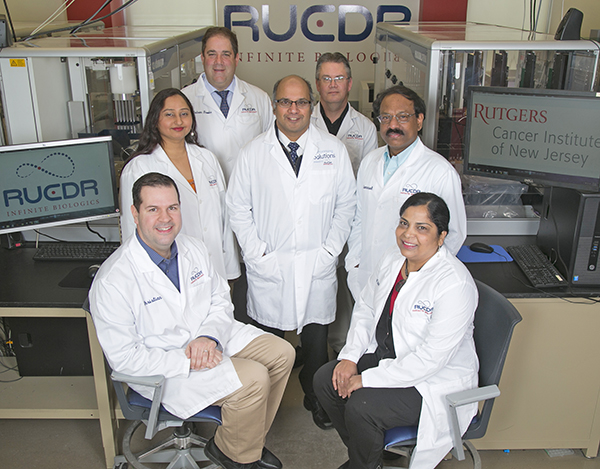 Under the leadership of Drs. Shridar Ganesan and Andrew Brooks, Genomics:
Provides investigators with integrative consultation on experimental design, bioinformatics, and data analysis prior to initiation of experiments, in collaboration with the Bioinformatics shared resource;
Performs sample preparation, including nucleic acid extraction from a wide variety of biological samples, library preparation, and target enrichment as needed;
Provides next-generation sequencing of a wide range of biological samples utilizing current platforms, including Illumina HiSeq; this includes DNA sequencing (targeted sequencing, whole exome sequencing, whole genome sequencing) and RNA sequencing;
Provides Clinical Laboratory Improvement Amendments (CLIA)-certified panel sequencing of cancer-related genes on clinical cancer specimens;
Provides DNA methylation analysis and sequencing, and support for CHIP-Seq and similar analyses;
Provides custom RNA analysis using flexible platforms such as RT-PCR, micro-droplet PCR, single-cell sequencing, and microarray;
Provides data storage and seamless data transfer to investigators;
Provides a range of services from single tasks, to comprehensive workflows depending on needs and experience of individual investigators; and
Organizes educational sessions and workshops designed to disseminate knowledge of and access to the technologies available through the shared resource.
By providing cutting-edge genomic services, the Comprehensive Genomics shared resource is helping Rutgers Cancer Institute members drive innovative and impactful molecular and genomic analyses of cell and animal-based model systems and human cancer samples.
PUBLICATION ACKNOWLEDGEMENT 
"Services, results and/or products in support of the research project were generated by the Rutgers Cancer Institute of New Jersey Comprehensive Genomics Shared Resource, supported, in part, with funding from NCI-CCSG P30CA072720-5920."
Please consider including the names of individuals from the shared resource if they provided any intellectual input or additional effort.
NIH Public Access Policy: Publications that result from services provided by this Shared Resource must be compliant with the NIH Public Access policy by submitting your paper to PubMed Central. Go to: https://publicaccess.nih.gov/submit_process.htm for PubMed Central's submission instructions.  
If you require additional guidance on how to properly acknowledge a single shared resource or multiple shared resources you may contact Janet Bandoy, Shared Resource Coordinator.
Last updated 05/14/2020