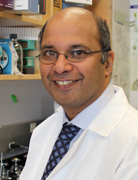 Shridar Ganesan, MD, PhD
Associate Director for Translational Science
Section Chief, Molecular Oncology
Omar Boraie Chair in Genomic Science
Professor of Medicine
I came to Rutgers Cancer Institute of New Jersey in 2005 from the Dana-Farber Cancer Institute/Harvard Medical School where I was an instructor in medicine and staff physician. I started my medical training at Yale University, where I graduated from with both an MD and a PhD in cell biology. I then completed a medical residency at the Brigham and Women's Hospital in Boston and served as a Chief Medical Resident. This was followed by a fellowship in medical oncology at the Dana-Farber Cancer Institute.
With a research interest in breast cancer biology and DNA repair, I am currently exploring how DNA repair defects in cancers can be exploited to develop novel effective treatments. I am also active in applying next-generation sequencing technology to identify specific genomic changes in cancers that can be therapeutically targeted. We work closely with computational scientists in interpreting large scale cancer genome data As a physician/scientist I run a basic science laboratory focused on cancer genomics and breast cancer biology and also see patients in the Stacy Goldstein Breast Cancer Center. I also run the RCINJ Molecular Tumor Board. In the clinic, I work collaboratively with experts across multi-disciplines and have the opportunity to put theory into practice as we aim to develop the next generation of targeted treatments for breast cancer.  Working with a team of radiation oncologists, surgical oncologists, nurses, social workers, genetic specialists and others, I help patients understand their specific disease and their treatment options so that they can make informed decisions.
I am the author or co-author of more than 100 publications and am an Associate Editor for JCO- Precision Oncology.  
Learn more about Dr. Ganesan's work:
Clinical Expertise
Breast cancer, BRCA1/2, triple-negative breast cancer, breast cancer biology, clinical trials, rare cancers, precision medicine
Honors
Hero Award, Triple Negative Breast Cancer Foundation
Sidney Kimmel Foundation, Kimmel Scholar Award, 2006
National Cancer Institute, Howard Temin Award, 2004
Howard Hughes Medical Institute, Postdoctoral Research Fellowship, 1999
Research
Research Expertise
DNA repair
Breast Cancer Biology
Cancer Genomics