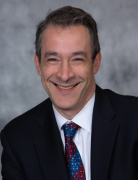 Ira Braunschweig, MD
Chief, Section of Transplant and Cell Therapy, Rutgers Cancer Institute
Chief of the Transplant and Cell Therapy Service of the RWJBarnabas Health Oncology Service Line
Director for Cell Therapy and Bone Marrow Transplantation at Robert Wood Johnson University Hospital
Professor of Medicine at Rutgers Robert Wood Johnson Medical School
I am excited to join Rutgers Cancer Institute of New Jersey as the Chief of Stem Cell Transplantation and Cellular therapy.
I graduated the NYU School of Medicine in 1992. After completing a residency in Internal Medicine at North Shore/Memorial Sloan Kettering Cancer Center, I did my fellowship in Hematology/Oncology/Stem Cell Transplantation at the University of Texas M.D. Anderson Cancer Center in Houston. After fellowship, I was recruited to join the faculty at M.D Anderson on the Blood and Marrow Transplant Service and stayed on as a faculty member for 3 years.
Since my wife and I grew up on Long Island, the pull of going back to the N.Y Metro area proved to be too strong, and after a brief stint in private practice, I was hired by Montefiore-Einstein to build their Stem Cell Transplant program. Over the last 19 years, I built the Montefiore program from the ground up into a high volume, quality, FACT accredited program that performed a full array of transplants including autologous, matched related, matched unrelated, cord blood and haploidentical transplants. 
I am fortunate to be at the forefront of one of the greatest advances in the field of oncology in many decades which is CAR-T therapy for hematologic malignancies. I was the Principal Investigator at Montefiore for the Zuma-1 study, which is the study that established axi-cel as a new standard for patients with relapsed and refractory large cell lymphoma, and I am a co-author on the New England Journal of Medicine paper(NEJM Dec 2017). It has been tremendously gratifying to help many patients be cured of their disease when only a few years ago they would not have been. 
As such, my vision going forward is to make sure we offer transplant/cellular therapies to our Rutgers patients that are second to none both from a medical/scientific perspective and a patient satisfaction perspective. And to collaborate with my esteemed colleagues here to bring the field of cellular therapy forward, so that we can continue to cure more and more patients of their dreaded diseases.
Clinical Expertise
Stem Cell Transplantation, CAR T-cell therapy, Acute Leukemias, Aggressive Lymphomas, Multiple Myeloma