May is Oncology Nursing Month
New Brunswick, N.J., May 8, 2019 – From managing complex patient care, to translating clinical research into practice, to mentoring their peers, Rutgers Cancer Institute of New Jersey nurses engage in many aspects of oncology nursing that support advancement of their profession. Recognizing the value and scope of their work, Rutgers Cancer Institute honored its nursing team this week through the Oncology Nursing Excellence Awards given during the annual Elizabeth Gibby Osborne Lecture.
Recognized for her professionalism and excellence in clinical practice, Elizabeth Berg, RN, MSN, APN (right in photo below) of Westfield was selected by her peers as this year's award recipient in the category of Advanced Practice Nurse. Having been a nurse since 1996, Berg is part of Rutgers Cancer Institute's Stacy Goldstein Breast Cancer Center. She manages the care of patients with both benign and malignant breast disease who undergo surgical treatment. Described by her colleagues as going "above and beyond" in all aspects of patient care, she is also heralded for providing teaching and mentoring opportunities to fellow nurses as well as to medical residents. A long-time member of the breast surgical team at Rutgers Cancer Institute, Berg is considered "paramount to the development and maintenance of the breast program."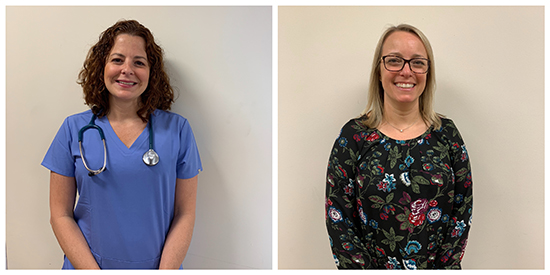 Nurse clinician Kira Lynn Voitle, BSN, RN, OCN (left in photo at right) of Lincroft was recognized for the award in the Generalist Nurse category.  A nurse for 20 years, Voitle is part of the Hematologic Malignancies Program and was nominated for "building a culture around service for her patients." Having recently served in an interim role as a charge nurse for her unit, Voitle is recognized by her colleagues for her "natural leadership ability" and her strong emphasis on oncology nursing education.  With a "caring ability to diffuse stressful situations" for patients, Voitle was also cited for her "professionalism, empathy, nursing skill and kindness with a personal connection and humor that humanizes the patient experience and deflates the tension of illness."
The awards event culminated with the Elizabeth Gibby Osborne Lecture, which featured motivational speaker and comedian Kelly Swanson. Through wit and light-hearted tales, Swanson shared the art of how to connect and engage with others through strategic storytelling to influence a positive impact on the workplace. In her talk, "Who Hijacked My Fairy Tale? Hanging onto Humor When Life Doesn't go the Way You Planned," Swanson addressed how incorporating humor and storytelling into one's daily routine can enhance overall well-being in challenging career environments.
"Whether on the front lines of patient care or in other critical roles such as research and education, today's oncology nurses need to be prepared for the rapid evolution taking place in our field. By participating in educational and professional development opportunities such as the Elizabeth Gibby Osborne lecture, our nursing team is better equipped to meet the profession's daily challenges in order to ensure optimal delivery of patient care," notes Carla Schaefer, MSN, RN, OCN, associate director of nursing infusion services at Rutgers Cancer Institute. "We congratulate our award recipients this year and celebrate all of our nurses at Rutgers Cancer Institute for their continued commitment and dedication to our patients and the nursing profession."
The lectureship and Nursing Excellence Awards are underwritten in part by the Elizabeth Gibby Osborne Endowment Fund for Nurses Education. Because of Mrs. Osborne's strong belief in education, her husband Bill established the fund after her death from cancer in 2004 to support peer-learning opportunities for oncology nurses at Rutgers Cancer Institute. 
About Rutgers Cancer Institute of New Jersey
As New Jersey's only National Cancer Institute-designated Comprehensive Cancer Center, Rutgers Cancer Institute, along with its partner RWJBarnabas Health, offers the most advanced cancer treatment options including bone marrow transplantation, proton therapy, CAR T-cell therapy and complex robotic surgery.  Along with clinical trials and novel therapeutics such as precision medicine and immunotherapy – many of which are not widely available – patients have access to these cutting-edge therapies at Rutgers Cancer Institute of New Jersey in New Brunswick, Rutgers Cancer Institute of New Jersey at University Hospital in Newark, as well as through RWJBarnabas Health facilities.
Along with world-class treatment, which is often fueled by on-site research conducted in Rutgers Cancer Institute laboratories, patients and their families also can seek cancer preventative services and education resources throughout the Rutgers Cancer Institute and RWJBarnabas Health footprint statewide. To make a tax-deductible gift to support the Cancer Institute of New Jersey, call 848-932-8013 or visit www.cinj.org/giving.
##
For journalists – contact:
Michele Fisher, Public Relations Manager
732-235-9872
For patient appointments/inquiries – contact:
732-235-8515