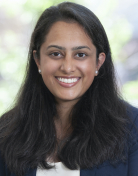 Karishma M. Parikh, MD
Pediatric Neurologist/Neuro-Oncologist
Assistant Professor of Pediatrics in the Division of Child Neurology & Neurodevelopmental Disabilities
at Rutgers Robert Wood Johnson Medical School
I am board certified pediatric neurology trained pediatric neuro-oncologist. I received my medical degree at Saba University School of Medicine. I completed my Pediatrics Residency at SUNY Downstate Medical Center, my Pediatric Neurology Fellowship at New York Presbyterian-Weill Cornell Medicine, and Pediatric Neuro-Oncology Fellowship at Memorial Sloan Kettering Cancer Center.
I care for children and young adults with primary brain and spinal cord tumors, neurological complications of cancer and associated neurotoxicities of oncological therapy as well as neurocutaneous disorders, such as Neurofibromatosis (NF). I strive to provide the best care for my patients and am committed to the optimization of their neurodevelopment. It is a privilege to be part of the multi-disciplinary Pediatric Neuro-Oncology team at Rutgers Cancer Institute of New Jersey taking care of some of our most complex pediatric patients in the Tristate area, while helping children and their families through vulnerable times. Alongside my colleagues at Rutgers Cancer Institute, I am involved in clinical trials for my patients and am actively involved in clinical research and teaching the next generation of physicians and health care providers.
My other clinical interests include neurovascular diseases and disorders such as pediatric stroke and neurovascular malformations. I also have experience and interest in taking care of patients with neurometabolic conditions receiving cellular and gene therapies.
I'm proud to return to my home state of New Jersey to deliver the highest quality care to my patients and my community.
Clinical Expertise
Pediatric Brain & Spine Tumors, Neurological Complications of Cancer, Neurofibromatosis(NF), Neurocutaneous Disorders, Neurovascular Disorders, Pediatric Stroke, General Pediatric Neurology