Research from Rutgers Cancer Institute of New Jersey to be presented at national meeting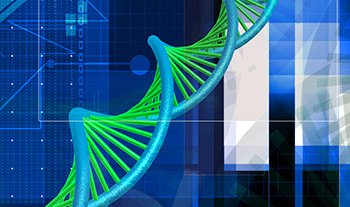 New Brunswick, N.J. – Research from Rutgers Cancer Institute of New Jersey examining difficult to treat cancer tumors through genomic profiling shows that tumors with alterations in a signaling pathway responsible for cell regulation may respond to targeted therapy regardless of where the tumor originated in the body. The findings will be presented as part of a poster presentation by members of the Rutgers Cancer Institute Precision Medicine Program at the Annual Meeting of the American Association for Cancer Research (AACR) being held in New Orleans next month.
Genomic alterations affecting the P13K/AKT/mTOR pathway are commonly seen among various cancer types (Kandoth, 2013). Through this research, Rutgers Cancer Institute investigators wanted to determine how comprehensive genomic profiling could be used in clinical care to identify alterations affecting this pathway.
Utilizing tumors from a genomic analysis clinical trial at Rutgers Cancer Institute examining rare cancers and those that respond poorly to standard care, 97 tumors with the P13K/AKT/mTOR pathway were profiled. Genomic alterations were reviewed by the Institute's molecular tumor board and recommendations for patient treatment options were made regarding genomically targeted therapies either already approved or used investigationally – including clinical trials.
Out of the 97 cases, 33 adult patients received therapy targeting the P13K/AKT/mTOR pathway. Tumors tested included gynecologic, renal, sarcomas, pancreatic, melanoma, T cell lymphoma, bladder and adrenal. Outcomes were available for 19 of the 33 cases.  A clinical benefit or improved patient outcome of three to eight months was seen in seven of the 19 patients (37 percent) who received drugs targeting this pathway. The response was not specific to tumor type.
"We are re-defining cancer classification," notes Rutgers Cancer Institute Precision Medicine Director Lorna Rodriguez, MD, PhD, who is the senior investigator of the work. "Instead of focusing on where the cancer first originated, we now have an ability to drill down and further examine and identify potentially actionable genomic features within the tumor.  This not only enables clinicians to rapidly employ tailored treatment strategies, but also provides for the development of future therapies in the form of new clinical trials," adds Dr. Rodriguez, who is also a professor of obstetrics, gynecology and reproductive sciences at Rutgers Robert Wood Johnson Medical School.
The overall Precision Medicine Program at Rutgers Cancer Institute – including this research – is supported in part by a $10 million anonymous gift.  
Other research from Rutgers Cancer Institute being presented at this year's AACR conference includes:
Delivery of point-of-care management to patients with gynecologic malignancies using comprehensive genomic profiling
 
Racial/ethnic disparities in ovarian cancer treatment and survival
 
Metformin may function as an anti-cancer agent of pancreatic cancer via targeting RET signaling pathway
 
Serum biomarkers of polyomavirus infection and risk of lung cancer in never smokers
 
Short-term outcomes of abiraterone in community settings
About Rutgers Cancer Institute of New Jersey
Rutgers Cancer Institute of New Jersey (www.cinj.org) is the state's only National Cancer Institute-designated Comprehensive Cancer Center. As part of Rutgers, The State University of New Jersey, the Cancer Institute of New Jersey is dedicated to improving the detection, treatment and care of patients with cancer, and to serving as an education resource for cancer prevention. Physician-scientists at Rutgers Cancer Institute engage in translational research, transforming their laboratory discoveries into clinical practice.  To make a tax-deductible gift to support the Cancer Institute of New Jersey, call 732-235-8614 or visit www.cinj.org/giving. Follow us on Facebook at www.facebook.com/TheCINJ.
The Cancer Institute of New Jersey Network is comprised of hospitals throughout the state and provides the highest quality cancer care and rapid dissemination of important discoveries into the community. Flagship Hospital: Robert Wood Johnson University Hospital. System Partner: Meridian Health (Jersey Shore University Medical Center, Ocean Medical Center, Riverview Medical Center, Southern Ocean Medical Center, and Bayshore Community Hospital). Affiliate Hospitals: JFK Medical Center, Robert Wood Johnson University Hospital Hamilton (CINJ Hamilton), and Robert Wood Johnson University Hospital Somerset.