Rutgers researcher receives $400K in grants to support study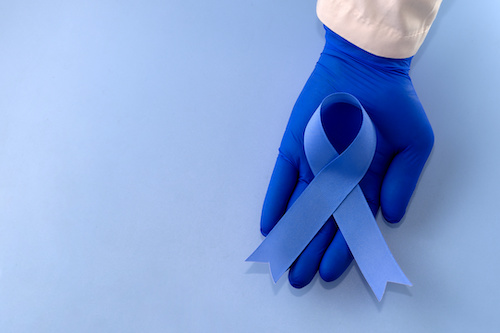 New Brunswick, N.J., March 18, 2021–Denalee O'Malley, PhD, a researcher at Rutgers Cancer Institute of New Jersey and Rutgers Robert Wood Johnson Medical School, has received $400,000 in awards to help identify and overcome multi-level factors such as patient, health professionals and clinic systems affecting optimal use of colorectal cancer preventative screening options for patients with elevated medical and social risks throughout the United States. This project is being supported by the National Cancer Institute Pathway to Independence Award (1K99CA256043-01) and the Robert Leet Patterson and Clara Guthrie Patterson Trust Mentored Research Award.
Patients with type 2 diabetes mellitus, a chronic disease characterized by high levels of sugar in the blood, have a greater lifetime risk for developing cancer in the colon or rectum. This type of diabetes is disproportionately diagnosed in non-Hispanic Black and Hispanic patient populations. In the state of New Jersey, individuals may choose to visit federally qualified health centers for their primary healthcare services, including those who are managing type 2 diabetes mellitus. However, in New Jersey and nationally, these types of primary care clinics struggle to implement and sustain colorectal cancer screening, which include strategies such as stool tests, flexible sigmoidoscopy and colonoscopy.
The grant support will enable Dr. O'Malley to examine the impact of primary care implementation approaches for colorectal cancer screening on racial and ethnic disparities comparing types of screening tests used for patients with diabetes. This study aims to develop an improvement process so that the colon and rectal screen tests used are the best option given patients' medical and social risks. This will be done by identifying racial and ethnic differences of specific colorectal cancer screening test use and comparing participants who receive the majority of their care in federally qualified health centers versus patients receiving care in traditional primary care settings. O'Malley will then develop and pilot test an organizational instrument to measure the clinics' resources for change. The final instrument will be administered to 18 federally qualified health centers to inform an implementation plan to optimize risk based colorectal cancer screening.
Based on these findings, an implementation tool kit will be created for the optimization of targeted colorectal cancer screening among patients with type 2 diabetes mellitus in federally qualified health centers, which will be tested further in the next phase of this research.
"Over the last decade, there have been major transformations in health systems, with a stronger emphasis on making preventive care accessible and equitable," notes O'Malley, who is also an Instructor of Family Medicine and Community Health at Rutgers Robert Wood Johnson Medical School. "This research is timely and critical in filling knowledge gaps to improve cancer prevention quality among vulnerable populations in New Jersey and on a national level."
The project runs through December 2023.
About Rutgers Cancer Institute of New Jersey
As New Jersey's only National Cancer Institute-designated Comprehensive Cancer Center, Rutgers Cancer Institute, together with RWJBarnabas Health, offers the most advanced cancer treatment options including bone marrow transplantation, proton therapy, CAR T-cell therapy and complex surgical procedures.  Along with clinical trials and novel therapeutics such as precision medicine and immunotherapy – many of which are not widely available – patients have access to these cutting-edge therapies at Rutgers Cancer Institute of New Jersey in New Brunswick, Rutgers Cancer Institute of New Jersey at University Hospital in Newark, as well as through RWJBarnabas Health facilities. To make a tax-deductible gift to support Rutgers Cancer Institute of New Jersey, call 848-932-8013 or visit www.cinj.org/giving.
About Rutgers Robert Wood Johnson Medical School
As one of the nation's leading comprehensive medical schools, Rutgers Robert Wood Johnson Medical School is dedicated to the pursuit of excellence in education, research, health care delivery, and the promotion of community health. Part of Rutgers, The State University of New Jersey, Robert Wood Johnson Medical School encompasses 20 basic science and clinical departments, and hosts centers and institutes including the Cardiovascular Institute, the Child Health Institute of New Jersey, the Institute for Neurological Therapeutics, and the Women's Health Institute. The medical school has been recognized by U.S. News & World Report as among the top 100 medical schools in the nation and No. 1 in the state for research and primary care.
Robert Wood Johnson Medical School and Robert Wood Johnson University Hospital, an RWJBarnabas Health facility and the medical school's principal affiliate, comprise one of the nation's premier academic medical centers. Clinical services are provided by more than 500 faculty physicians in 200+ specialties and subspecialties as part of Rutgers Health, the clinical arm of Rutgers University.
The medical school maintains educational programs at the undergraduate, graduate and postgraduate levels on its campuses in New Brunswick and Piscataway, and provides continuing education courses for health care professionals and community education programs.  To learn more about Rutgers Robert Wood Johnson Medical School, visit rwjms.rutgers.edu. Find us online at www.Facebook.com/RWJMedicalSchool and www.twitter.com/RWJMS.
###
For journalists – contact:
Krista Didzbalis
Media Relations Assistant
908-812-6114
krista.didzbalis@rutgers.edu
For patient appointments/inquiries – contact:
844-CANCERNJ (844-226-2376)