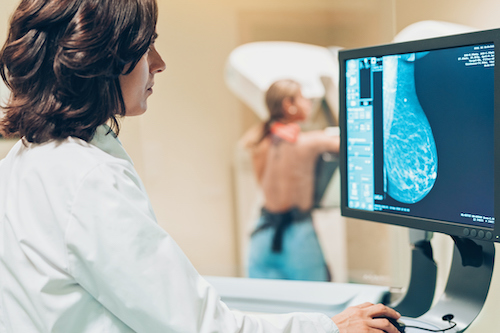 During this stressful time, many people are worried about things in their lives that have been put on hold. For some women, this includes an annual mammogram. 
Aside from skin cancer, breast cancer is the most commonly diagnosed cancer in women in the United States and will result in an estimated 43,600 deaths in the nation this year, according to the American Cancer Society. The most effective screening tool for breast cancer is a mammogram, which uses low dose X-rays to create images of the breast. This method can find breast cancer before there are any signs or symptoms, and before the cancer grows larger or spreads to other parts of the body. 
As we navigate the coronavirus pandemic in our communities, there is a need to continue to focus on our overall health and wellness while continuing to stay committed to preventing the spread of the virus. Safeguards have been put in place at Rutgers Cancer Institute of New Jersey and RWJBarnabas Health facilities so women can safely continue to get this potentially life-saving screening or any follow-up care that may be needed.  
Safety protocols include screening for COVID-19 symptoms upon entry, mandating a mask or face covering for all patients and staff and the implementation of visitation guidelines.
Identifying breast cancer early is an important tool, as we know that early detection improves a woman's overall prognosis. This test may save your life. Learn more at rwjbh.org/mammo or call 844-CANCERNJ (844-226-2376) 
Deborah L. Toppmeyer, MD, is Chief Medical Officer and Director of the Stacy Goldstein Breast Cancer Center and LIFE Center at Rutgers Cancer Institute; and Professor of Medicine, Robert Wood Johnson Medical School.