New Brunswick, N.J., March 1, 2023 – Cancer is a family disease. A cancer diagnosis not only impacts the individual, but it affects every family member and loved one in a unique way. For a parent with cancer, it is natural and common to worry about balancing parenting while receiving treatment. Gabrielle Vitaliano MSW, LCSW, OSW-C, outpatient oncology social worker at Rutgers Cancer Institute of New Jersey shares more about parenting through cancer and helping children cope with a parent's cancer diagnosis.
Understanding Being Both a Patient and Parent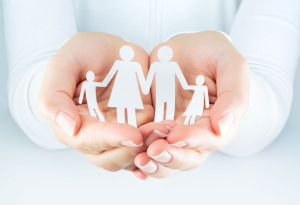 Balancing the role of being both a patient and parent is not easy. Many parents often struggle with this shift in their traditional parenting roles and being uncertain about sharing the details of their diagnosis with their children. As a result of side effects from treatment and frequency of appointments, parents need to rely on the support of a co-parent or other family members and friends. Not only is this important to maintain the child's consistent, regular routine and ensure they have adequate support, but also to optimize a parent's own health and wellness through their cancer journey. 
Tips to Reduce Stress and Make Home-Life Easier:
 Setting expectations for what life may look like as you navigate your cancer diagnosis will help decrease anxieties for the entire family. 
•    Maintain as much normalcy for the child as possible, implementing consistent routines and continuation of normal activities. 
•    Have conversations with family, friends, and loved ones, designating specific tasks for each of them. 
•    Identify a "safe" adult for your child to go to with any questions or worries.
•    Join a support group specific to parenting through cancer. 
•    Connect with your oncology social worker for extra support. 
Social Work Services at Rutgers Cancer Institute of New Jersey, the state's leading cancer program and only NCI-designated Comprehensive Cancer Center together with RWJBarnabas Health, helps patients and their families effectively cope with the logistical and emotional difficulties of cancer. For additional support and educational programs visit our Patient Support Services page. 
###
For journalists – contact: 
Krista Didzbalis  
Media Relations Assistant  
732-507-8307 
krista.didzbalis@rutgers.edu 
 
For patient appointments/inquiries – contact: 
844-CANCERNJ (844-226-2376)