National Cancer Institute Recognizes Treatment, Prevention Efforts and Research Consortium with Princeton University
New Brunswick, N.J. – Rutgers Cancer Institute of New Jersey, the state's only Comprehensive Cancer Center as recognized by the National Cancer Institute (NCI), has been awarded a $15.1 million grant (P30CA072720) as part of its successful 2019 redesignation. The prestigious designation, held by only 50 such centers across the nation, is granted competitively to institutions characterized by the highest level of scientific excellence in cancer research and the ability to translate research discoveries into novel treatments. In its comprehensive on-site review of Rutgers Cancer Institute programs, the NCI recognized the Institute's treatment, prevention, education and outreach efforts as well as acknowledged its value as a collaborative matrix/consortium cancer center between Rutgers, The State University of New Jersey and Princeton University.
"The awarding of this grant and redesignation by the NCI reaffirms the value Rutgers Cancer Institute provides to our state through research, treatment, prevention and education. Together with RWJBarnabas Health, we are committed to providing integrated, cutting-edge cancer care to those in New Jersey and the region. And through a long-time collaboration with Princeton University, we have partnered the largest public and private research universities in New Jersey to advance scientific discoveries that serve as the foundation for tomorrow's innovative cancer therapies. This grant serves as a further investment into that work, and I am proud to lead our internationally recognized researchers and clinicians in these efforts which improve the health of those in our state and beyond," notes Rutgers Cancer Institute Director Steven K. Libutti, MD, FACS, who is also the senior vice president of oncology services at RWJBarnabas Health.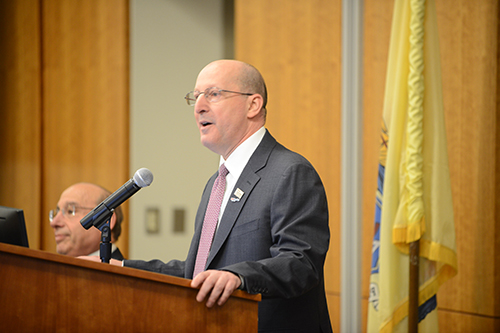 "A focus on innovation and collaboration in life-sciences will change New Jersey and the nation for the better, something exemplified by the redesignation of Rutgers Cancer Institute as the state's only NCI-designated Comprehensive Cancer Center," says New Jersey Governor Phil Murphy. "This long-standing collaboration between Rutgers and Princeton University is focused on reducing our state's cancer burden through collaborative research, innovative treatment options, and emphasizing cancer prevention and education to residents across the state. As Governor, I am proud to have such a ground-breaking and forward-looking facility in New Jersey and confident that the work being done at Rutgers Cancer Institute will impact countless lives."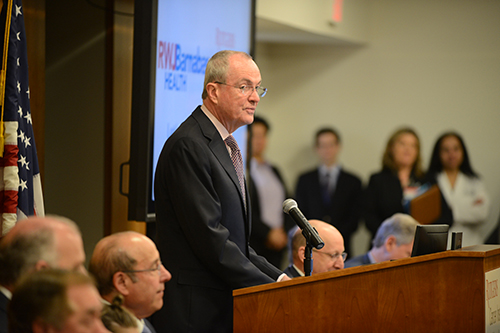 "We are exceptionally proud of the National Cancer Institute redesignation of Rutgers Cancer Institute of New Jersey as a Comprehensive Cancer Center, the only one in the state, distinguished by the excellence of its leadership, research and treatment," adds RWJBarnabas Health President and Chief Executive Officer Barry H. Ostrowsky. "Our partnership with Rutgers Cancer Institute allows us to offer our communities throughout New Jersey invaluable collaboration in providing the newest scientific knowledge and treatment of cancer."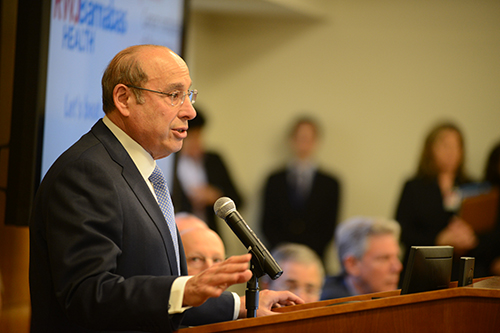 Aiming to address the cancer burden that impacts New Jersey and beyond, Rutgers Cancer Institute collaborates with Princeton University as part of a research consortium. This longstanding partnership provides continued opportunities for scientific collaboration and cooperative use of state-of-the-art shared resources.  As a result of this relationship, scientific advances in the areas of cancer metabolism, metastasis and genomics have contributed to impactful clinical progress in areas such as precision medicine and immunotherapy. As an NCI-approved consortium partner, Princeton is considered part of the Rutgers Cancer Institute. 
"The synergy between Rutgers Cancer Institute and Princeton University continues to result in innovative discoveries that further our understanding of the underlying mechanisms of cancer and identify key vulnerabilities that can be exploited for targeted cancer therapy," notes Princeton University Dean for Research Pablo G. Debenedetti, PhD, who is the Class of 1950 Professor in Engineering and Applied Science and a professor of chemical and biological engineering. "By working together across disciplines and institutions as a research consortium member of Rutgers Cancer Institute, Princeton is pleased to contribute to advancing such critical work."
Along with advancing research and treatment, NCI-designated Comprehensive Cancer Centers also are responsible for putting forth programs emphasizing cancer education, prevention and outreach that serve their states and catchment areas. In this latest review, the NCI affirmed the entire state of New Jersey as Rutgers Cancer Institute's catchment area  and recognized its important work in cancer control – from prevention to survivorship – and transforming research data in these areas into interventions that not only serve the people of New Jersey but beyond. Also highlighted were efforts by Rutgers Cancer Institute research members in examining tobacco regulation and the impact on tobacco control policies, as well as the support of public health initiatives – including the recently developed ScreenNJ initiative with the New Jersey Department of Health to enhance cancer screening, prevention and education activity.
"This redesignation indicates that world-class cancer care and research continues to be delivered by Rutgers," shares Brian L. Strom, MD, MPH, chancellor of Rutgers Biomedical and Health Sciences and executive vice president for Health Affairs at Rutgers University. "Our commitment is to advance human health by all means, from delivery of state-of-the-art care, to new discoveries, to translating scientific discoveries into clinical advances. This commitment benefits the lives of our patients in New Jersey and beyond."
About Rutgers Cancer Institute of New Jersey
As New Jersey's only National Cancer Institute-designated Comprehensive Cancer Center, Rutgers Cancer Institute, along with its partner RWJBarnabas Health, offers the most advanced cancer treatment options including bone marrow transplantation, proton therapy and CAR T-cell therapy.  Along with clinical trials and novel therapeutics such as precision medicine and immunotherapy – many of which are not widely available – patients have access to these cutting-edge therapies at Rutgers Cancer Institute of New Jersey in New Brunswick, Rutgers Cancer Institute of New Jersey at University Hospital in Newark, as well as through RWJBarnabas Health facilities.
Along with world-class treatment, which is often fueled by on-site research conducted in Rutgers Cancer Institute laboratories, patients and their families also can seek cancer preventative services and education resources throughout the Rutgers Cancer Institute and RWJBarnabas Health footprint statewide. To make a tax-deductible gift to support the Cancer Institute of New Jersey, call 848-932-8013 or visit www.cinj.org/giving.
###
For journalists – contact:
Michele Fisher, Public Relations Manager
732-235-9872
For patient appointments/inquiries – contact:
732-235-8515