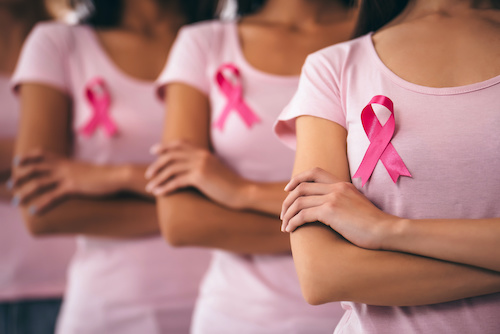 New Brunswick, N.J., September 21 2021 – The National Breast Cancer Foundation reports that a woman is diagnosed with breast cancer every two minutes in the United States, however, the outlook for patients diagnosed with breast cancer has been changing for the better over time, thanks to advances in research, targeted therapies, and a more personalized approach to treating women diagnosed with breast cancer. There are more options for breast cancer patients now than ever before. Lindsay Potdevin, MD, surgical oncologist at Rutgers Cancer Institute of New Jersey and Robert Wood Johnson University Hospital Somerset, an RWJBarnabas Health facility, shares more about these advances that have made a notable impact on the lives of breast cancer patients.
Surgical Advances
There are many changes in the way that surgeons approach breast cancer removal that have evolved over the past 10 to 20 years, which involve surgical techniques such as lumpectomies that hide scars, nipple-sparing mastectomies, reconstruction, and in some cases—no surgery at all. Surgeons, once solely interested in the removal of the primary tumor, are now incorporating techniques to precisely remove all cancerous cells while preserving healthy breast tissue, skin and nipples, giving patients the option receive their desired cosmetic outcome.
Clinical trials
Over time, breast cancer treatment has greatly improved due to findings from clinical trials, which are research studies in which people agree to try new therapies in order to help physicians and researchers identify the best treatments with the fewest side effects. Whether a new therapy or test becomes part of standard treatment for breast cancer depends largely on findings from clinical trials. Patients can explore with their physicians if a clinical trial is right for them depending on their individual needs.
Personalized treatment approach
Breast cancer treatment typically involves some combination of surgery, radiation and chemotherapy, although not all women need all three. Best practices have shifted to a more personalized management of the breast cancer patient. Physicians will consider factors such as the size of the breast, the size and type of the tumor, the cosmetic impact of different treatments, and each patient's personal concerns and goals.
Dr. Potdevin sees patients at Rutgers Cancer Institute and Robert Wood Johnson University Hospital Somerset, an RWJBarnabas Health facility.
Find out more about breast cancer treatment tailored to you at our Stacy Goldstein Breast Cancer Center.
For journalists – contact:
Krista Didzbalis
Media Relations Assistant
732-507-8307
krista.didzbalis@rutgers.edu
For patient appointments/inquiries – contact:
844-CANCERNJ (844-226-2376)