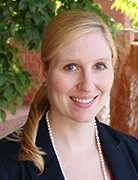 Lindsay Potdevin, MD
Breast cancer is a rapidly evolving field that requires those who specialize in it to be constantly learning new techniques and staying up to date on the latest practice recommendations.  It is also a disease for which there are multiple possibilities for approaches to treatment, requiring the involvement of many disciplines.  It is for this reason that I am excited to join the dedicated team at Rutgers Cancer Institute of New Jersey as a surgical oncologist and be part of a group of individuals that provides an ideal place for patients to seek treatment.
I have spent many years of education and training in general surgery in the city of New Brunswick, and subsequently completed a fellowship in breast surgery at Georgetown University Hospital in Washington, DC.  During my fellowship, I trained extensively in surgical techniques that minimize the disfigurement in which breast surgery can often result, including oncoplastic procedures to reduce the change in appearance from a lumpectomy and nipple-sparing mastectomies that leave the patient with improved cosmetic outcomes.  These methods are carefully balanced with the ultimate goal of cancer control and cure. 
I have always been passionate about women's health issues, and particularly about the specific concerns related to breast cancer treatment.  I make sure to focus on patient education to help design individualized treatment plans.  I also strive to assist patients and their families in understanding all the treatment options as well as the risks and benefits of each in order to make an informed decision.
Research is a crucial component to advancing the field of breast cancer, and I am enthusiastic to participate in many of the projects and clinical trials taking place at Rutgers Cancer Institute.  In the past I have worked on projects designed to improve the experience of pain in postmastectomy patients, extend the criteria of patients eligible to undergo nipple-sparing mastectomies, and assess effects of radiation on patient satisfaction after mastectomy.  
Dr. Potdevin sees patients at Rutgers Cancer Institute and Robert Wood Johnson University Hospital Somerset. 
Clinical Expertise
Breast cancer; breast conservation; oncoplastic techniques; nipple-sparing mastectomy; ductal carcinoma-in-situ (DCIS); and clinical trials.