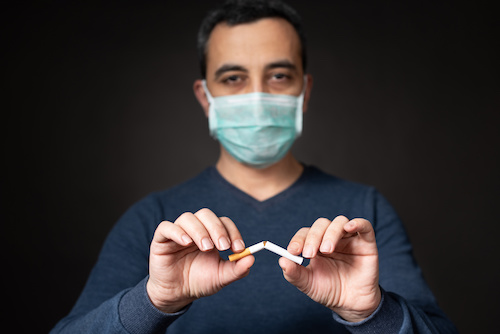 New Brunswick, N.J., November 10, 2020 – Each year on the third Thursday in November, thousands take the challenge to put down their cigarettes or vapes for 24 hours, and many will never pick them up again. November 19, 2020 marks the Great American Smokeout, an annual intervention hosted by the American Cancer Society as a call to action to take the first step towards better health through the elimination of tobacco products. Clean, fresh air has never meant so much.  Mark the day by learning more about the impact of smoking on health, and get started with your smoke-free journey by taking advantage of the many resources available.
Smoking is associated with health issues like cancer. According to the American Lung Association, smoking contributes to more than 80 percent of lung cancer deaths in both men and women. Compared to nonsmokers, men who smoke are 23 times more likely to develop lung cancer, and women are 11 times more likely. According to the Centers for Disease Control and Prevention, quitting smoking lowers the risk for 12 types of cancer: cancers of the lung, larynx, oral cavity and pharynx, esophagus, pancreas, bladder, stomach, colon and rectum, liver, cervix, kidney, and acute myeloid leukemia. Today, smoking rates continue to drop, but vaping rates for young people continue to soar. Risks of vaping include exposure to metals and introduction to tobacco addiction. There is concern about the impact on young brains, COVID-19 risks and the wasted expense of these products.
Now is a great time to stop smoking and vaping. We have all been impacted by the COVID-19 pandemic. We know that smoking and vaping increases inflammation of the lungs, and can increase the risk of lung infections in general. Although the evidence is not fully understood, it seems that smokers who get COVID may be at increased risk of severe illness, and it might also increase the risk of being exposed to and getting infected with the SARS Co-V2 virus. Regardless, as we all try to take care of ourselves and stay healthy, this is a perfect time to stop smoking and vaping, even for one day.   
You don't have to quit alone. There are many resources available to help you quit smoking. These include hotlines, support groups, and smoking cessation programs. If you are a New Jersey resident and are considering quitting smoking, the support you need is offered close to home. The Tobacco Dependence Program at the Rutgers Center for Tobacco Studies is partially supported by Rutgers Cancer Institute of New Jersey. Through the program you can meet with trained experts that can educate you on tools that can help you quit cigarettes, vaping and other tobacco products, and make an individualized plan that works with you.
Other resources include: The RWJBarnabas Health Nicotine and Tobacco Recovery Program, New Jersey Quitline, 1-800 NJQUITS, Smokefree NJ, and NJ Quitcenters. By using these resources and the Great American Smokeout as a starting point, you'll be on your way to a smoke-free lifestyle.
 
Michael Steinberg, MD, MPH is chief of general internal medicine and professor of medicine at Rutgers Robert Wood Johnson Medical School and medical director of the Rutgers Tobacco Dependence Program.
 
Donna Richardson, MSW, LCSW, LCADC, CTTS, is the clinic coordinator for the Rutgers Tobacco Dependence Program.
 
For journalists – contact:
Krista Didzbalis 
Media Relations Assistant 
908-812-6114
krista.didzbalis@rutgers.edu
For patient appointments/inquiries – contact:
844-CANCERNJ (844-226-2376)