Home | Services | Equipment | Service Request Form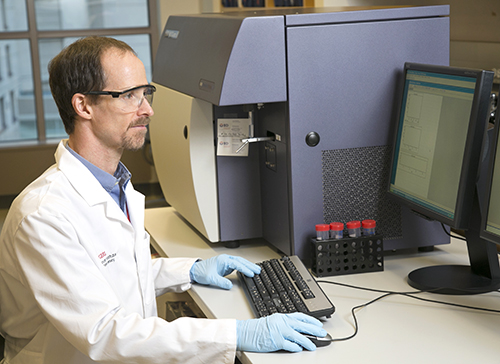 Flow cytometry is a laser-based technology that permits rapid and precise multi-parametric analysis of individual cells and particles from within a heterogeneous population as they flow in suspension past one or more laser beams.  Using the various instruments in the facility, information on the physical and fluorescence properties of individual cells or organelles and their relationships to one another can be obtained. Laser-based cytometry provides a high intensity light source for efficient and broad range illumination of fluorescent probes. The availability of multiple lasers on each of our instruments provides investigators with an opportunity to simultaneously measure several different characteristics of the cells of interest. The instruments are linked to computer workstations for rapid data acquisition and analysis. Typically, investigators, their students/postdoctoral fellows and/or technicians work with technical experts in the shared resource to analyze samples and the resultant data, thereby gaining first-hand experience in data acquisition and analysis. The staff also works closely with investigators to design experiments and protocols for optimal facility utilization. A variety of different services currently available are listed below.  Experimental protocols are available for each of these techniques to guide investigators. New protocols are routinely being established, tested and provided to investigators, including:
Immunophenotyping
DNA and RNA content
Cell-cycle distribution and tumor ploidy determination
Apoptosis assays (e.g., annexin V, TUNEL assay, caspase activity, etc.)
Cell proliferation assays
Cell function measurements (e.g., viability, oxidative metabolism, phagocytosis)
Cell biochemistry assays (e.g., intracellular pH, calcium mobilization, mitochondrial membrane potential, microviscosity, glutathione content)
Fluorescent protein expression analysis (GFP, YFP, RFP, TagBFP, etc.)
Chromosome number and identification
Side population analysis for stem cell research
Multiparameter cell sorting and cloning
Training programs on instrumentation, applications, and data analysis software and best practices.
Last updated 07/28/2020