May is Oncology Nursing Month; May 6 – 12 is Nurses Week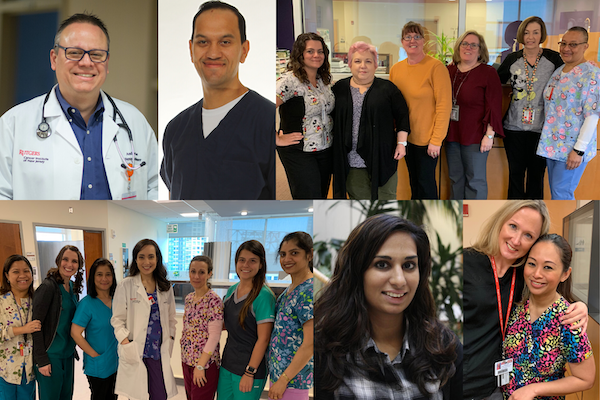 New Brunswick, N.J., May 6, 2020 – From playing a vital role in the care of cancer patients, to engaging in research and serving as an education resource for their peers, Rutgers Cancer Institute of New Jersey nurses continue to shape oncology nursing practice across our state and nation. Already facing the many complexities known to their profession, Rutgers Cancer Institute nurses are also faced with challenges associated with the impact of COVID-19.
During Nurses Week each year, two nurses are named recipients of the Institute's 'Oncology Nursing Excellence Awards' as a way to recognize the value and scope of their work. But this year, amid the coronavirus pandemic, Rutgers Cancer Institute is honoring all of its nurses and recognizing the nominees with this award during this Nurses Week.
"Professionalism and leadership, along with excellence in clinical practice, research, mentoring and education are exhibited by our nurses daily. It's an unwavering commitment that shines through even more now as they care for patients and guide other oncology nursing colleagues across the state during the coronavirus pandemic. This year, we recognize our award nominees, entire nursing team and all health care professionals who deserve to be celebrated during this unprecedented time," notes Carla Schaefer, MSN, RN, OCN, associate chief nursing officer at Rutgers Cancer Institute.
The 'Oncology Nursing Excellence Awards' are typically given during the annual Elizabeth Gibby Osborne Lecture, an event that is not taking place this year due to COVID-related restrictions. Award nominees (listed below) and the entire nursing team will be celebrated at a later date.
Nominated for the category of Advanced Practice Nurse:
Millie Cappa, APN, AOCNP
Carmela Hoefling, RN, MSN, AP-C, AOCNP
Andrew Kass, RN, MSN, AGNP-C, AOCNP
Khooshbu Patel, FNP-C, BA, MSN
Nominated for the category of Generalist Nurse:
Victoria Aquino, RN
Khaleedah Campbell, RN
Shayna Cornelius,RN, BSN, CPHON
Trish Dennigan, RN, BSN
Andrea Gonzalez, RN, MSN
Srigowri Kota, RN
Stephanie Matlin, RN, BSN
John Rodriguez, RN, OCN
The lectureship and Nursing Excellence Awards are underwritten in part by the Elizabeth Gibby Osborne Endowment Fund for Nurses Education. Mrs. Osborne, affectionately known as 'Liz' by the nurses, held a strong belief in education. That belief led her husband Bill to establish the fund after her death from cancer in 2004 to support peer-learning opportunities for oncology nurses at Rutgers Cancer Institute. 
"Being able to meet the ever-changing demands of the oncology nursing field requires specialized educational and professional development. As evidenced by the tests we now face on the front lines of coronavirus, oncology nurses need to be prepared. I know Liz would be proud of our team, knowing that past lectureships supported by the endowment fund established in her name have enhanced critical learning that our nurses are employing today during this challenging time," adds Schaefer.
About Rutgers Cancer Institute of New Jersey
As New Jersey's only National Cancer Institute-designated Comprehensive Cancer Center, Rutgers Cancer Institute, along with its partner RWJBarnabas Health, offers the most advanced cancer treatment options including bone marrow transplantation, proton therapy, CAR T-cell therapy and complex robotic surgery.  Along with clinical trials and novel therapeutics such as precision medicine and immunotherapy – many of which are not widely available – patients have access to these cutting-edge therapies at Rutgers Cancer Institute of New Jersey in New Brunswick, Rutgers Cancer Institute of New Jersey at University Hospital in Newark, as well as through RWJBarnabas Health facilities.
Along with world-class treatment, which is often fueled by on-site research conducted in Rutgers Cancer Institute laboratories, patients and their families also can seek cancer preventative services and education resources throughout the Rutgers Cancer Institute and RWJBarnabas Health footprint statewide. To make a tax-deductible gift to support the Cancer Institute of New Jersey, call 848-932-8013 or visit www.cinj.org/giving.
###
For journalists – contact:
Michele Fisher
Associate Director, Marketing and Communications
732-235-9872
michele.fisher@rutgers.edu
For patient appointments/inquiries – contact:
844-CANCERNJ (844-226-2376)