Story by Maryann Brinley  •  Portraits by John O'Boyle    View the complete magazine | Subscribe to Cancer Connection
What if cancer patients could relieve some of the stress surrounding an already stressful diagnosis and care plan? What if they could easily teleconference with caregivers for consultations and follow up visits? It's happening already through RWJBarnabas Health — connecting patients like Lance Mallinson to the state's only National Cancer Institute-designated Comprehensive Cancer Center: Rutgers Cancer Institute of New Jersey.
"We are taking telemedicine to a new level," says John Langenfeld, MD, co-director of the Lung Cancer/Thoracic Oncology Program at Rutgers Cancer Institute. Sitting in his fifth floor office in New Brunswick, NJ, Dr. Langenfeld is quietly passionate describing his ability to take care of patients with lung diseases long distantly. "This is something that truly benefits cancer patients who are coming from far away, driving on busy congested interstate highways, trying to find a place to park, checking into the hospital or a doctor's office, maybe sitting in a waiting room, when the actual appointment with the provider may take only a few minutes.
An associate professor at Rutgers Robert Wood Johnson Medical School and researcher, Langenfeld is one of New Jersey's Top Docs and a National Institutes of Health grant recipient who thinks big and has been using interactive screen-to-screen technology to care for cancer patients at Robert Wood Johnson University Hospital Hamilton, an RWJBarnabas Health facility, miles away from where he is. This is "a paradigm change," he insists. "I do not ask my patients to come up here to New Brunswick physically until the time of their surgery."
In the winter of 2018, Lance Mallinson, 72, and his wife Donna experienced the ease of this nearly virtual approach to medical care. They live on a beautiful country road just outside Allentown, NJ, a quaint Monmouth County borough known for its village antique shops and restaurants.
An avid golfer, Mallinson is a retired insurance executive, father of three, and grandfather of three. "All under age three!" he says. In fact, he and his wife laugh about the ease of using tablets, phones and FaceTime to check in with the kids in Atlanta, Georgia. "Why shouldn't we able to do this with doctors?" she asks.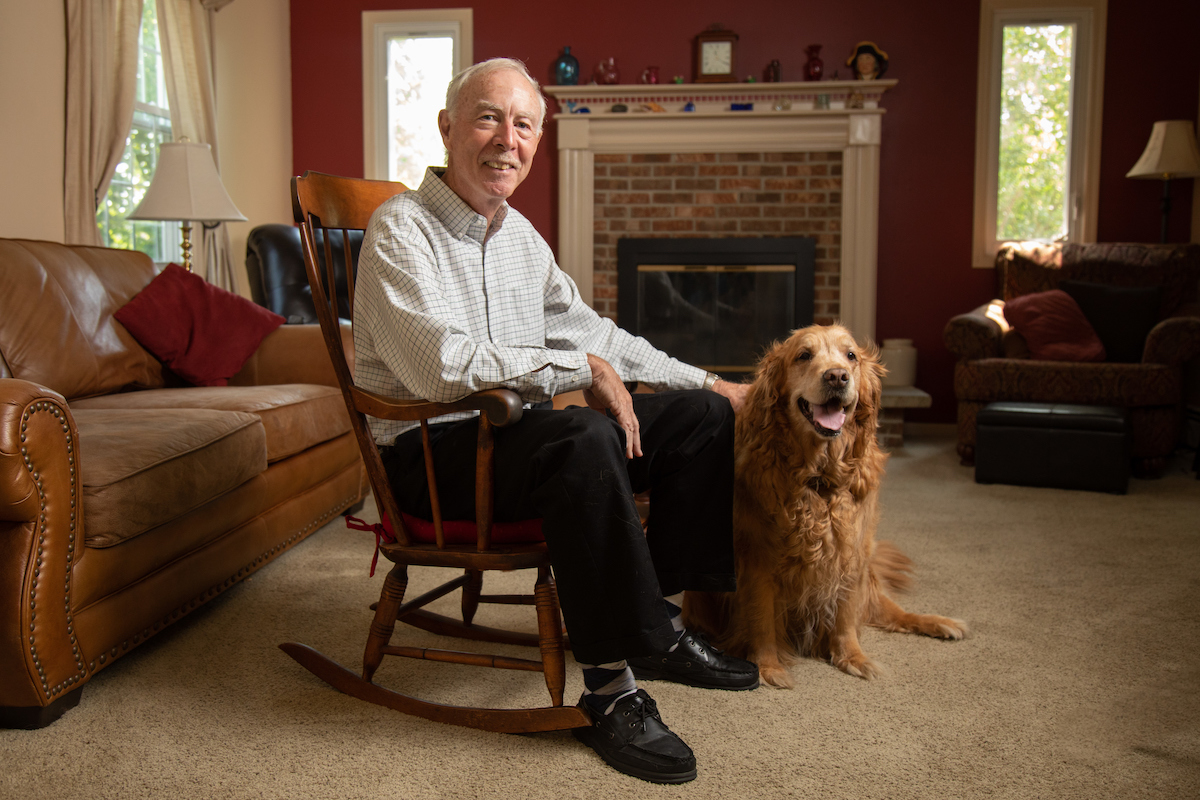 Lance Mallinson
On a routine visit to his general practitioner last February, Mallinson's elevated blood pressure reading suggested something out of the ordinary. So, his primary care provider sent him for a test that would check for calcium buildup in the arteries leading to the heart. Two days later, the results of this scan detected a spot on his left lung. "My ears perked up with that news," he admits. His father died of lung cancer.
The next appointment was just ten minutes away at RWJUH Hamilton. A biopsy confirmed stage 1, non-small cell lung cancer. "I haven't smoked in 42 years," he explains. "But I definitely feel as if that was a factor in my getting this."
Living in a major metropolitan area with an abundance of cancer treatment centers can actually complicate decisions about care. "Everybody you know is into 'big names'," Donna admits. "We were told, 'You've got to go to Philly. You've got to go to New York.'" Hospital names were suggested and then discarded by this couple facing big decisions. "Thank God we didn't do that. With the number of appointments, the long car rides, the very early morning times set for more scans and tests…well, that would mean we'd have to stay nearby in a hotel the night before and," she laughs, "we would have killed each other. To tell you the truth, I think we got better, more personalized care right here in Hamilton and being forced to travel all the time was not a factor. Speed is also such an important factor when you have something like this. You've got to get from point A to B to C quickly. And the quicker you can do all this, the better. It's your brain working overtime too. You just want to get this taken care of right away. We were able to meet with Dr. Langenfeld the next week in a teleconference."
The very afternoon of Mallionson's diagnosis, they also started working with Vivian Owusu-Mensah, APN, OCN, CTTS, an advanced practice nurse specially trained to be a "lung cancer nurse navigator" at RWJUH Hamilton.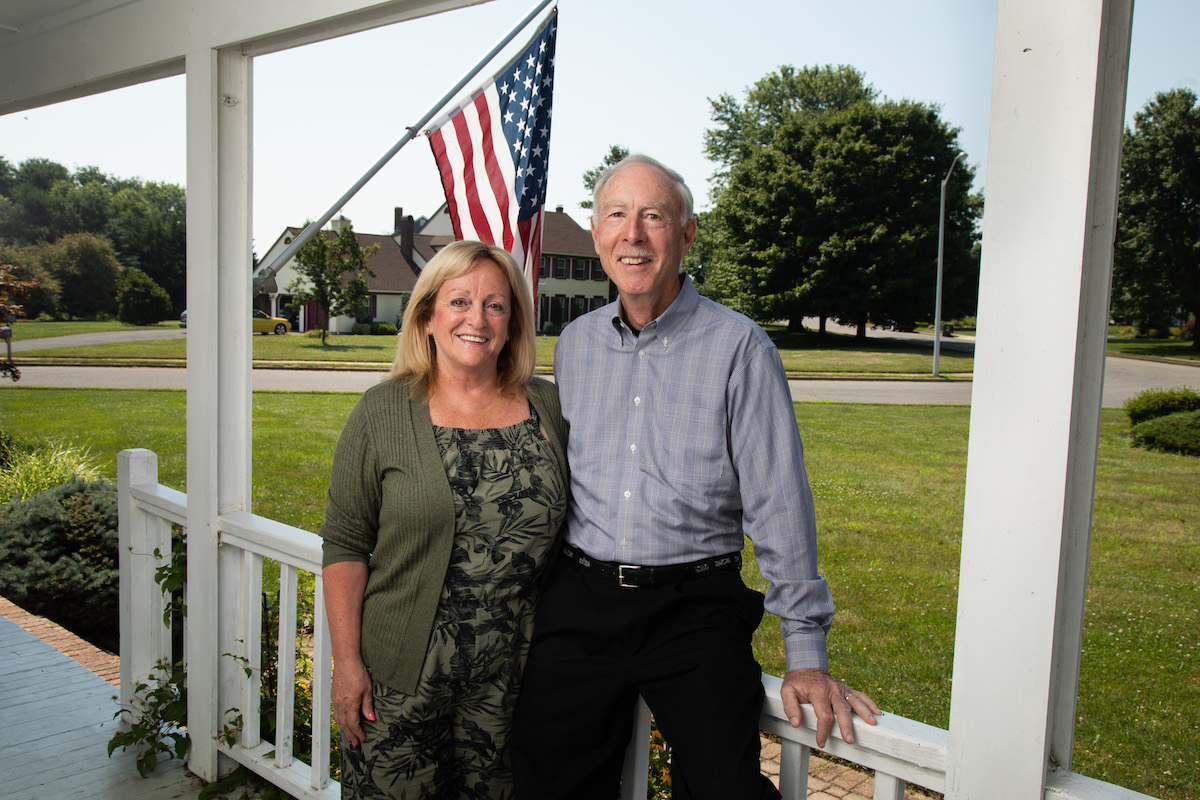 Lance Mallinson and wife Donna marveled at the ease of the nearly virtual approach to medical care that telemedicine afforded them.
"Vivian made the world of difference," Mallinson recalls. She was their go-to person for scheduling all appointments, uploading scans and test results online and coordinating the teleconferencing with Dr. Langenfeld. "She took over right away." Donna adds, when you are an ordinary person, "Simply getting through to a doctor on the telephone can be frustrating. You hardly ever get to speak with a live person and you end up leaving messages but Vivian could take care of it all immediately telling us, 'This, this and this needs to be done.' And she would do it. I had never heard of a nurse navigator before."  Oncology nurse navigators help patients through the entire cancer journey from securing their initial appointment to coordinating follow-up visits related to treatments and procedures, all the way through aspects of survivorship. Rutgers Cancer Institute and RWJBarnabas Health have one of the state's most robust oncology nurse navigation programs providing individualized assistance to patients and their caregivers.
Miles away in New Brunswick, Langenfeld is able to sit before a large screen and assess his patients clearly. "It goes famously for us because of Vivian being there. A big part of what I look for is how strong the patient appears to be. If they are weak or too fragile, they won't be able to tolerate surgery. But this is something I can understand just by interacting this way. With the right monitoring and high definition screens, it's like they are sitting across from me in person. This is a huge convenience for the patient." Eventually, Langenfeld hopes to be teleconferencing right from his own office and patients will be able to do it from the convenience of their own homes using existing screens, phones and the same kinds of technology already available and widely used.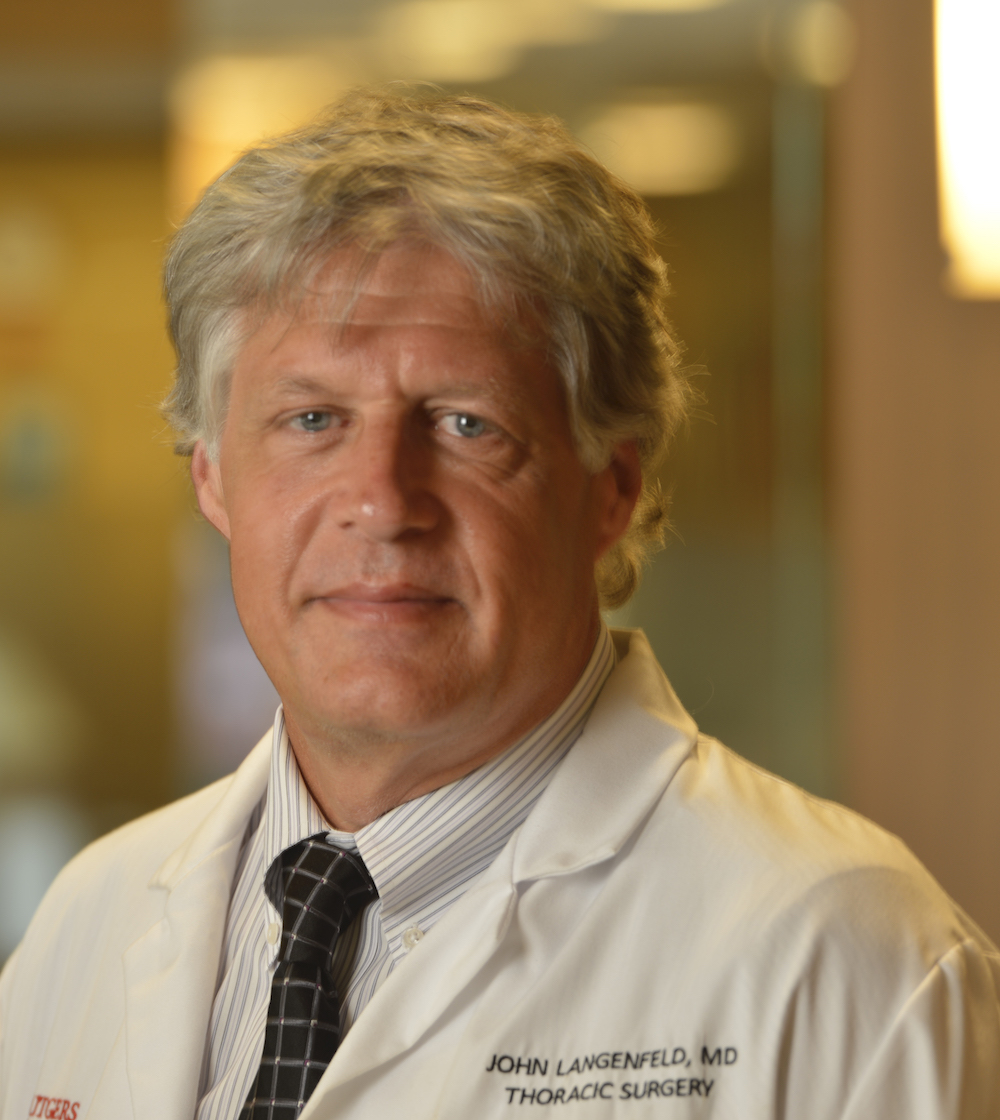 Taking telemedicine to a "new level," John Langenfeld, MD (above), co-director of the Lung Cancer/Thoracic Oncology Program at Rutgers Cancer Institute, examines patients like Lance Mallinson at Robert Wood Johnson University Hospital Hamilton via the latest in technology.
"I predict patients are going to love telemedicine if it's coordinated and done in the right fashion. We've been doing it at this whole new level at RWJUH Hamilton for more than a year," Langenfeld explains.
The Mallinsons met Langenfeld in person for the first time on the day of surgery, March 20 of this year. "We got to New Brunswick at 11 a.m. and they prepped me right away," Mallinson says. In a two-hour procedure known as a thoracotomy, the doctor removed a lobe (a section) of his lung and left him with a 12-inch scar on his back.
"I was really black and blue," he recalls now sitting at home, twisting around in a chair to point out the area on his back. "My ribs are still a little sore but I was amazed at how little pain I had. They gave me a button to push for pain medication, but I didn't need it."  He was discharged after four days.
The lack of pain was because Mallinson was one of Langenfeld's first patients to receive a long-acting, local anesthetic – or nerve block – that would last up to two months. "We've used other types of nerve blocks for a couple of years but they wear off in five days," Langenfeld explains. "Patients come out of the operating room feeling so much more comfortable than they would without it. It's amazing." Reducing pain clearly helps recovery because patients can breathe better and the risk of pneumonia and infection go down.
"He had no pain at all," Donna says, but that worried her. "He thought he was a super hero. The surgery was on a Wednesday. He came home on Sunday and was out to lunch with his golf friends by Tuesday. By that afternoon, however, he was white as a ghost. I think a little pain might have made him rest more."
Lance admits, "The fatigue factor was the biggest thing I encountered in recovery. I'd do something in the morning but I would need to nap in the afternoon." By May, he was back on the golf course with his group of 50 guys, the Yeungling Golf Society – yes, named after the beer. "We started years ago with guys I worked with and now have an online site to pick foursomes, make tee times and post scores." "He's addicted to golf," Donna laughs.
Because his cancer was detected early, there was no need for additional radiation or chemotherapy after the surgery. And at his follow-up in July 2019 – done right there at RWJUH Hamilton —Mallinson was given more good news. "I don't need to go for another scan until next February. The doctors don't expect the cancer to return but you never know. It's always there in the back of your mind."
Donna adds, "It's hard to pay attention when you are thinking: cancer, cancer, cancer." That's why she went with him to every appointment, wrote everything down and listened closely when Lance might not be able to concentrate. They also stayed off the Internet as much as possible.
"I think you do need all the basic information," says Mallinson, "but you could drive yourself crazy with all the stuff written about cancer out there online. Ultimately, you've got to trust your doctors and nurses."
On the day of his surgery, while Mallinson was still in the recovery area, Langenfeld came in to update them about how the procedure had gone and what to expect. His focus wasn't on telemedicine but a big part of theirs was. Thrilled about how this virtual technology had helped ease the entire experience, Donna shared her enthusiasm for telemedicine with the surgeon.
"Don't put this off for long. Just do it," she replied.
"Yes, my goal is to introduce this in a bigger way to more and more patients," Langenfeld responded.
"We'll take this to a whole new level," this physician predicts. "Patients will be able to access this system from anywhere using a computer, a smart phone or a tablet. It will save thousands of hours for patients and physicians and result in an enhanced experience."