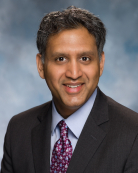 Pankaj K. ("P.K.") Agarwalla, MD
Assistant Professor of Neurosurgery, Rutgers New Jersey Medical School
Specializing in brain tumors, skull base, and cerebrovascular, my focus is providing high-level complex cranial neurosurgical care in the context of a multidisciplinary team with the latest treatments and clinical trials. I see patients with all cranial conditions and tumors including gliomas, metastatic tumors, skull base tumors (meningiomas, pituitary tumors, acoustic neuromas/vestibular schwannomas, craniopharyngiomas, chordomas, and jugular foramen lesions). Because I also specialize in radiosurgery with both CyberKnife and Gamma Knife modalities, we will always consider non-surgical options in a patient's treatment plan.
As one of the co-founders of the Brain and Spine Tumor Program at Rutgers Cancer Institute of New Jersey at University Hospital, I work closely with the entire multi-disciplinary program to provide the most advanced and appropriate care for each patient with attention to each individual's unique case. As a surgeon, I know that surgery is often only one part of a larger answer; for example, targeted therapies, chemotherapy, immunotherapy, or radiation therapy can be just as important. This multi-disciplinary approach is central for patients with brain and spine tumors.
Clinical research has been an important passion of mine, and we are developing protocols for tissue/blood collection to study the biology of tumors in the laboratory. We also have a growing clinical trial presence including a targeted therapy trial for papillary craniopharyngiomas, for which I am the site lead investigator.
I received my undergraduate and medical degrees from Harvard University. During my neurosurgical residency at the Massachusetts General Hospital, I worked on an immunotherapy trial for glioblastoma and performed research on the genomics of skull base tumors at the Dana-Farber Cancer Institute and the Broad Institute. After residency, I completed a fellowship in skull base and cerebrovascular neurosurgery at the University of South Florida.
Dr. Agarwalla sees patients at Rutgers Cancer Institute and Cooperman Barnabas Medical Center in Livingston.
Clinical Expertise
Glioblastomas, Oligodendroglioma, Astrocytoma, Metastatic Brain Tumors, Skull base tumors including acoustic neuromas, pituitary tumors, meningiomas, clival lesions, and jugular foramen lesions