A George Mason University and Rutgers Cancer Institute of New Jersey collaboration received the U.S. Army's Breast Cancer Research Program (BCRP) Breakthrough Award to quickly confirm if an identified HER2 biomarker can indicate success likelihood of personalized breast cancer treatments.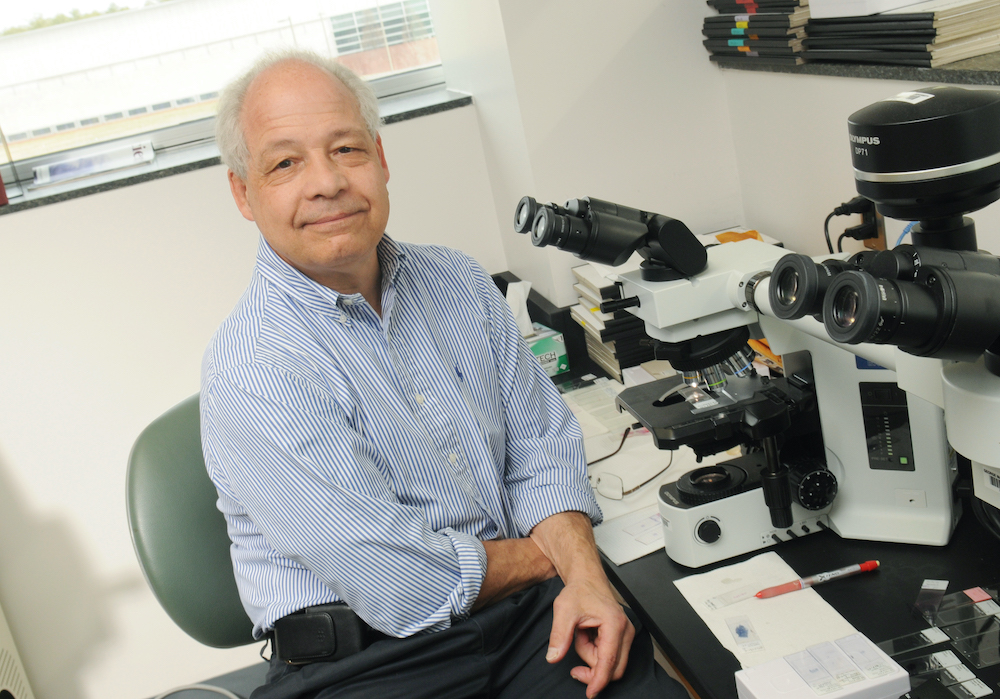 Lance Liotta, MD, PhD
Photo by Evan Cantwell/ George Mason University
George Mason University's College of Science announced an exciting $1.33 million collaboration with  Rutgers Cancer Institute of New Jersey and Mason's Center for Applied Proteomics and Molecular Medicine (CAPMM) which taps cancer research diagnostics and treatment strengths within the medical facilities and CAP/CLIA laboratory respectively of the two regional powerhouses. 
The effort will use a new way to measure biomarkers of the HER2 protein, which is expressed on breast cancer cells. Women who have this protein get specific therapies, now part of the standard of care in both early stage and metastatic settings of breast cancer.
The project's overall goal is clinical validation, in two independent patient cohorts from the Rutgers Cancer Institute, of a new way for measuring HER2 based on its activation (phosphorylation) and predicting, using only the patient's diagnostic biopsy, whether or not that patient will respond favorably to the treatment.
 The Mason-developed test uses a new Fluidigm laser capture microdissection (LCM), which enables researchers to capture cellular regions of interest from frozen and FFPE tissue sections for downstream analysis using DNA and RNA sequencing, real-time PCR or mass spectrometry analysis. The test is designed for patients with HER2 positive breast tumors to predict if each patient will achieve a complete remission of the tumor so that the tumor is completely absent and cannot even be found on pathologic tissue examination.
"We aim to emerge from this short-term, high-impact effort with established cut-points, reagents, and CLIA/CAP SOPs developed and validated for our assay that would be published for general use," said Lance Liotta, MD, PhD, study PI, and CAPMM co-founder and co-director.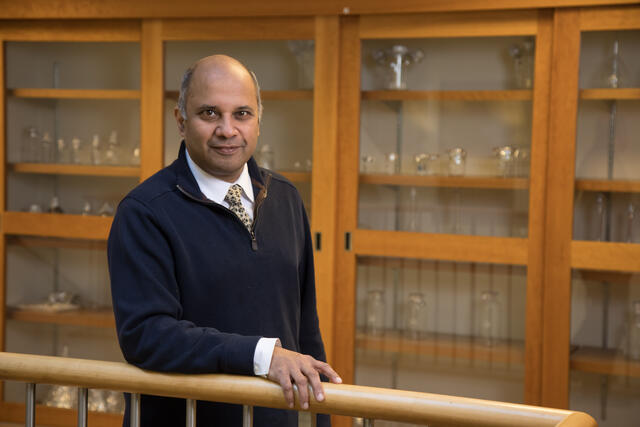 Rutgers Cancer Institute's principal investigator, Shridar Ganesan, MD, PhD
During the first year of the partnership, researchers will measure HER2 activation retrospectively on previously collected cancer specimens and cross reference it with treatment outcomes. During the second year, those findings will help inform the design of prospective trials enabling  real-time decision making influencing the selection of future therapy options offered to patients at Rutgers Cancer Institute and RWJBarnabas Health.
"We believe the test can have great benefit for individualizing therapies," added, Dr. Emanuel Petricoin, PhD, Co-PI of the study and also co-founder and co-director of Mason CAPMM. "Clinical studies have supported the recent approval of two escalation strategies, unfortunately, these escalations are associated with considerable increased costs and additional risks of toxicity," Petricoin explained. 
"Therefore, careful and accurate patient risk stratification up-front, to identify which patients will benefit most from treatment, is essential to minimize risk and maximize benefit," said Rutgers Cancer Institute's principal investigator, Shridar Ganesan, MD, PhD, chief of molecular oncology, associate director for translational research, and Omar Boraie Chair in Genomic Science.
If validated, this predictor may help lead to  development for modified or, de-escalated  regimens for patients who score at low risk for recurrence or high chance of complete pathologic response   Similarly, patients who score at high risk of recurrence or low chance of complete pathologic response from  current standard therapy may benefit from trials exploring other treatment approaches.
"The tests will be conducted on the pretreatment biopsy tissue we have collected and directly evaluate the molecular target of the major classes of HER2 neoadjuvant therapies," said Ganesan, a professor of medicine and pharmacology at Rutgers Robert Wood Johnson Medical School who had previously collaborated with Liotta while he was at the NIH.
"This partnership allows us to continue to provide the most advanced treatment options possible for our patients," Ganesan added.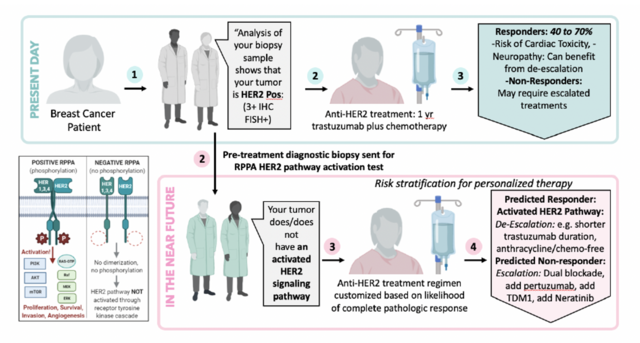 Depiction of how the proposed HER2 pathway activation test conducted on the diagnostic biopsy can be employed in the near future for personalized escalation and de-escalation therapies that have recently been clinically validated.
The team's plan also includes a rapid deployment of the testing if it proves conclusive.
"We've partnered with Theralink Diagnostics, Inc. who will be responsible for the assay commercialization and expanded clinical assessment to provide an accelerated adoption and clinical use by medical oncologists," said Emanuel Petricoin, CAPMM co-director, and a scientific advisor to the Company. "We have set up the infrastructure to quickly deploy the information and technology; if this holds true, we have a commercial partner ready to take it to the bedside as part of a patient clinical care plan and treatment decision support tool," Petricoin explained.
"This is a smart, strategic partnership—both Rutgers and Mason each bring invaluable expertise and infrastructure to minimize time to market and maximize research impact," said Mason College of Science dean, Fernando Miralles-Wilhelm. "Mason scientists created the protein measurement test and offer CAP/CLIA facilities that dovetail well with the existing biobank of tissue samples and preeminent therapeutic cancer treatments options offered to patients at Rutgers Cancer Institute of New Jersey," Miralles-Wilhelm added.
The College of Science at George Mason University 
Mason's College of Science is a leader in scientific discovery and a creator of innovative solutions for the rapidly-changing needs of today's world. The college prides itself in being home to a diverse population of students and researchers serving as a magnet for all scientific minds. With new discoveries, our scientists continue to grow Mason's portfolio of patents, licenses, partnerships, and spin off companies.
The college blends traditional science education with sought-after programs at all levels to challenge and engage in disciplines including personalized medicine, infectious diseases, drug discovery, climate dynamics, environmental justice and conservation, materials science, astronomy, forensic science, computational science, and applied mathematics. Mason's College of Science offers enhanced undergraduate and graduate academic and research opportunities, including innovative minors, certificates, and graduate degrees, that allow professionals to upskill or change careers. Learn more at science.gmu.edu
About George Mason University
George Mason University is Virginia's largest public research university. Located near Washington, D.C., Mason enrolls more than 39,000 students from 130 countries and all 50 states. Mason has grown rapidly over the last half-century and is recognized for its innovation and entrepreneurship, remarkable diversity, and commitment to accessibility. Visit www.gmu.edu.
About Rutgers Cancer Institute of New Jersey
As New Jersey's only National Cancer Institute-designated Comprehensive Cancer Center, Rutgers Cancer Institute, together with RWJBarnabas Health, offers the most advanced cancer treatment options including bone marrow transplantation, proton therapy, CAR T-cell therapy and complex surgical procedures.  Along with clinical trials and novel therapeutics such as precision medicine and immunotherapy – many of which are not widely available – patients have access to these cutting-edge therapies at Rutgers Cancer Institute of New Jersey in New Brunswick, Rutgers Cancer Institute of New Jersey at University Hospital in Newark, as well as through RWJBarnabas Health facilities. Learn more at www.cinj.org
Media Contacts:
John Hollis
George Mason University    
703-993-8781    
jhollis2@gmu.edu
Tracy Mason
George Mason University, College of Science
703-993-8723
tmason11@gmu.edu
Michele Fisher
Rutgers Cancer Institute of New Jersey
732-235-9872
michele.fisher@rutgers.edu