New Brunswick, N.J. May 1, 2023 – The rate of melanoma—the most dangerous form of skin cancer—has risen 20 percent among Hispanics in the past 20 years, and Hispanics who get skin cancer are more likely to be diagnosed at later stages when it is harder to treat. There are significant ethnic disparities in skin-cancer related morbidity and mortality, with Hispanics having higher mortality rates than non-Hispanic whites. Researchers, including those at Rutgers Cancer Institute of New Jersey – the state's only National Cancer Institute-designated Comprehensive Cancer Center with RWJBarnabas Health, are currently working to understand these disparities. 
There are many potential contributions to this disparity in health outcomes for Hispanics. Researchers suggest this is in part due to a lack of awareness of the symptoms and harms of skin cancers and that the Hispanic community is less likely to engage in sun protection behaviors.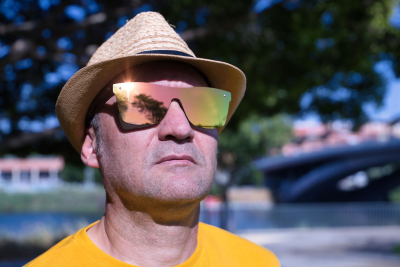 Researchers continue to examine sunburns and sun protection behaviors among male Hispanic outdoor day laborers in the Northeast U.S. According to the U.S. Department of Labor, the sectors with the highest concentration of Hispanic workers are farming, fishing and forestry. Following that are building and grounds cleaning; maintenance; and construction. Individuals who work outside are at increased risk for skin cancer due to excessive exposure to ultraviolet (UV) radiation. 
Investigators are currently working to explore sun protection behaviors among the Hispanic community in New Jersey. With the aid of a grant from the National Institutes of Health (NIH) (K99MD016435), researchers at Rutgers University are working on a project to assess Hispanics' perceptions of skin cancer, sun protection and skin self-examination behaviors and explore whether Hispanic individuals will be interested in a mobile-based and user-centered skin cancer intervention. The findings of this study will help investigators develop a mobile-based and user-centered skin cancer intervention to achieve behavioral changes among the Hispanic population.
Things to keep in mind: All people, regardless of skin color, are at risk for developing skin cancer. People with a fair complexion, blond hair or red hair, blue eyes, freckles, and those who have a tendency to sunburn easily are at increased risk for developing skin cancer. Despite this, people of all colors, including those with brown and black skin get skin cancer because they can be exposed to the same environmental risk factors. 
Sun protection is key. Making sun protection an everyday habit can help everyone enjoy the outdoors safely, avoid getting a sunburn, and lowering skin cancer risk. Visit our Skin Cancer and Sun Safety page for more information on skin cancer awareness and prevention. 
Zhaomeng Niu, PhD, member of the Cancer Prevention and Control Research Program at Rutgers Cancer Institute of New Jersey and assistant professor at Rutgers School of Health Professions whose work focuses on skin cancer and the Hispanic community, is the principal investigator of this ongoing research.
As New Jersey's leading cancer program, Rutgers Cancer Institute, together with RWJBarnabas Health, provides comprehensive multidisciplinary care to patients diagnosed with skin cancer and helps individuals learn about skin cancer awareness and prevention. Learn about our Melanoma Oncology Program.