U.S. News & World Report Names Robert Wood Johnson University Hospital Among Best in New Jersey and New York Metropolitan Area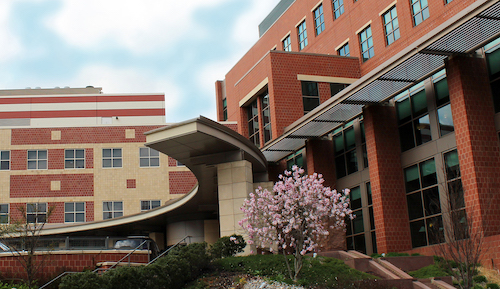 New Brunswick, NJ – July 26, 2022 – Robert Wood Johnson University Hospital (RWJUH), a RWJBarnabas Health facility, has been recognized as one of the top five hospitals in New Jersey and a top 20 Regional Best Hospital in the New York Metropolitan area by U.S. News & World Report in the annual Best Hospitals rankings. The hospital earned High Performing ratings in 12 adult specialties, common adult procedures and conditions.
Rutgers Cancer Institute of New Jersey, the only program in the state designated as a Comprehensive Cancer Center by the National Cancer Institute (NCI), received the highest score in New Jersey in the Adult Specialty category for cancer, earning a High Performing rating.  Rutgers Cancer Institute together with RWJBarnabas Health is at the forefront of cancer research and care and will soon be home to the Jack and Sheryl Morris Cancer Center, New Jersey's only freestanding cancer hospital, slated to open in 2024 in New Brunswick. Only 92 cancer programs nationwide achieved this rating in the 2022-23 US News & World Report Best Hospitals survey.
RWJUH earned a total of twelve High Performing ratings, including cancer, gastroenterology and GI surgery, chronic obstructive pulmonary disease (COPD), colon cancer surgery, diabetes, heart attack, heart bypass surgery, heart failure, hip replacement, kidney failure, lung cancer surgery, and stroke. A High Performing rating recognizes care that was significantly better than the national average, as measured by factors such as patient outcomes. "High Performing" is the highest rating U.S. News & World Report awards for common adult conditions and procedures. 
The annual Adult Specialty and Adult Procedure and Condition ratings are designed to assist patients and their doctors in making informed decisions about where to receive care for challenging health conditions or elective procedures.
"RWJUH has earned a top spot on the Best Hospitals rankings in New Jersey and in the New York metropolitan area year after year due to our academic partnership with Rutgers Robert Wood Johnson Medical School and Rutgers Cancer Institute, as well as our stellar network of community physicians and our Magnet nursing program," said Bill Arnold, President and Chief Executive Officer of Robert Wood Johnson University Hospital. "As New Jersey's premier academic medical center, RWJUH is committed to delivering access to the most advanced and equitable interventions and care designed to sustain and build healthier communities."
"Our cancer program's score and rating by U.S. News and World Report demonstrates the high quality, multidisciplinary care we provide, which is informed by innovative research and discoveries alongside exceptional patient experience," stated Steven Libutti, MD, Director of Rutgers Cancer Institute of New Jersey and Senior Vice President, Oncology Services, RWJBarnabas Health. "As New Jersey's leading cancer program and the state's only NCI-designated Comprehensive Cancer Center, Rutgers Cancer Institute together with RWJBarnabas Health offers patients access to the most advanced treatment options including clinical trials, many of which are not available elsewhere."
For the 2022-2023 Best Hospitals rankings and ratings, U.S. News evaluated more than 4,500 hospitals across 15 specialties and 20 procedures and conditions. Fewer than half of all hospitals received any High Performing rating, and only four earned this rating in all procedures and conditions. State and metro area rankings reflect the highest performing hospitals in the area across multiple areas of care.
 
"When patients are considering their options for care, the Best Hospitals ratings are designed to help them identify hospitals that excel in the kind of care they may need," said Ben Harder, chief of health analysis and managing editor at U.S. News.  "A hospital that's earned a High Performing rating in a service may be a good option for patients in need of that service and their medical professionals to consider."
U.S. News evaluated each hospital's performance using a variety of measures such as survival rates, complication rates, patient experience and level of nursing care. The Best Hospitals methodology factors in data from the Centers for Medicare & Medicaid Services, American Hospital Association, professional organizations and medical specialists.
For more information, visit Best Hospitals and use #BestHospitals on Facebook and Twitter.
###
About Robert Wood Johnson University Hospital
Robert Wood Johnson University Hospital (RWJUH) New Brunswick, an RWJBarnabas Health Facility, is a 614-bed academic medical center that serves as the principal teaching hospital of Rutgers Robert Wood Johnson Medical School and the flagship Cancer Hospital of Rutgers Cancer Institute of New Jersey. Its Centers of Excellence include cardiovascular care from minimally invasive heart surgery to transplantation, cancer care, stroke care, neuroscience, orthopedics, bariatric surgery and women's and children's care including The Bristol-Myers Squibb Children's Hospital at Robert Wood Johnson University Hospital (www.bmsch.org).  A Level 1 Trauma Center and the first designated Pediatric Trauma Center in the state, RWJUH's New Brunswick campus serves as a national resource in its ground-breaking approaches to emergency preparedness.
RWJUH has earned significant national recognition for clinical quality and patient safety, including the prestigious Magnet® Recognition for Nursing Excellence and being named to Newsweek's 2022 list of Best Maternity Care Hospitals. The RWJUH Advanced Comprehensive Stroke Center has been recognized by The Joint Commission and the American Heart Association as meeting The Joint Commission's standards for Disease-Specific Care Comprehensive Stroke Center Advanced Certification. RWJUH has also earned The Joint Commission's Gold Seal of Approval® for Disease-Specific Care Certification for Spine Surgery; The Joint Commission Gold Seal Certification for Bariatric Services; and The Joint Commission Gold Seal Certification for Hip and Knee Replacement services. The Joint Commission also awarded RWJUH a Gold Seal Certification as well as an Advanced Certification in Ventricular Assist Device (VAD) Implantation.
For more Information visit us online at www.rwjbh.org/newbrunswick
ABOUT U.S. NEWS & WORLD REPORT
U.S. News & World Report is the global leader in quality rankings that empower consumers, business leaders and policy officials to make better, more informed decisions about important issues affecting their lives and communities. A multifaceted digital media company with Education, Health, Money, Travel, Cars, News and 360 Reviews platforms, U.S. News provides rankings, independent reporting, data journalism, consumer advice and U.S. News Live events. More than 40 million people visit USNews.com each month for research and guidance. Founded in 1933, U.S. News is headquartered in Washington, D.C.