May is Oncology Nursing Month
New Brunswick, N.J., May 9, 2023 – Oncology nurses play a vital role in the care of cancer patients, engage in research and serve as an education resource for their peers across the country and at Rutgers Cancer Institute of New Jersey,  the state's leading cancer program, and only NCI-designated Comprehensive Cancer Center, together with RWJBarnabas Health. To recognize their exceptional work, two nurses are named recipients of Rutgers Cancer Institute's 'Oncology Nursing Excellence Awards' each year. This year's award recipients were announced during the Elizabeth Gibby Osborne workshop today.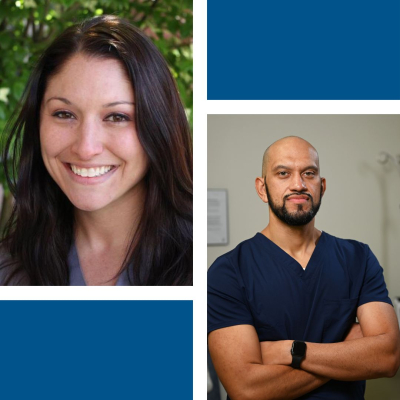 Alissa Gabel, APN-C, advanced practice nurse at Rutgers Cancer Institute began working at Rutgers Cancer Institute over 10 years ago. According to her peers, she "has been instrumental in creating positive changes to improve clinical practice and flow" in the hematologic malignancies program over the last year. Gabel is also described as an expert in her field, who "works hard to keep up to date on evidence based practice and policy." Advanced practice nurses are clinical leaders managing complex patient issues across the trajectory of care, and her colleagues say she is not only "a very knowledgeable and strong APN who holds herself to a high professional standard," but a problem-solver who "effortlessly advocates for her patients and is one step ahead in the care that she provides for them." Gabel's peers call her a "rock-star, a force, an amazing team member and the glue that holds them together." 
Described by his peers as "a team player and great leader," John Rodriguez, BSN, RN, OCN, oncology nurse at Rutgers Cancer Institute always goes above and beyond to help patients and other nurses. Rodriguez is known for "truly caring about his patients and doing whatever he can to provide the best possible care." Rodriguez is the main charge nurse in the treatment area, and is described by his colleagues as "an asset to the team with a commendable passion for nursing." He is also highly regarded for his positive attitude and ability to work easily with others with fellow nurses noting that he "truly cares about the patients and staff, and always finds a way to put patients first."
The Oncology Nursing Excellence Awards are underwritten in part by the Elizabeth Gibby Osborne Lecture and Scholarship Fund. Because of Mrs. Osborne's strong belief in education, her husband Bill established the fund after her death from cancer in 2004 to support peer learning opportunities for oncology nurses at Rutgers Cancer Institute. To celebrate Nurse's Day this year, Rutgers Cancer Institute is hosting Lilly MomentsTM sessions, giving nursing teams the opportunity to transform pictures into personalized images that help facilitate critically important conversations about topics in today's complex healthcare environment. 
"Communication in the patient-care environment is more critical than ever, which is why educational opportunities such as Lilly MomentsTM, which provides  our nursing team with techniques that will improve patient experience, are incredibly important," notes Carla Schaefer DNP, RN, OCN, CENP, associate chief nursing officer at Rutgers Cancer Institute. "All of our nurses at Rutgers Cancer Institute go above and beyond the conventional expectations of what it means to be an oncology nurse, and those we recognize today have particularly excelled in their patient-centered care, professionalism, teamwork and excellence. They are role models to us all." 
About Rutgers Cancer Institute of New Jersey
As New Jersey's only National Cancer Institute-designated Comprehensive Cancer Center, Rutgers Cancer Institute, together with RWJBarnabas Health, offers the most advanced cancer treatment options including bone marrow transplantation, proton therapy, CAR T-cell therapy and complex surgical procedures. Along with clinical trials and novel therapeutics such as precision medicine and immunotherapy – many of which are not widely available – patients have access to these cutting-edge therapies at Rutgers Cancer Institute of New Jersey in New Brunswick, Rutgers Cancer Institute of New Jersey at University Hospital in Newark, as well as through RWJBarnabas Health facilities. To make a tax-deductible gift to support Rutgers Cancer Institute, call 848-932-8013 or visit www.cinj.org/giving.
###
For journalists – contact:
Krista Didzbalis 
Media Relations Specialist  
732-507-8307
krista.didzbalis@rutgers.edu
For patient appointments/inquiries – contact:
844-CANCERNJ (844-226-2376)