Rutgers Cancer Institute of New Jersey investigator awarded research grant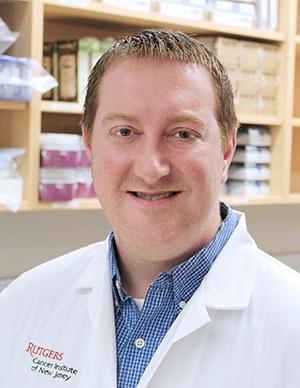 New Brunswick, N.J. – Rutgers Cancer Institute of New Jersey researcher Michael L. Gatza, PhD, has received a $200,000 V Scholar Grant from The V Foundation for Cancer Research to explore a cell pathway in triple-negative breast cancer. The aim is to identify what regulates the messaging in this pathway so that personalized therapeutic strategies can be developed to treat this disease.
"Each breast tumor contains a unique set of genetic mutations that contribute to tumor growth and response to treatment. This means that each patient will respond differently to specific anti-cancer drugs. Triple-negative breast cancers are an aggressive form of breast cancer. Treatments used for this disease often do not work and may have harmful side-effects. As such, there is a need to understand what causes these tumors. This knowledge will allow new therapies to be developed to improve breast cancer treatment," notes Dr. Gatza, who is part of Rutgers Cancer Institute's Genome Instability and Cancer Genetics Research Program.
Gatza will examine what is known as the PI3K/Akt pathway inside cells. This pathway is active in triple-negative breast cancer and is responsible for driving various cell functions including cell growth and survival. When the PI3K/Akt pathway is active in other forms of cancer, it often responds to drugs targeting this pathway but triple-negative breast tumors are often resistant to these drugs.
"These drugs may not work because few mutations are present in genes that are known to regulate this pathway. With this research, we aim to understand what regulates PI3K/Akt messaging in triple-negative breast cancer. We propose to identify essential genetic alterations and determine how these genes might impact PI3K/Akt messaging and breast cancer. The proposed studies will result in a better understanding of PI3K/Akt signaling and serve as the foundation for personalized breast cancer treatment," adds Gatza, who is also an assistant professor of radiation oncology at Rutgers Robert Wood Johnson Medical School.
The project period runs through October 2018.
About Rutgers Cancer Institute of New Jersey
Rutgers Cancer Institute of New Jersey (www.cinj.org) is the state's first and only National Cancer Institute-designated Comprehensive Cancer Center. As part of Rutgers, The State University of New Jersey, Rutgers Cancer Institute is dedicated to improving the detection, treatment and care of patients with cancer, and to serving as an education resource for cancer prevention both at its flagship New Brunswick location and at its Newark campus at Rutgers Cancer Institute of New Jersey at University Hospital. Physician-scientists across Rutgers Cancer Institute also engage in translational research, transforming their laboratory discoveries into clinical practice that supports patients on both campuses. To make a tax-deductible gift to support the Cancer Institute of New Jersey, call 848-932-8013 or visit www.cinj.org/giving. Follow us on Facebook at www.facebook.com/TheCINJ.
The Cancer Institute of New Jersey Network is comprised of hospitals throughout the state and provides the highest quality cancer care and rapid dissemination of important discoveries into the community. Flagship Hospital: Robert Wood Johnson University Hospital. System Partner: Meridian Health (Jersey Shore University Medical Center, Ocean Medical Center, Riverview Medical Center, Southern Ocean Medical Center, and Bayshore Community Hospital). Affiliate Hospitals: JFK Medical Center, Robert Wood Johnson University Hospital Hamilton (CINJ Hamilton), and Robert Wood Johnson University Hospital Somerset.