Story by Michele Fisher  •  Portraits by Nick Romanenko         View the complete magazine | Subscribe to Cancer Connection
Committed to a fit and active lifestyle, Mark Cicon says he was a picture of health when he started a new position as a technology recruiter for a banking firm in September 2009. Working 15 hour days sometimes to accommodate West Coast clients, the extended schedule chipped away at his ability to keep up with the gym and a decent night's sleep. When he felt continued bone pain and chronic fatigue a year later he chalked it up to the demands of the job, but his boss at the time took him aside and let Cicon know he really didn't seem like himself lately. Soon after, a simple fall set off a chain of events that quickly led to the realization for the 42-year old Cicon that he had a rare form of leukemia.  
The fall on his back resulted in a compression fracture in his spine, but he didn't know it at the time and was treated for inflammation and pain after touching base with his primary care physician. Surprisingly, it was a simple sneeze a week later that sent Cicon to the hospital with a lower vertebrae fracture. Another sneeze shortly after broke a rib. Various X-rays were taken and clearly showed the fractures – but nothing more.  Suspecting something else, Cicon's doctor sent the scans to an oncologist at Robert Wood Johnson University Hospital Hamilton. Given the nature of the images, it was thought at first that Cicon was involved in a car accident, but further tests revealed he had a blood cancer known as plasma cell leukemia. He immediately was referred to Rutgers Cancer Institute of New Jersey.
Plasma cell leukemia is a rare and aggressive form of multiple myeloma that involves high levels of plasma cells (part of the white blood cells – the body's infection fighters) circulating in the blood.  Too many plasma cells prevent other blood components, including red blood cells and platelets, from doing their job. Abnormal plasma cells known as myeloma cells can cause tumors on the bone – weakening them and causing them to break. To determine if one has plasma cell leukemia, abnormal plasma cells must infiltrate the bone marrow with more than 20 percent of cells circulating in the blood. In Cicon's case, his blood counts confirmed 37 percent of these cells were plasma cells. 
"Mark's fall was a blessing in disguise, as it prompted evaluation much sooner," says Rutgers Cancer Institute hematologist/oncologist Mecide Gharibo, MD, who is Cicon's doctor and a member of the cancer center's Blood and Marrow Transplant Program. "Had more time passed, the disease could have been worse with high white blood cell counts possibly causing additional complications with bleeding, infection and organ failure." There are two forms of plasma cell leukemia. 'Secondary' disease is end-stage multiple myeloma that progresses into plasma cell leukemia. Cicon presented with 'de novo' disease, meaning there was no previous myeloma diagnosis. "Less than one percent of multiple myeloma patients present with newly diagnosed plasma cell leukemia," notes Dr. Gharibo, who is also an associate professor of medicine at Rutgers Robert Wood Johnson Medical School. The prognosis is very poor, with median survival of less than a year (Liedtke, Expert Review of Hematology, 2014).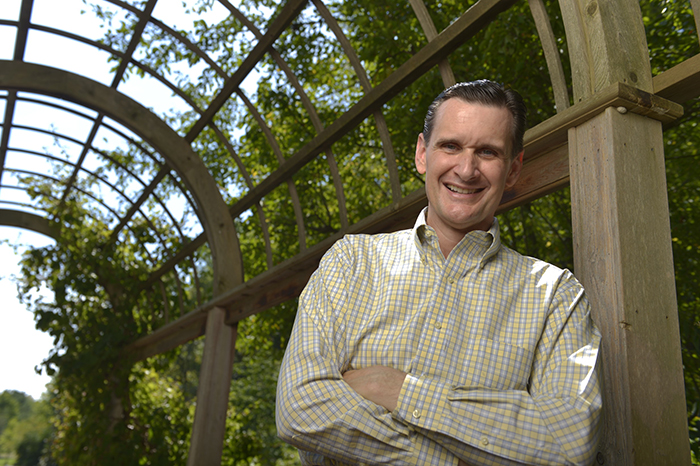 Five years after a unique back-to-back stem cell transplant for a rare form of leukemia, Mark Cicon is finding 'normal' again.
Where to Start? 
"Unfortunately, there is limited data on this patient population to help drive treatment options," Gharibo reflects. "Proteasome inhibitors and chemotherapy can help achieve remission in a certain subset of patients for a short period of time. Usually we try to give chemotherapy, then perform an autologous transplant to optimize outcome." But given Cicon's age and the fact that he was in good health prior to being diagnosed, Gharibo recommended a less common treatment regimen – an autologous transplant (in which a patient's own peripheral blood stem cells are collected and reinfused in the body) followed by an allogeneic transplant, which utilizes stem cells or bone marrow from another donor. "Time is of the essence," she says – noting the reason why this strategy is not widely pursued for plasma cell leukemia is that some patients don't have the advantage of being treated at a National Cancer Institute-designated Comprehensive Cancer Center like Rutgers Cancer Institute. "It is beneficial for patients to have access to the numerous specialists and resources afforded through a program like the Blood and Marrow Transplant Program at Rutgers Cancer Institute and our flagship hospital Robert Wood Johnson University Hospital. In some cases, it's critical for patients with rare hematologic disorders to be treated at such a center because of the ability of the physicians there to evaluate patients for transplant in a timely manner where remission in aggressive blood cancers may only last for a short period of time, as well as the ability to refer them to the National Cancer Institute or collaborate on therapy options with other Comprehensive Cancer Centers," adds Gharibo. 
Cicon began to accept his diagnosis. "It's a law of averages," he says. "There's the good and the bad. I knew I needed to focus on things that would get me to the good end of things." He educated himself about the transplant process and knew the risks involved – including the possibility of not finding a match for the second transplant. "I was committed to doing this and knew a positive attitude would help me get through it." Cicon's father, a former triathlete who is approaching 80 and has been a quadriplegic for the past two decades due to an accident, has been a great source of inspiration for him. "Seeing my dad's attitude and his ability to stay positive all of these years really helped me. Despite the risks and possible complications, I looked at the transplant process as a long-term gain – an opportunity – and felt it would put me back to where I wanted to be."
This back-to-back, or tandem, transplant procedure starts with induction therapy – chemotherapy that is administered to deplete the body of as many cancer cells as possible causing a temporary remission. For Cicon that meant hospitalization for two weeks at the end of September 2010 immediately after being diagnosed. His own stem cells were collected through a process similar to a blood transfusion. They would later be reinfused into his body. A steroid and a chemotherapy combination were prescribed to get his disease under control. During this time, Gharibo started looking ahead to the more difficult part of the process – finding a donor for the second transplant. She asked Cicon's only sibling, his older brother, to get tested to see if he would be a match. He wasn't. The Blood and Marrow Transplant team then began a search through the National Marrow Donor Program registry to find a suitable candidate. Time really was of the essence.
Cicon responded well to induction therapy. "So well that I really didn't want to endure an invasive treatment," he recalls. But he felt the tandem transplant still was the best option for him. With temporary remission achieved, Cicon's own peripheral stem cells were reinfused in January 2011. He spent a little more than two weeks in the hospital. To achieve the best results with a tandem transplant, the procedures must be performed within six months of each other. The search continued for a donor.
Needle in a Haystack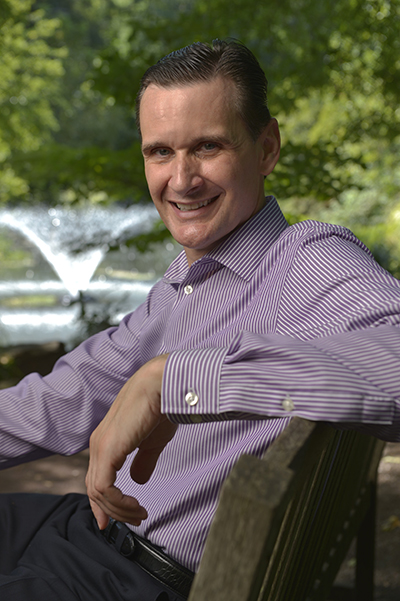 Mark Cicon
"With an allogeneic transplant, it is important to find as many donor qualities as possible that are similar to the recipient including having the youngest donor candidate and same sex if possible," says Gharibo. Having the same blood type and matching as many elements as possible for tissue typing is important too. Cicon is of Eastern European descent, and having similar ancestry is important to optimize finding a matched donor, adds the doctor.  Through the national registry, three possible candidates materialized. Only one met enough criteria and was available for the transplant.
"The timing was perfect," recalls Cicon. "I'm truly fortunate that a donor was available through the registry – and willing to donate. It is an incredibly special feeling to know that so many people, especially my donor (someone I did not know) had to do so much above and beyond what I could have ever expected for me to have this outcome." Due to confidentiality policies, donors and recipients are not permitted to know each other's identity until after a one-year period and consent given, but each case is unique and waiting periods may vary. In this case, Cicon was grateful to connect with the Ohio mother who was inspired to put herself on the registry after knowing two people who suffered from a blood cancer. They write and call one another. "I would like to meet her one day," Cicon projects.
After receiving a stem cell infusion from the donor (harvested through apheresis - a process involving collection of circulating stem cells from the blood circulation), Cicon spent 29 days in the hospital, which is a typical post-transplant stay. He did experience a common complication known as graft-versus-host disease (GVHD), in which Cicon's new immune system from the donor cells began to attack parts of Cicon's organs such as the skin and liver.  Extreme cases of GVHD result in potential life threatening organ failure and severe skin rashes, but with Cicon the slight case of GVHD indicated to Gharibo and team that everything was functioning normally and the marrow was doing its job in boosting his immune system. Aside from a mild skin rash (which is also common post-transplant), Cicon says he came through just fine. 
Finding Normal
For the first few months following a transplant, it's necessary to have someone else handle the regular domestic chores many of us take for granted, such as cleaning, cooking, and grocery shopping, as some of these errands can be physically taxing and unnecessarily expose the patient to viruses and infections.  To avoid crowds, Cicon found a quiet sanctuary at the picturesque, park-like setting of Sayen Gardens near his Mercer County home.  He was able to limit his interaction with people while still being able to get out of the house, stroll around and enjoy his love of nature.  Driving and working usually aren't an option for several weeks to months for most transplant patients, and they can experience a mental fog and emotional ups and downs.  Cicon admits finding some sense of 'normal' wasn't easy. "There's a challenge with transitioning from fulltime patient to recovery – about a year or longer.  It took me about three years not to think about the possibility of a relapse," he recalls.  In the meantime his recovery from the transplant was slow and steady. "The recovery was a positive period as I really appreciated the activities I could start doing again," Cicon reflects.
With an autologous transplant for plasma cell leukemia, the few retrospective studies available show an overall survival of at least three years. The data are even more sparse for plasma cell leukemia patients who undergo an allogeneic stem cell transplant, showing limited survival data beyond three years as well. Now 48-years old, Cicon is beyond that.  Follow-up visits to Rutgers Cancer Institute are part of the routine for him but not any post-transplant cancer treatments. "Due to a lack of data regarding maintenance therapy, our team recommended to watch him.  We make it a point to individualize everyone's care. Mark's case is an illustration of that," notes Gharibo. Cicon remains on bone strengthening medication to prevent skeletal complications, but he still needs to be mindful not to be too hard on his body. He doesn't second guess any part of his journey. "Sometimes you regret the choices you didn't make, but thanks to Dr. Gharibo and team, I am absolutely confident I did everything I could to prevent a relapse. I am grateful to have been afforded this opportunity."
Gharibo admits the type of care Cicon received truly requires a team effort - doctors, nurses, transplant coordinator, infectious diseases physicians and those with varied oncology expertise, among others. But a true part of the 'team,' she says are the patients who commit themselves to a transplant procedure and the donor. "Donors truly give the gift of life to someone in need. It may be inconvenient, but it's a small inconvenience compared to what the recipient is going through. Unfortunately, many patients – both adults and children, and especially minorities – don't have donors available. I encourage people to reach out the National Marrow Donor Program to consider giving this type of gift."   She notes even donating blood or platelets on a regular basis will help transplant patients with needed infusions. Additional information on becoming a stem cell donor can be found at BeTheMatch.org. ■