Story by Mary Ann Littell  •  Photos by Nick Romanenko             View the complete magazine | Subscribe to Cancer Connection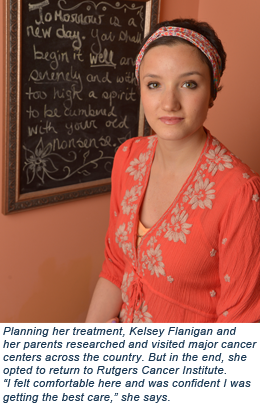 With college behind her, Kelsey Flanigan was ready to take the world by storm. The slim, strikingly attractive 23-year-old had graduated from Rutgers in 2013, where she majored in journalism, sang a capella, and was a member of a student sketch comedy club. She loved films and writing. Her plan was to head to Los Angeles and get a job in filmmaking, or maybe become a writer for "Saturday Night Live." Perhaps she'd try acting or stand-up comedy. No dream was too big.
But in early 2014, Flanigan had to put her dreams on hold. This young woman who'd never been sick a day in her life, who exercised, kickboxed, practiced yoga, and ate a vegan diet to stay healthy, was diagnosed with a brain tumor: a grade III astrocytoma. This rare tumor involves astrocytes—star-shaped cells with 'arms' that penetrate into many areas of the brain. In the world of brain tumors, all are worrisome; it's just a matter of degree. An astrocytoma is a serious and insidious tumor that requires aggressive therapy.
She underwent treatment at Rutgers Cancer Institute of New Jersey and at Robert Wood Johnson University Hospital (RWJ), the flagship hospital for the Cancer Institute. It included removal of the tumor by neurosurgeon Shabbar Danish, MD. It was a grueling process, though you'd never guess it by looking at her now. Flanigan says she's in "recovery mode." Only instead of polishing her comedy routine or loading her car for the trip to California, she's having chemotherapy to maintain her current state of health, which she describes as "stable."

Flanigan knows an astrocytoma is nothing to take lightly. In the fight of her young life, she is working hard to keep negative thoughts at bay. "On my worst days I've felt an inner strength pushing me," she says. "It's a strength I'll try to never let go of."
Out of the Blue
Her ordeal began in the fall of 2013. She was getting ready to begin her job search in earnest, but wanted to do some traveling first. In late November she and a friend went to Thailand, a country she had always wanted to visit. Staying in hostels, they island-hopped by boat, visiting some of the world's most beautiful beaches.

Two days before they were to return home, the young women boarded a boat for a final island trip. Suddenly, Flanigan slumped to the deck. She awakened a few minutes later, bruised and bloody, with a swollen tongue. Her friend stood worriedly over her. "You had a seizure," she said.
 
Feeling weak and disoriented, Flanigan sat for a few minutes to clear her head. The two then left the boat and went to a local clinic, a visit that proved frustrating. "They didn't take me seriously," Flanigan says. "They thought I was just another delusional American backpacker and sent me away with anxiety medication and a powder for dehydration."

Their appetite for sightseeing gone, they stayed at the hostel until their return flight two days later. "I wasn't really afraid," Flanigan recalls. "I couldn't believe anything was seriously wrong. But the seizure was terrifying. What if it happened again?" Her mind wandered to the severe headache she'd had the day before. She had dismissed it, thinking it was a migraine or some other minor 'bug' she'd picked up somewhere. But now she was not so sure.

Arriving home in Pittstown, New Jersey, Flanigan was so tired that she waited until the following day to tell her parents what happened. Her mother took her to a physician right away and Flanigan had an MRI. The physician called the mother and daughter into his office. Pointing to a large, dark shadow on the MRI, he said, "That's a tumor, a big one. You need to see a neurosurgeon right away—like today." He recommended Shabbar Danish, saying he was "one of the best around." In shock, they went straight to his office, her father rushing from work to meet them there.
Course of Action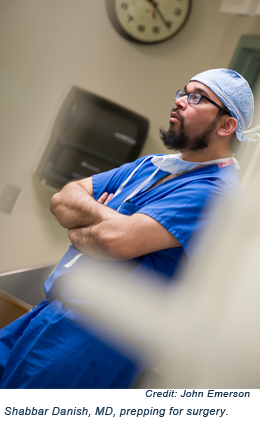 Dr. Danish, the chief of neurosurgical oncology at the Cancer Institute, specializes in hard-to-treat cancers, including primary brain and spine tumors as well as secondary tumors that begin in the breast, lung, or prostate and spread to other parts of the body. He specializes in minimally and noninvasive solutions to treat brain and spine cancer, and has research interests and publications in both fields. His multidisciplinary team includes neuro-oncologists, radiation oncologists, neurosurgeons, nurses, social workers, and other specialists.

After assessing Flanigan's tumor, which involved most of the right frontal lobe, an area of the brain that controls key neurological functions, the neurosurgeon told Flanigan she needed surgery to remove it. The next step would be radiation and chemotherapy. "The idea of having a tumor was bad enough," Flanigan recalls. But someone cutting it out of my brain was even more terrifying."

One memory of that day stands out vividly: the neurosurgeon offering words of comfort, calmly giving Flanigan and her mother time to compose themselves. "He was very caring and patient," she continues. "He let me cry. When I was done, he explained what we had to do."

On January 30, 2014, Flanigan underwent a craniotomy at RWJ. In the five-hour procedure, Danish first made an incision in the scalp, then drilled a series of small holes in the skull and connected them to remove a section of bone.

"We excised the most malignant part of the tumor but could not get it all without affecting neurological function," says the neurosurgeon. "There are many risks with this type of surgery—including the possibility of neurological deficit, stroke, hemorrhage, or infection. She came through really well." Danish was there when Flanigan regained consciousness in the recovery room, and she recalls him playfully giving her a fist bump.
Danish, well-known for his rapport with patients, has fellowship training in high-tech procedures to fight cancer. An assistant professor of neurosurgery at Rutgers Robert Wood Johnson Medical School, he is the director of the Stereotactic and Functional Neurosurgery Program at RWJ. This tool is designed to treat lesions and tumors in the brain and upper spinal cord without harming healthy surrounding tissue. Unfortunately, Flanigan's tumor was too large for this type of procedure.

To plan her next phase of treatment, Flanigan and her parents researched and visited major cancer centers across the country, including Duke and the University of Pennsylvania. But in the end, she opted to return to the Rutgers Cancer Institute. "I felt comfortable here and was confident I was getting the best care," she says. "Dr. Danish is great. No matter how many questions we have, he's never too busy to answer them. He's always there for us, whenever we call or email him. There's a connection I've never had with any other doctor."
In her own voice...

Hear Kelsey's inspiring remarks as one of the 2015 Courage Award recipients at Voices Against Brain Cancer's "Join the Voices!" New Jersey event held June 7, 2015. 
Stronger Day by Day
On May 14, 2014, Flanigan had a second craniotomy at RWJ to remove remaining traces of the tumor. She came through the procedure well. Afterward she rested at home, napping and going outside for short walks. In addition to her yoga she took up reiki, a Japanese technique for stress reduction that is believed to promote healing. "Reiki is tied in to mental health," she comments. "It made my mind feel strong and I believe that helped me recover physically."

At home, her mother cooked nutritious meals for her, and as Flanigan began to feel better, the two cooked together. Her father, an airline pilot, took her out to lunch and on a short trip to Seattle. "Recovering from the surgeries was hard—for me, my parents and my brother and sister," Flanigan admits. "My family all sacrificed a lot of their time to be with me during my recovery. They've been amazing, my support system. Without them, I don't know what I would have done."
During this period of recovery she spent hours in bed, feeling like her life was on hold. "I needed to do something to help pass the time," she says. Throughout her treatment she'd been keeping a journal, which ended up as a regular blog feature on The Huffington Post. "I've always loved to write and the blog has been a great way of expressing how I feel," she says.
Fighting Spirit
During the summer of 2014 Flanigan underwent radiation, five days a week for six and a half weeks. She was treated with temozolomide, an oral chemotherapy drug for malignant brain tumors. Once that was finished, she took a four-week hiatus, then began maintenance chemotherapy with the same drug, five days a month for six months. 

Once Flanigan began radiation she lost her hair. Buying a wig was an experience she never thought she'd have, but it turned out to have a plus side, connecting her with another caring community: the stylists at Splitenz Studio. The salon in Clinton, New Jersey, has its own wig specialist, Zee Entrabartolo. Flanigan calls her the 'wig guru.' "Her foundation, Hair to Share, raises money each year to make wigs more affordable for women with cancer," says Flanigan. "It's such a great cause, something I'd like to get involved with one day."

Flanigan finished her maintenance therapy in late March. Research does not show any added benefit from this therapy beyond six months, says Danish. She'll be monitored closely, with frequent MRIs and blood work every few weeks. "The tumor will always be there," explains Danish. "It could return. We don't know when—it may take many years. Right now she's stable and doing well. If Kelsey needs us, we'll be here for her."

As Flanigan continues her recovery, she still dreams of going to Los Angeles and finding a career in film or comedy. But right now she takes things day by day. "Sure, sometimes I ask, 'Why me?'" she says. "But I'm so thankful to have come this far and to have connected with such a caring network of people, from my surgeon on down."

Her blog is smart and spunky and reflects her fighting spirit. "My 'mellow vegan, yet aggressive kickboxing lifestyle' seems to be working for me," she writes. "Because sometimes you just need to punch something." ■