Story by Mary Ann Littell  •  Photos by Nick Romanenko           View the complete magazine | Subscribe to Cancer Connection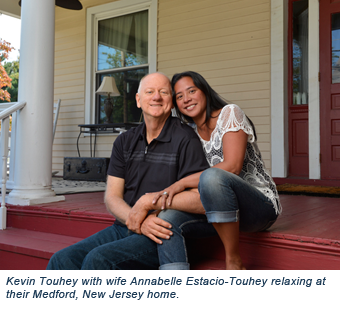 A longtime athlete and busy professional with a wife and two young daughters, Kevin Touhey never imagined he would be sidelined with advanced-stage lung cancer – never having smoked a cigarette in his life.
Spend some time with 62-year-old Kevin Touhey and you can't help but be inspired. Tall and strong, he exudes confidence. A three-sport athlete in high school and former basketball coach at the University of Pennsylvania, he's devoted a good portion of his career to teaching students, athletes, coaches and educators how to reach their fullest potential. At a time of life when many are winding down, he's still body surfing and power-walking on New Jersey's boardwalks with his wife and two young daughters. As a motivational speaker and life coach, he criss-crosses the country speaking, conducting workshops, and sharing his personal gospel: that anything can be accomplished with hard work and a positive attitude. 
Yet less than a year ago, Touhey was curled up on a chair in his home in Medford, New Jersey, critically ill, on oxygen and a nebulizer, willing himself to survive. That was right after he was diagnosed with Stage IV lung cancer. "What a shock it was," he recalls. "I've never smoked a cigarette in my life."
Touhey's health crisis began in January 2013, when he was giving a speech in Cincinnati. Driving back to the hotel that evening, he was involved in a car accident. "It was just a fender bender, but it left me with severe pain in my right side," he says. Initially he tried to "play" through the pain, as he had many times throughout his life. But this time, it wouldn't go away.
Touhey is a pretty tough guy, and no stranger to adversity. Born in Passaic, New Jersey, he's one of ten children who grew up in poverty. His father was a chronic alcoholic who could not hold a job. His mother tried her best to make ends meet. She once showed Touhey a list of the 52 jobs his father had held and lost over the years. By the time Touhey was ten, the family had been evicted from seven homes. "I loved my father but the disease of alcoholism ruined him," says Touhey.
Episodes of violence and physical abuse were fueled by his father's drinking binges. The children often went hungry. "When things were really tough, we ate mayonnaise sandwiches," says Touhey. The family finally stabilized once the three oldest children, all girls, graduated from high school and went to work to support the family. 
Touhey excelled at sports and attended college on a basketball scholarship. He likes to joke that his father went to college with him. The truth is that Touhey asked the coach to give his father a job. "Pleaded with him is more like it," he says. "The coach came through for us. My dad was the equipment manager for 13 years, the longest he'd held any job." His father passed away in 1989 — ironically, of lung cancer. Like many alcoholics, he was a heavy smoker.
A Revolution in Oncology Medicine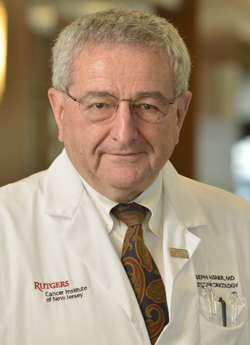 Precision medicine links state-of-the-art genetic profiling with targeted therapeutics designed for a specific patient's needs. "It's a revolution in oncology treatment," says Rutgers Cancer Institute of New Jersey oncologist Joseph Aisner, MD. "Or should I say, evolution. Targeted therapy is not a new concept. Radioactive iodine for thyroid cancer has been used for years. What's unique now is that we can differentiate among cancers by identifying mutations in cancer cells. That information tells us which drugs will be most effective."
Many ask whether personalized medicine will render chemotherapy obsolete. "It's an interesting question that we can't answer yet," says Dr. Aisner. "What we do know is that chemotherapy is mostly empiric: try it, put different combinations of medicines together, and see if it works. Precision medicine is a more rational approach to treatment."

He also sees hope for earlier diagnosis of lung cancer. "Lung cancer symptoms don't usually appear until the disease is fairly advanced, so most people who come to us have late-stage disease," he says. New federal guidelines under consideration recommend that certain people at high risk for lung cancer get a low-dose CT scan every year. These high risk patients must be ages 55 to 74 years and in fairly good health, have a smoking history equivalent to a pack a day for 30 years, and currently smoke or have quit only within the past 15 years. "Screening could find many lung cancers earlier, when they are easier to treat. It's estimated that screening could save about 20 percent of people with lung cancer."
The Cancer Institute of New Jersey, together with its Flagship Hospital Robert Wood Johnson University Hospital, University Radiology Group and Department of Radiology at Rutgers Robert Wood Johnson Medical School, will soon introduce a low-cost lung cancer screening program. Coupled with the Tobacco Dependence Program, this offers a comprehensive approach to prevention and early diagnosis. ■
The Unexpected
Many people believe that lung cancer is rare in non-smokers, but that's not true, says oncologist Joseph Aisner, MD, associate director for clinical science at Rutgers Cancer Institute of New Jersey. "Of the 220,000 cases of lung cancer diagnosed in the U.S. each year, 15,000 are in non-smokers," says Dr. Aisner, who is also co-director of the Cancer Institute of New Jersey's Thoracic Oncology Program. A multidisciplinary team of surgeons, radiologists, radiation and medical oncologists, pulmonologists and other health care providers treats patients with lung cancer, mesotheliomas, thyomas and upper esophageal cancers.
In the days following the car accident, Touhey's pain grew worse and he had difficulty breathing. In addition, he'd developed a cough so severe that he sometimes vomited. Initially his physician thought he had a rib injury and sent him for physical therapy. He was also evaluated for bronchial asthma and put on stronger medications, but nothing helped.
In late March, Touhey was supposed to give a speech at the University of Pennsylvania, but his breathing became so labored that he was admitted to a hospital. When his family learned of the excellent Thoracic Oncology Program at the Cancer Institute, they transferred him by ambulance to the Cancer Institute and Robert Wood Johnson University Hospital (RWJUH), the Cancer Institute's Flagship hospital, where he came under Aisner's care.

After eight grueling days of tests, scans, and workups, Touhey learned his diagnosis: advanced non small-cell lung cancer. X-rays and scans showed a large malignant tumor, seven centimeters long, lodged in his lung. The cancer had spread to his spine, ribs, and brain. 
"Why did this happen to me?" asked Touhey. "I've lived a healthy life, eaten well, and exercised. I'd never been sick, barely even a cold. My wife and daughters were devastated. But I told them I would beat this."

Very few people beat lung cancer. It's the leading cause of cancer death among both men and women. Touhey knew his prognosis was poor and that he was in for a rough ride. He had vivid memories of his father suffering through his own bout of lung cancer. "I cried, realizing I might not live to see my daughters go off to college and get married," he recalls.
High-Tech Sleuthing
Touhey didn't know it but technology would come to his rescue. "There's been such a switch in the way we treat cancer," says Aisner. "Technology now allows us to look at problems in genes within cancer cells. We can take a biopsy and see if the cells have certain genetic mutations that will predict whether the disease will respond to specific drugs. It's called precision medicine."
Surgery wasn't an option for Touhey's advanced cancer. Because he had a history of not smoking, Aisner suspected his patient had one of the genetic variations that might respond to a targeted therapy. He told Touhey they would do genetic testing of the tumor to see if he was a candidate for erlotinib or another targeted medicine. Deciphering the genetic code of his cancer might identify drugs that could keep him alive longer than chemotherapy. Unfortunately, lung cancer is often quite resistant to most chemotherapy drugs, or becomes so.
Erlotinib has been effective in treating non-small cell lung cancer with certain epidermal growth factor receptor (EGFR) mutations as detected by genetic testing. The drug works by shutting down certain signals that spark the chemical reactions needed for cancer cells to grow. It may slow or block the activity of EGFR, a a surface cell receptor that triggers cancer cells to grow and divide. Aisner says, "We have seen some good results with erlotinib." As an oral medicine, patients can take it at home rather than coming to an infusion center. "But if targeted therapy wasn't an option for him, we would try chemotherapy," said Aisner.
For Touhey, the first step would be a lung biopsy. Traditionally, a fine needle is used to extract a small amount of fluid and cells. "We often need to do it differently for genetic testing because we need a larger sample," explains Aisner. 
After the biopsy, Touhey went home with oxygen and a nebulizer.  He was so weak that he spent his days and nights in the chair in his family room. His wife Annabelle stayed by his side, sleeping on the sofa in the family room with him.  His two little daughters, Serena and Ava, helped him when the nebulizer needed adjusting.
The genetic testing takes three to four weeks and at times, he wondered if he'd survive. By now, the tumor was pressing against his esophagus, causing severe pain. He couldn't walk more than ten yards without gasping for air. When he voiced his fears,
Ava would say firmly, "Don't say that, Daddy! You're going to get better."
Breath of Fresh Air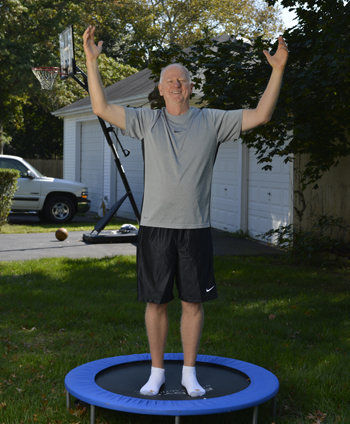 While he waited, Touhey had gamma knife surgery at RWJUH to remove the cancer in his brain. "His cancer had spread like most cancers do," explains Aisner. "The cells move through the lymph and blood systems. It's an example of their virulence. They're sticky—they adhere and grow." The gamma knife is not really a knife—it's an instrument that focuses radiation directly and precisely on the targeted area of the brain without affecting the surrounding healthy tissue. The procedure is relatively short, in many cases under a half hour. It was performed by the director of the Cancer Institute's Neuro-Oncology Program, Shabbar Danish, MD, assistant professor of neurosurgery; and Cancer Institute radiation oncologist Sharad Goyal, MD, assistant professor of radiation oncology, both who have appointments at Rutgers Robert Wood Johnson Medical School.
A week later, Touhey's phone rang. It was Aisner with the results of the genetic testing. The physician asked him, "What treatment do you want?" Touhey replied, "The pill!" Aisner told him, "Ok, you got it. Your genetics are a match."
Touhey began treatment with erlotinib in late May. The drug is given on a 90-day cycle. "Once I started taking it I no longer needed the oxygen," says Touhey. "The pain disappeared within a week. I went from walking slowly, 50 yards at a time, to walking for an hour with no shortness of breath. Next thing I knew, I was swimming and walking the boardwalk."
Touhey has written two books, including one titled "The Miracle of Optimism." "I believe in miracles, and this is definitely one," he says, adding that he relied on his faith and spirituality to get him through his illness. "I had a lot of people praying for me," he says, "and more than 2,000 former students, athletes, coaches and others sent me 'get well' emails. My siblings were supportive as well. I couldn't have gotten through this without them. Their help, prayers and good wishes boosted my spirits. All that positive energy helped."
He believes his "I'm going to beat this" mentality also helped him survive the toughest challenge of his life: "I made a choice not to let cancer scare me, and it didn't." He saw a nutritionist and began taking nutritional supplements. He switched to a healthier diet of lean protein, fresh fruit and vegetables, losing more than 40 pounds. 
After 60 days on erlotinib, Touhey returned to Aisner's office for evaluation. Tests confirmed the tumor had almost disappeared. Aisner says, "He had a big response to the medication, so we'll keep him on it for as long as it works for him and he tolerates it."
Touhey will continue taking the drug indefinitely. At some point, says Aisner, erlotinib may stop working for him, as it does for most lung cancer patients. "We find that the cancer mutates, and the drug is no longer effective against the new mutation," explains the physician, "but new agents are on the way, and one is already approved."
"My faith includes my faith in my doctors," says Touhey. "I'm grateful for what they've done for me. I know there are no guarantees, and I'm living my life 24 hours at a time. I look at cancer as a temporary visitor inside me…and I trust that it won't come back." ■